Searching for Connection and Belonging, in Life and Fiction
Sunjeev Sahota on the Struggle and Privilege of Growing Up Between Two Countries
I don't recall in what circumstances I first met M, but I'd have been no more than ten and it would have been another hot August in the village of Kala Sanghian. He was two years older than me, our families were close, and perhaps he'd been told to keep the English boy company. I can't imagine that having me around pleased him—I was an inward, wary kid from the broken-backed and deindustrialized north of England, where my parents ran a small convenience store following their emigration from Punjab.
But M must have taken it in his stride because I have a memory of playing cricket with him and his friends, and of his skill in the game; that memory shades into an image (which, such is the refractive nature of memory, may well be from a subsequent year) of me slipping away and being happily by myself again, flying a kite on the roof of my grandmother's house. That roof was, and still is, one of my favorite spots in the world, and the place from which the unnamed narrator of my novel China Room looks out near the end of the book. By the time I was fourteen—and on my fourth summer holiday to Punjab in as many years—M and I would stand on the roof discussing how to spend the day. Head to the rope swing behind the Hindu mandir? Gather other boys for a kickabout on the yellowed field? Maze around in the bazaar?
The village, once tiny but now covering a couple of kilometers, sprawls within a loose square of four roads. My grandmother's house sits in the south-eastern corner, beside the only bank and at the mouth of the bazaar. I'd wake up to the sound of shutters going up, of oil spitting in vats, to the musky, slightly sickly smell of the jacaranda outside my window. I loved the place for the sense of belonging it afforded me. Not a week went by without someone pointing out to me the typing school my mother attended as a girl, the swamp beside which my grandfather had lazed, the nearby farm that once housed my great-grandmother. Romantic, nostalgic images.
After flunking my A Levels, I was lucky to get to university, and toiled my way through a mathematics degree. I'd harbored hopes of studying English, but that felt like a frivolous choice when set beside my parents' labour, so instead I nurtured my newfound passion privately, reading novels over breakfast, on the Tube, walking to class. When I next went to Punjab, I had graduated, and was about to start working for an insurance firm. M told me he was going to Dubai. He'd been granted a work visa. Can't you make things work here? I asked, and he shook his head. Of course he couldn't. His father was disabled, the family farm mortgaged to the hilt, his sisters unable to get married without crippling dowries. He had no choice, he said.
What does it mean for this author's self to be refracted (by time, by memory, by language) into the other selves in the book, selves that in some cases existed long before he was born?
A few years later, I was in my grandmother's house when an old man arrived asking for my uncle, who'd stepped out briefly. Come in, I said. He looked unsure, but I insisted and he tentatively came inside. It was gruelingly hot and I went to fetch him a glass of lemon water. When I returned he was sitting low against the wall. He must have been from the lowest caste. Please, sit on the chair in the shade, I said. He shook his head. No, come on, I said and held out my hand to help him up. He looked at me with such hatred I could only smile and retreat. What sense of belonging to this village did he have, I wonder? And did I only feel the sense of belonging I did because someone else was now occupying the lowest rung on the ladder? In England, it was me on that bottom rung, a working-class ethnic minority in an impoverished and very white part of the country. Here, I was considered English, and full of enough privilege to be worthy of hatred. You have to ask: is belonging only for the privileged?
All my novels to date feature protagonists yearning for freedom and connection, for a sense of self-worth and a place to belong, and no doubt this draws on my own vexed connection with the land of my birth. I'm asked a lot about this, about my characters' sense of belonging, and then, as if in corollary, I'm asked where I feel I belong (at my desk, I usually reply, to get the question over with). More interesting to me, and what I spend more time thinking about, is how to bring these ideas of belonging and connection to bear on the actual form of my books. So, in China Room, what does it mean for this author's self to be refracted (by time, by memory, by language) into the other selves in the book, selves that in some cases existed long before he was born?
How do these ideas of belonging and connection actually take shape in—and shape—the narrative? I'm never asked about any of this. I'm only asked about the issues, the politics and topicality that are deemed to govern my novels, which feels odd given that as a reader form is what I always respond to first and most strongly. When writing at my desk the question that is always gnawing at me is not how best to make some kind of point, but how to put this object together in the most artful way possible. Is being seen as an artist and not a political tub-thumper yet another form of privilege, reserved for those higher up the ladder?
Do you feel like you belong here? I asked M, when we next met. I must have been around 28, writing my first novel, and he was recently back from Dubai. His face had lined, aged, his beard held grey. His shirt, with its too-short cuffs, made him look even thinner than he was. Dubai had been hard: scorching heat, unforgiving work. You can't belong to a place that doesn't let you be, he replied.
M wasn't in India the following year and, shockingly, I saw him next in England, when he called to say he was working in a takeaway in a suburb of London. He came to my wedding in 2011 and looked old already. I tried to lend him some money, but he refused, angrily, and when we next met, one year later, it was so I could offer my condolences after the death of his father. I drove us from the house he was sharing with ten others and to the temple, where we said prayers and ate. Parasitic as writers are, perhaps it was here that my second novel, set in the world of economic migrants, began to germinate. The car broke down on the journey back from the temple and I called the roadside assistance number.
While we waited he told me an offer of marriage had come his way, from a desperate family whose daughter had severe learning difficulties. I nodded. It was his route to stay permanently in the country, to bring his mother over, to pay for his sisters' marriages. What will you do? He told me about the girl he'd met and loved in Dubai, that when he told her he was going to marry this English girl, she'd understood and said it was the only choice he had. I sighed. My phone buzzed. Your mechanic is on the way! We'll be home soon, I said. He turned slowly towards me, as if saying: What is home? How do we get there?
___________________________________________________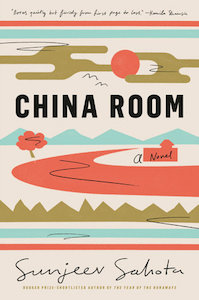 Sunjeev Sahota's China Room is available now via Viking. 
---