Samantha Irby Absolutely Does Not Want Michelle Obama to Read Her Book
Also, Why Riffing on TV is a Great Way to Break Writer's Block
Samantha Irby's Wow, No Thank You is available now via Vintage. We asked her a few questions about how she write, and what she can't live without.
*
Who do you most wish would read your book? (Your boss, your childhood bully, Michelle Obama?)
OH MY GOD, I hope Michelle Obama never reads my stupid books, I hope she never knows who I am, I would rather eat my own butt than know that Michelle Obama squinted to read the words "I'm sorry I shit on your dick" on her iPad or whatever she uses. If I am being honest, and completely vulnerable, I would say that I hope that people I used to be friends with, people I was very close to with whom I shared big parts of my life and whose friendships I squandered or fucked up or ruined in some way, I hope that those handful of people have maybe read something I've written and seen that I turned out okay? Not even in a shitty way, but genuinely in a "look at this thing I made, I hope you like it, I miss you!" kind of way.
Article continues after advertisement
What time of day do you write?
I used to write on my lunch breaks at work and in the morning on the weekends, but now that I don't have a job and I live in a house with several other people who are always bothering me and never shutting the fuck up I typically get most of my writing done between 9pm and 3am. There is always someone knocking on the door, or running through the yard, or delivering something during the day. And that's just outside! Inside there is shouting and drumming and banging on the piano and someone asking me what to make for dinner and it's impossible to be funny with all that going on, so now I wait until everyone goes upstairs and gets in bed and then I pull out my laptop and get to work with only the cats to bug me.
OH MY GOD, I hope Michelle Obama never reads my stupid books.
How do you tackle writer's block?
I just don't write when there's nothing to write. I don't get the computer out if I don't already have an idea that I want to get out. But one thing I do, that at first was a joke but has actually turned out to be a pretty effective writing exercise, is to write my newsletter about Judge Mathis (mostly??) every day. I don't always have things to write about from my own life because I'm boring, but riffing on a TV show is the easiest way to keep my writing and comedy muscles flexed. I'm sorry, that sounds disgusting.
Which book(s) do you return to again and again?
GONE GIRL. I really love that book. The detail, the pacing, the characters: all perfect. Plus, and maybe I'm just proving how dumb I am, I did not see the twist coming? I'm like a dog or a child or something, if there is a twist on the horizon you literally have to beat me over the head with it. Remember at the end of The Sixth Sense when it's revealed that Bruce Willis has been dead the entire time? I was the only moron in the theater who was shocked by that! I was like "OH MY GOD" and my friend was like, "Wait, are you actually stupid?" I didn't get it, okay! Anyway, Gone Girl is so juicy and well-written and there's a reason people keep trying to write the next one and can't. Man, I'm about to go read that shit again.
Which non-literary piece of culture—film, tv show, painting, song—could you not imagine your life without?
LMAO imagine if I could name a painting! There are so many, I am a person who is deeply committed to being indoors and entertaining myself without interacting with other people, and I like so many different kinds of things!! Okay, I'm gonna say that the most impactful thing on my tiny brain as a child were 70s and 80s sitcoms, and this is like choosing between my favorite cats but I guess I'm gonna have to say What's Happenin'! I have seen every episode multiple times and have laughed my head off at all of them and it basically is a perfect show. I truly cannot imagine who I'd be if I hadn't modeled my entire personal style after Shirley Hemphill. (google her if you don't understand why this is hilarious!)
__________________________________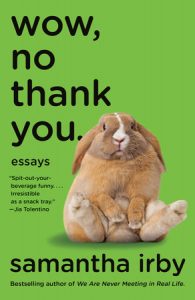 Wow, No Thank You. by Samantha Irby is available now via Vintage.
---