Big congratulations to novelist Ruchika Tomar, author of A Prayer For Travelers and winner of the $25,000 PEN/Hemingway Award for Debut Novel! This year's judges were R.O. Kwon, Terese Marie Mailhot, and David L. Ulin. Of their choice, they said:
Tomar is an exquisite writer, and A Prayer for Travelers is marked by a deft and deeply rendered sense of place. Even more, the novel pushes back against our preconceptions, shifting fluidly in time to evoke a sense of the floating nature of existence, especially for characters such as these, who find themselves, in nearly every way that matters, having to reckon with what it means to live on the periphery.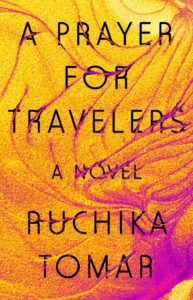 Every year, this grant, made possible by the Ernest Hemingway Foundation, honors a distinguished first novel and hopes to encourage the writer's next work. Previous winners include Marilynne Robinson, Jhumpa Lahiri, Colson Whitehead, Tommy Orange, and George Saunders, to name a few.
Unfortunately, because of concerns around COVID-19, the usual award ceremony (held every year at Boston's John F. Kennedy Presidential Library and Museum) has been postponed until further notice.
Read about the other 2020 PEN America Award winners here.