Rome is the City of Poets
"The Rule of Beauty is Subtle, Insidious. Rome Speaks Directly to the Body."
Even the most hurried visitor to Rome cannot help but be struck by the nonchalant energy with which its modern population inhabits a cityscape of seemingly bottomless stratigraphic history and beauty. Traffic buzzes around a complex of Republican temples, below the level of the modern street, part of which has been repurposed as a community shelter for stray cats (a carved stone cat watches from a second-storey lintel nearby in the appropriately named Vicolo della Gatta). The city moves so easily between life and stone, and so gracefully balances its opposites: pagan luxury and decadence, on the one hand, and spiritual transcendence, on the other; the chaos and noise of its major thoroughfares, on the one hand, and the tranquility of the cloister garden in the Church of the Four Crowned Saints or of the frescoed dining room of the Empress Livia in the Palazzo Massimo, on the other. All is comprehended by the buildings of the historic center, their earth tones flaking in the sun and looped by the muddy S-curve of the Tiber River.
The ubi sunt lament over Rome's fall from greatness is familiar and inevitable. Byron identifies the historical trajectory: ''First Freedom, and then Glory—when that fails, / Wealth, vice, corruption—barbarism at last.'' This contributes to a ''tyrannous sense of a superincumbent oppression,'' as one English visitor puts it. But even in the 16th century, French poet Joachim du Bellay felt something else in the city, a kind of galvanic energy by which it was constantly reconstructing itself out of its own ruin, with death and life intermingled. ''Compost,'' the English poet C. Day-Lewis calls it, ''the very type of / The hugger-mugger of human growth.'' American poet Robert Lowell, translating du Bellay, concludes that ''Whatever / was fugitive maintains its permanence,'' and Charles Wright is echoing du Bellay too when he declares, ''Rome in Rome? We're all leading afterlives / of one sort or another . . .'' Native Romans look on their city with an endless wit and cynicism because of its corruption (as the obscene dialect sonnets of G.G. Belli so splendidly demonstrate); yet they are fiercely proud of Rome too, and they know it is the center of the world. It has never stopped being the center of the world. ''Theatrical, vulgar, rhetorical, fractious, sublime'': those are Day-Lewis's adjectives for Rome.
Italian artists may feel the burden of all that previous art and history as almost insurmountable. Pasolini speaks of the ''flimsy crust of our world / over the naked universe.'' But foreigners, including those perched at the American Academy in Rome across the Tiber on the Janiculum Hill, have often found in the city a reliable inspiration, no proof of its ongoing greatness more persuasive than its ability to provide clues to a postmodern and postcolonial world, even across gulfs of time and its own imperial history. Nineteenth-century English poet Samuel Rogers (a celebrity in his day, forgotten in ours) writes that Rome ''Still o'er the mind maintains, from age to age, / Her empire undiminished.'' And the American Julia Ward Howe, author of the ''Battle-Hymn of the Republic,'' declares in her poem ''The City of My Love'' that Rome ''rules the age by Beauty's power, / As once she ruled by armèd might; / The Southern sun doth treasure her / Deep in his golden heart of light.''
"Rome offers you a kaleidoscope of brilliances, but does not care what you do with them, because so many have come before you."
The rule of beauty is subtle, even insidious. Rome speaks directly to the body. English poet Elizabeth Jennings exclaims, ''O and the heart is drawn to sense, / Eye and the mind are one.'' Eros is part of the city's allure, certainly, but so is an ambient violence, whether felt in the brooding hulk of the Colosseum or in a sudden traffic accident. Rome offers you a kaleidoscope of brilliances, but does not care what you do with them, because so many have come before you.
The city is impersonal in a different way from New York: not with a gray indifference, but with a golden one. Yet though the city where Augustus died can hardly be expected to take note of each new arrival, each individual's encounter with the city is in fact of paramount importance. The scholar William L. Vance writes that ''The unity of any successful image of Rome (of life) is finally that given to it by the perceiver and the experiencer, impressed upon it by a loving act of re-presentation, of imaginative possession through language . . . Representations are always mostly of oneself; but the complexity and abundance of Rome encourages amplitude of spirit: in any fountain one may find an image of oneself or see a new self coming to life.'' American poet James Merrill may be reformulating the same idea in more specifically erotic terms when he writes, ''As if to speak were rather / Those promenades in Rome / Where each cool eye plays moth / To flames largely its own.'' So du Bellay was not mistaken, 500 years ago: each visitor to Rome is offered the chance to construct a new self from the city's ''ruined dust.'' As Wallace Stevens writes in his poem for the philosopher George Santayana entitled ''To an Old Philosopher in Rome,'' ''The sounds drift in. The buildings are remembered. / The life of the city never lets go, nor do you / Ever want it to.''
Poets' delight in Rome is in part the delight of a conversation amongst themselves, a conversation with those who have come before. Thus Australian poet D. Hope, in ''A Letter from Rome,'' is speaking not only to any later visitor, but also to his poet-ancestors Byron and Felicia Hemans. And in striving to register Rome's beauty and decay, poets have resorted to a dazzling array of forms and voices, from A.H. Clough's dactylic hexameters to Brigit Pegeen Kelly's prose poetry, from Felicia Hemans' rustic song to A.D. Hope's ottava rima, from Byron's Spenserian stanzas to Thomas Hardy's trimeters, from Longfellow's dramatic dialogues to David St. John's ribald couplets or Anthony Hecht's sensuously-shaped garden stanzas.
During the three years (2010–13) I served as Andrew Heiskell Arts Director at the American Academy in Rome, I devised three different walking tours for the entertainment and edification of the American Academy Trustees during their annual visit to Rome. We travelled on foot or by jitney through Rome's crowded streets; I would offer some commentary and then read a poem aloud in the presence of the site or monument or artwork that had inspired it. One of the ways Rome tests the affection of its visitors is by its unpredictability. We arrived at the fountain about which Richard Wilbur wrote his celebrated poem "A Baroque Wall-Fountain in the Villa Sciarra" only to find that there was no water in the fountain, since a pipe had broken and the city's Parks Department had no funds with which to repair it. Having secured permission in advance, we arrived in front of the Caravaggio painting about which Thom Gunn wrote his poem "In Santa Maria del Popolo" only to be evicted by an elderly woman in black who was unmoved by our protests and indifferent to our permission. So I had to read the poem aloud in the noisy piazza outside. On the other hand, reading the last ten stanzas of Shelley's poem ''Adonais'' while standing in front of Keats' grave in the sublime peace of the Protestant Cemetery was an experience I will never forget.
In a letter of December 1818, Shelley exclaimed, "I have seen the ruins of Rome, the Vatican, St. Peter's, and all the miracles of ancient and modern art contained in that majestic city. The impression of it exceeds anything I have ever experienced in my travels . . ." Before and after Shelley's time, poets sharing his excitement have added their voices in praise of the Eternal City.
__________________________________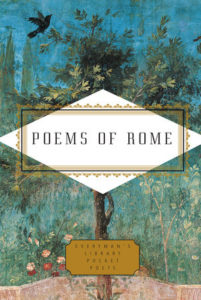 Adapted from the foreword to Poems of Rome. Used with permission of Everyman's Library. Copyright © 2018 by Karl Kirchwey.
---