Remembering the Poets Who Fought For Irish Independence
The 1916 Easter Rising Through Verse
 I write it out in a verse—
MacDonagh and MacBride
And Connolly and Pearse
Now and in time to be,
Wherever green is worn,
Are changed, changed utterly:
A terrible beauty is born.
                      —From Easter, 1916 by William Butler Yeats
April 24, 1916—in the early morning of Easter Monday, the green and orange of the Irish tri-color was raised above the General Post Office in Dublin. Several hundred armed citizens stormed the British government building, and one of their leaders read aloud to on-lookers a "Proclamation of the Irish Republic." His name was Patrick Pearse.
Before conspiring to orchestrate the largest open rebellion Ireland had seen in a generation, Pearse had been a schoolmaster, a writer and a poet. In an Irish Gaelic poem Mise Éire, he wrote from the perspective of Ireland herself:
Great my glory:
I who bore Cúchullain, the brave.
Great my shame:
My own children who sold their mother.
That flag would remain above the GPO during a chaotic week of escalating hostility now known as the Easter Rising. In the end, the men who hoisted it a week before—desperately trapped inside the GPO—would ultimately surrender.
The 1916 uprising was yet another boiling point of long simmering tensions in Ireland over the roughly 700 years of British colonial rule. Like other rebellions against British rule before it, the Dublin uprising was ill fated from the start. If it took a certain romantic fatalism to take on the greatest empire in the world, then it comes as no surprise that Pearse held a poet's temperament. In fact, of the seven signatories of the proclamation, three of the rising's leaders were poets. The conspirators would all face a tragic end for their acts, which would irrevocably alter the course of Irish history.
The poets of 1916
Having grown up surrounded by books and exposed to Ireland's native language, Patrick Pearce was from an early age fascinated by the glory of Irish legends like Cúchullain (a Gaelic character similar to Achilles). At 16 he joined the Gaelic League, an organization committed to the revival of the suppressed Irish language, and by 23 was editor of the organization's newspaper. "The Sword of Light" regularly decried the educational system and language suppression as institutional tools used by the British to keep the population at heel.
As his resentment to British rule mounted, Pearse came to adhere to the principle that "a country without a language is a country without a soul." In other words, that Irish language and national identity were inseparably intertwined. By his thirties, legendary figures like Cúchullain were replaced by more worldly heroes—Irish leaders of generations past who had tried, and failed, to muster rebellions against British rule.
As a schoolmaster, Pearse passed such convictions onto his pupils as well as his staff. His deputy headmaster, Thomas MacDonagh, was equally enthusiastic about language and culture. A fellow Gaelic Leaguer, writer and poet, MacDonaugh greatly admired his mentor as both a writer and activist. He described Pearse as "the greatest of Irish writers in imagination and power, if not in language." Of the seven men who signed the April 1916 Proclamation, he was the last leader to be brought into the conspiracy. His close ties to Pearse no doubt contributed to his involvement.
The picture left of MacDonaugh's character is multi-faceted. Despite gaining entry into Dublin literary circles, his poetry and plays failed to achieve recognition in the years before the uprising. In one of his most well-known poems, The Yellow Bittern, we glimpse his solace in the role of outsider:
It's not for the common birds that I'd mourn,
The black-bird, the corn-crake, or the crane,
But for the bittern that's shy and apart
And drinks in the marsh from the lone bog-drain.
 If recalcitrance was a private musing, historical accounts of MacDonagh paint him rather as an endearing friend and consummate gentleman. In one account, we learn he had a "pleasant, intelligent face and was always smiling..you had the impression that he was always thinking about what you were saying." Though his short literary career was unfulfilled, his gregarious nature and grace of action would ultimately adorn his legacy.
That report of Thomas' "pleasant, intelligent face" was written by a sister of Joseph Plunkett, another good friend of MacDonagh's through the Gaelic League." Like his compatriots, Plunkett demonstrated an interest in Irish culture and language from an early age, and a friendship blossomed between the two over a share love of language, literature and theater. Alongside Pearse and MacDonagh, he was the third and youngest poet among the leaders of the 1916 insurrection.
Born to an aristocratic Dublin family, Plunkett was well educated and had gained some knowledge in military planning through the Officers' Training Corps during his time at Stonyhurst College in England. In fact, the plans drawn up for the 1916 uprising were largely a product of Plunkett's mind. On behalf of the Irish conspirators, Plunkett was sent to Germany in 1915 to negotiate a shipment of arms in support of the insurrection against their common foe.
Gallantry in the face of death
The partisans who occupied the GPO on Easter Monday never received those foreign arms. They also failed to secure any of Dublin's major transportation hubs. As a result, government reinforcements flooding in from around the country besieged the buildings seized by the separatists only days before. On Saturday, April 29, Patrick Pearse surrendered to the British in a document that read:
In order to prevent the further slaughter of Dublin citizens, and in the hope of saving the lives of our followers now surrounded and hopelessly outnumbered, the members of the Provisional Government present at headquarters have agreed to an unconditional surrender, and the commandants of the various districts in the City and County will order their commands to lay down arms.
At a British courts martial held May 2, the seven signatories were among 15 prominent dissidents sentenced and confirmed to death. In a final letter to his mother, Pearse insisted "[y]ou must not grieve for all this. We have preserved Ireland's honour and our own. People will say hard things of us now, but we shall be remembered by posterity.."
The executions were carried out by firing squad over the course of the next ten days. Later reports of soldiers who carried out the deeds would commend the bravery with which the men met their fates. Pearse was said to have whistled as he made the long walk to the firing squad. But it was MacDonagh's gallantry which was immortalized, when, faced with death, he offered each member of the firing squad a cigarette. He was said to have presented his silver cigarette case to the commanding officer shortly before being shot, commenting, "I won't be needing this – would you like to have it?"
It was later remarked by the British that "They all died well. But MacDonagh, he died like a prince."
Poets immortalized in verse
He shall not hear the bittern cry
In the wild sky, where he is lain
Nor voices of the sweeter birds,
Above the wailing and the rain.
                       –From Lament for Thomas MacDonagh by Francis Ledwidge 
Francis Ledwidge was another contemporary Irish poet who fought and died on the Western front, wearing a British uniform. Another advocate for Irish independence, the divergence between the path Ledwidge chose and that of the Dublin conspirators is indicative of the quixotic schism in the Irish separatist movement during the First World War. Some, like Pearse, Plunkett and MacDonagh saw opportunity to strike against their preoccupied British overlords. But others saw an Irish war effort against the Germans and Turks as critical to winning British support for home rule as a more peaceful route to independence.
Writing from the front, Ledwidge captured his sadness by pulling on the allegory of Irish legends. In Lament For The Poets: 1916, the Poor Old Woman represents Ireland (likely a nod to Pearse's Mise Éire). Blackbirds in Irish mythology flew across the countryside bearing faraway truths, and here represent the poets:
I heard the Poor Old Woman say:
'At break of day the fowler came,
And took my blackbirds from their songs
Who loved me well thro' shame and blame.
No more from lovely distances
Their songs shall bless me mile by mile,
Nor to white Ashbourne call me down
To wear my crown another while.
To compound the cruel irony of Ledwidge lamenting the Irish rebels as a British soldier, he would not be long after them. He was killed in action in Belgium in the same year, becoming himself another of the poets of '16.
But William Butler Yeats's poetic remembrance is the most enduring of the rebels' actions. Yeats had by 1916 attained prominent stature, and was reticent to embrace the independence movement despite having been a prominent figure in the Irish cultural revival that so inspired MacDonagh and Pearse. His misgivings toward the rebels' ardent convictions are evident in his Easter, 1916:
That is heaven's part, our part
To murmur name upon name,
As a mother names her child
When sleep at last has come
On limbs that had run wild.
What is it but nightfall?
No, no, not night but death.
Was it needless death after all?
For England may keep faith
For all that is done and said.
We know their dream; enough
To know they dreamed and are dead.
And what if excess of love
Bewildered them till they died?
I write it out in a verse—
MacDonagh and MacBride
And Connolly and Pearse
Now and in time to be,
Wherever green is worn,
Are changed, changed utterly:
A terrible beauty is born.
Yeats would prove prophetic is foreseeing the "terrible beauty" born from the actions of the conspirators. The drawn our nature of the executions stirred sympathy where public opinion had previously been split, turning the leaders into martyrs. Pearse in particular is remembered as an embodiment of the rebellion.
Meanwhile, imprisoned together the followers of Plunket and Pierce shared strategies and analyzed the lessons both of Dublin and the war abroad. From these internment camps, nicknamed "Universities of Revolution," issued the next generation of Irish separatist leaders. In the following years, their guerilla tactics would escalate the struggle to new levels of violence, wearing away at the British Empire's resolve. It would take a bloody struggle for independence, and an even more brutal civil war to bring on the birth of an independent Irish state—all in the name of the republic Pearse first proclaimed in 1916. Terrible beauty, indeed.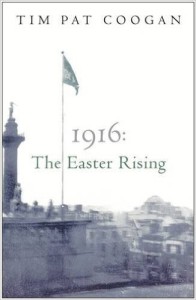 1916: The Easter Rising, Tim Pat Coogan (Cassell)
A recognized voice in Irish news and broadcasting, Coogan's books have become authoritative in the popular understanding of Ireland's struggle for independence in the early 20th century. Having previously penned biographies on foundational IRA leaders in the Irish War of Independence (1919-21), Coogan here goes back to that examine that struggle's 1916 prologue. He provides a broad starting-point to the events of 1916, but be warned: Coogan's account of the rising is not without criticism. Some have taken issue wit his unabashedly nationalist point of view, and penalized him for approaching the material without a fresh perspective or reexamination of the rising's cultural context in the 21st century.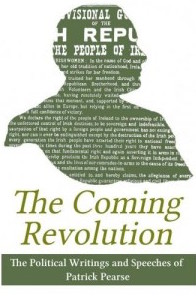 The Coming Revolution: The Political Writings and Speeches of Patrick Pearse, Patrick Pearse (Mercier Press)

Pearse's ability to stir the passions of a crowd through oratory is legendary. This collection of his writing gives a taste for that skill, but also the complex range of ideas that coursed beneath it. "I have spent the greater part of my life," he writes in The Murder Machine, "in immediate contemplation of the most grotesque and horrible of the English inventions for the debasement of Ireland. I mean their education system." Reading his own words, we get a direct sense of his ability to build complex arguments in support of an ideological ideal. From our present vantage point, we glimpse in his essays the potency of the jingoistic nationalism capable of turning a schoolmaster into a militant rabble-rouser.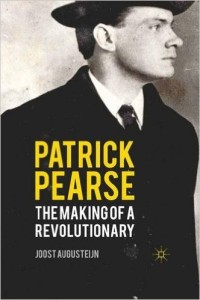 Patrick Pearse: The Making of a Revolutionary, J. Augusteijn (Palgrave Macmillan)
For an examination of Pearse's journey into militant nationalism, Augusteijn breaks down Pearse's short life into thematic chapters. It's an examination of the questions of culture, education, and politics that lead him to down the path he chose. The biography puts the development of these ideas into a broader European context. It's also noteworthy in taking due course to explore the life of James Pearse, Patrick's father and an Englishman. Making of a Revolutionary has been credited with being the first Pearse biography in decades to draw on new source material, providing a more intimate look at Pearse's formative years, which color the mind and spirit of the man we know through history texts.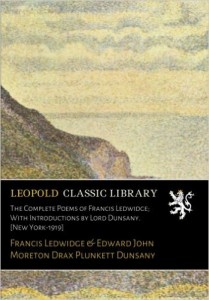 The Complete Poems of Francis Ledwidge, Francis Ledwidge (Brentano's)
"Diction worthy of poetry, as well as an imagination capable of dealing with the great and simple things that are a poet's wares." This introduction to Ledwidge is given in Complete Poems by Lord Dunsany, Ledwidge's patron and mentor. Though Dunsany introduces readers to his protege by fondly remembering his amateurish beginnings in a "very old copy-book" Ledwidge mailed him out of admiration in 1911, by the end he is praising. "There is scarcely a smile of Spring or a sigh of Autumn that is not reflected here, scarcely a phase of the large benedictions of Summer; even of Winter he gives us clear glimpses sometimes, albeit mournfully, remembering Spring." The 1919 collection features two full books of poetry written by Ledwidge and edited by Dunsany, Songs of the Field and Songs of Peace from 1914 and 1916 respectively. It also includes poems posthumously arranged by Dunsany, Last Songs, covering the period between Peace and the poet's death in combat.
The Love Story of W.B. Yeats & Maud Gonne, Margery Brady (Mercier Press)
Although William Butler Yeats' poetry inspired much national patriotism, he was for much of his early life reticent to weigh in on Ireland's political situation. Ange Mlinko has written, "Yeats preferred his romantic literary nationalism to the new insurrectionary nationalism of his great love, the actor and activist Maud Gonne. Her beauty attracted him and her zealotry repelled him in equal measure." Though not a history, this dramatization of their relationship nevertheless brings these complex tensions to life through narrative. With the political unrest as the story's backdrop, the book plays out Yeats' inner turmoil as experienced through his feelings for Gonne, an outspoken political activist. It also features some of Yeats' finest verse, woven into the plot as it unfolds.
---