Remembering the Artists Who Were Among the Early Victims of Nazi Death Camps
Charlie English on Hitler's Gesamtkunstwerk and the Murder of Psychiatric Populations
In Franz Karl Bühler's masterpiece Der Würgengel, the artist portrayed a choking man struggling on the ground, unable to breathe, as a blank-faced angel of death prepares to finish him with a luminous sword. It can be read as a portrait of the way he felt treated by the deity and by life, and as an uncanny premonition of his death, which came as he fought for breath on the floor of Hitler's prototype killing plant, a doctor's hand on the gas tap. The government's propaganda stated that he and his fellow victims were killed for economic reasons, because Germany could no longer afford to keep them.
In truth this brilliant artist, this "master of the first rank," as Alfred Kubin described him, was murdered in the service of another sort of art project: Hitler's Gesamtkunstwerk, his great and terrible design to refashion the Germans in accordance with his artistic vision, a stew of degeneracy theory, Wagnerian myth, late-period Romanticism, and his own furious psychopathology. The artist-dictator had set aside his pencils and paints to work with humanity, and at the time of Bühler's death, this work was just beginning.
As winter turned to spring in 1940, Hitler's private office in Berlin, the Kanzlei des Führers (KdF), ordered the Grafeneck killing station to ramp up its activities. The transport squadron would be given an additional bus, which meant it could carry seventy-five people at once, and the gas chamber was enlarged to fit them all. Other victims were shipped in by train. At 8 am on Thursday, March 7, a giant rail transport of 457 patients arrived at the little station at Marbach an der Lauter. Deep snow had fallen in the Swabian Jura, and it took the SS eight hours to unload them all. Egon Stähle, Leonardo Conti, and Karl Brandt came to oversee the operation, taking their turns at the gas chamber window, but there were too many to kill in a single day, so 138 women were temporarily housed in the asylum at Zwiefalten.
They were brought back at the start of April, when Stähle returned with a new group of dignitaries from Berlin who wanted to see the women die. Memorable on this occasion was a victim who screamed "We are all killed!" as the carbon monoxide began to take effect. Stähle's guests then observed the ovens, noting with surprise how much smoke was produced. Over the following weeks, a sort of gas tourism grew up in the Swabian Jura. Some visiting physicians were even invited to take part by performing the cursory final examinations.
They murdered 9,839 people at Grafeneck that year, including six artists of the Prinzhorn collection, the huge and influential trove of art by inmates of psychiatric institutions that was collected by the doctor and art historian Hans Prinzhorn from 1919. The first of these artists was Mathäus Lorenz Seitz, an adventurer and French Foreign Legion veteran who had lived for two years with a pasha in Hyderabad. In 1921, Seitz was diagnosed as suffering from "delusions" and sent to Wiesloch asylum, where he spent the next two decades. He was killed at Grafeneck on or around February 29, 1940. Bühler was the second Prinzhorn artist murdered there, on March 5. Ernst Bernhardt, the third, was a former art teacher who drew an eerie self-portrait with a gallows over his head while at the Heidelberg clinic.
After living for much of the 1930s in the asylum at Rastatt, he was gassed at the castle in April 1940. Konstantin Klees loved to depict his full, well-groomed beard in yellow and green pencil and signed his designs "master baker, confectioner, and grocer." He was killed on or after July 24. Grafeneck's gas chamber took two more artists in October: Johann Faulhaber, a shoemaker whose drawings bore a striking resemblance to work by Picasso and Kubin, and Josef Heinrich Grebing, the former chocolate salesman who had designed the beautiful "Air Ark" ocean liner for the skies.
As Grafeneck scythed through the psychiatric population in south-west Germany, Berlin expanded the "euthanasia" program across the Reich, constructing new industrialized murder facilities based on the Swabian prototype in six strategic locations around Germany and Austria. These new centers were referred to by the letter codes B, Be, C, D, and E. Grafeneck took the letter A.
They murdered 9,839 people at Grafeneck that year, including six artists of the Prinzhorn collection, the huge and influential trove of art by inmates of psychiatric institutions.
Killing station B was built in a converted prison in Brandenburg an der Havel, forty miles west of Berlin, and opened within days of Grafeneck, in January 1940. The SS "Death's Head" unit that staffed this plant was overseen by the ambitious young Austrian psychiatrist Irmfried Eberl, who would later command the Treblinka extermination camp. Nine thousand seven hundred and seventy-two patients would be murdered at Brandenburg, according to the official count, and at times there were so many corpses in the ovens that the flames that leapt from the top of the chimney were sixteen feet long.
The operation produced a horrific smell of roasting human flesh that tended to settle over the city, but this problem was solved in the summer, when the cremation units were moved to a shed some miles away, where the corpses were delivered by a Reichspost van every day at 5 am. The body of the Prinzhorn artist Paul Goesch would have been burned here. A painter of bright watercolors with religious themes, Goesch was gassed at Brandenburg in August 1940, although killing-center staff wrote on his death certificate that he died in Austria in September, both to throw his relatives off and to fraudulently claim extra money for his upkeep.
In November, Eberl moved on to Bernburg, near Halle an der Saale, to establish killing center Be. Bernburg was unusual in that it was built in the wing of a functioning regional asylum whose staff had to be sworn to silence about the murders that were taking place on the premises. The hundred or so T4 employees who worked at Bernburg did little to ingratiate themselves with the deaconesses who ran the asylum, partying so late and so hard that the killing center was internally known as the Nuttenstall, or "whorehouse." Almost nine thousand patients would be killed at Bernburg, including the Prinzhorn artist Karl Ahrendt, who drew intricate, psychedelic patterns and brightly colored symbols. Ahrendt had once been a coachman and was committed in 1907 after marching around Berlin's Alexanderplatz in a general's uniform. He was in his late eighties when he was murdered, on or after March 18, 1941.
Killing center C was at Hartheim, a medieval castle outside Hitler's hometown of Linz, where operations began in January 1940. Of the six murder facilities, Hartheim killed by far the largest number, at 18,269. The victims included Alois Dallmayr, who liked to draw androgynous figures with lots of curly hair, and was gassed here in August or September 1940, and Anton Fuchs, a woodcarver who probably died in February 1941.
In April 1940, Grafeneck's expert gas doctor, Horst Schumann, was recalled to Berlin, and his role at the castle was taken over by Ernst Baumhard, a newly graduated medic and enthusiastic party member. Schumann was sent to Pirna-Sonnenstein, near Dresden, where he opened killing center D. Among the 13,720 victims of this former fortress were a half dozen Prinzhorn artists, including four women. Gertrud Fleck and Johanna Melitta Arnold had both lived in the Pirna-Sonnenstein asylum for more than three decades. Fleck was an amiable patient who had a canary and loved to paint large, brightly colored flowers. She was transferred out of Pirna in November 1939 while the T4 men installed their equipment, and brought back a year later to be murdered. Arnold, a creator of rich, energetic pastel drawings, lived at Pirna until 1934; she returned to Pirna to die on July 18, 1941.
Auguste Opel and Anna Margarete Kuskop, meanwhile, are represented in the Prinzhorn collection by a single drawing each: Opel by a ghostly, almost imperceptible townscape, Kuskop by a pastel portrait in which the subject's head is tilted slightly, eyes closed, as if absorbed in an inner retreat. This may be a likeness of a friend she met in the asylum system, Miss Alice, to whom Kuskop once wrote: "Above all, I ask you not to forget me." Opel was transported to Pirna on December 6, 1940; Kuskop on May 8, 1941. They were both gassed.
Wilhelm Werner, the artist who drew cartoonish pictures of his own sterilization, also died at Pirna-Sonnenstein. In theory, sterilization should have protected him from "euthanasia" since he was already unable to pass on his allegedly defective genes, but his care givers at Werneck were keen to be rid of him, noting on his T4 registration form that he was a "weak-minded chatterbox" with "a very primitive imagination." He was taken to Pirna on October 6, 1940.
By the end of that year, T4 had killed 35,000 psychiatric patients and disabled children, and the decision was taken to close Grafeneck, which had far outstripped its initial target of killing 20 per cent of psychiatric inpatients in southwest Germany. At the start of December, young Dr. Baumhard invited his counterpart from Zwiefalten, Dr. Martha Fauser, to a "camaraderie evening" at Grafeneck to celebrate his unit's departure: The evening included an invitation to watch the gassing of a transport of women. The facility was shut down soon afterward and Baumhard went on vacation with his staff—or most of them, anyway: He had killed his chief nurse by shutting her in the gas chamber by accident.
In the new year, the Grafeneck team moved en masse to Hadamar, a village conveniently placed for the Wiesbaden-Limburg-Cologne motorway, to open station E. The gas chamber at Hadamar would kill ten thousand people in its eight months of operation. One of these was the Prinzhorn artist Peter Zeiher, a convicted murderer who protested his innocence and drew elaborate reconstructions of the crime scene to try to prove it. Another was Gustav Sievers, the artist who had inspired Max Ernst, and who liked to draw humorous, bosomy women riding to and fro on bicycles, or dancing with overpowered men.
_____________________________________________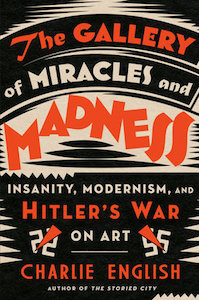 Excerpted from The Gallery of Miracles and Madness. Used with the permission of the publisher, Random House, an imprint and division of Penguin Random House, LLC. Copyright © 2021 by Charlie English.
---