Remembering Chris Dickey, Writer, Friend, and Truly Great Editor
Will Cathcart on the Life and Times of a Beloved Journalist
Tonight, all over the world, dictators, war criminals, and bullies with bad taste can breathe a sigh of relief. Tonight their secrets are safe. Their crimes are buried.
But not for long.
When a great writer dies, we must write for them. When a great editor of many writers dies, a torrent of rough copy flows into newsrooms everywhere.
Christopher Dickey was both. He died on July 16th from heart failure at his home in Paris. Chris was 68 years old.
Chris spent a lifetime as the quintessential foreign correspondent, the kind of guy they make movies about. At age 29, he became The Washington Post bureau chief for Mexico and Central America. Chris then spent 27 years at Newsweek until joining The Daily Beast in 2013.
Chris was the author of at least five nonfiction books and two novels—that I'm aware of anyway. Knowing Chris, there were probably more and certainly more to come.
His most recent book Our Man in Charleston: Britain's Secret Agent in the Civil War South came out in 2015. Before that he wrote Securing the City: Inside America's Best Counterterror Force—The NYPD in 2009. In 1986 Chris wrote With the Contras: A Reporter in the Wilds of Nicaragua.
When a great editor of many writers dies, a torrent of rough copy flows into newsrooms everywhere.
Most recently, as world news editor for The Daily Beast, Chris passed on his untold knowledge as a reporter and his common sense as a writer. As an editor, he gave us his patience. He gave us his time.
That's why this copy is without its editor, and this correspondent is without his hero.
It is time to press return.
Christopher Swift Dickey didn't die for what he believed in. Instead, he stuck around to tell the story. He once told me, in convincing me not to go chase after some war zone, that no story is worth dying for.
This was, of course, ironic because Chris spent most of his career covering war zones until he settled down in Paris in 1990 where he remained until he departed as a proud grandfather of three.
Chris helped so many of us tell our stories. And then he corrected our grammar. For the rest of my life, I'll be rereading the writing guide he would send out with slight frustration to all of his writers every several months as a gentle reminder.
Chris Dickey mentored a small army of journalists. He never asked of us anything he hadn't done himself. All over the world, stories will run. Many will be written about him and even more because of him.
Chris knew (the past tense is killing me here) what it is to be a writer. It is a thing you can't not do. He learned this from his father the hard way.
Chris's father was the famous poet James Dickey. No, actually, Jim Dickey's son was the famous journalist Christopher Dickey.
James Dickey, the author of Deliverance, was appointed Poet Laureate of the United States in 1966. James Dickey was a towering figure. In 1998 Chris wrote a memoir about their tumultuous relationship called Summer of Deliverance.
Writing was in his blood.
Chris would have hated that phrase: "In his blood." Alas, Chris ain't here to fix it.
Chris received the worst of my copy. Out of it, he pulled the best of me.
So much about good writing is the stuff between the lines—the stuff that goes unsaid. Chris even made that sound better.
The life of Chris Dickey ends with a comma. Will he send a dispatch from the other side? If anyone could, it would be him.
It is fitting that Chris passed on the last story that I pitched him. Because with Chris, it was never a rejection. It was a demand for something more.
Chris shed light in dark places. He practiced something more than journalism: An ancient tradecraft, a diplomacy without compromise, a relentless negotiation with the truth.
"Truth isn't the right word," Chris would say. "Too abstract."
But Chris, what can be more abstract than this? How can you simply cease to exist?
I am at a loss. Another phrase he would dislike. But bear and not bare—I always got that one wrong—with me one last time.
As of July 16th, Chris Dickey knows the answer to the big question. The last one anybody gets to ask.
So the rest of us have work to do. Chris will forever ask us that silent question that gets us out of bed each morning and never lets us sleep at night.
Of his writers, Chris demanded both rage and elegance—erudition and urgency. You had to reach for that unnamable thing within you.
And finally, when that story was written. When all of his questions had been answered. Chris might even say "well done."
Then he would ask for one last rewrite, in time to file by morning.
If there is a heaven, Chris won't be there for long. He will expose its seedy underbelly as he did everywhere else he went.
"What does it smell like? Put us in the room. Paint us a picture."
Between what is right and what is wrong, most people get lost. Chris found poetry there. He fought for what was true, for what was right, and for what was interesting.
It is time to press return.
The last time I saw Chris Dickey—the last time I will ever see him—was on a platform across the tracks in the Paris Metro. I was in town and we met for lunch. I told Chris about a novel I was writing and how I was stuck.
His eyes lit up and he said, "There is a place you need to see."
Chris took me to this obscure museum called the Musée de la Vie Romantique. Indeed that place connected the dots. It helped get me where I needed to go.
Chris spent so much of his free time taking photographs of Paris, wandering its streets, and finding images that no one else could. Many of these photographs can be found @csdickey.
It comforts me that a man who spent so much of his life covering conflict found such catharsis in collecting light from that ancient city.
As we left the museum walking toward the subway, we passed by the Moulin Rouge. Ignoring the trappings of its many clichés, Chris, pointed to the subway map. He explained that we would be headed in opposite directions.
"I have an idea," he said in his way. "Across the tracks, I'll take a photo of you, and you take one of me."
The photos didn't come out so well, especially mine. But it occurs to me now the significance of each of us waiting for a train that would forever take us in two different directions.
It is time to press return.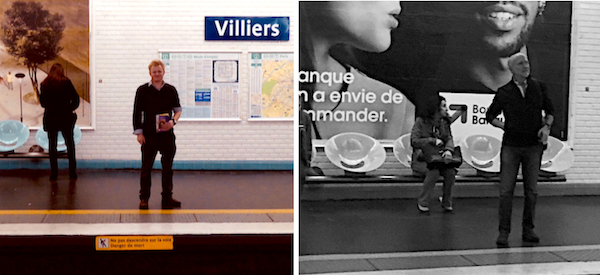 ---