Reimagining the Ancient World: A Reading List
Ian Dreiblatt Fulfills a "Desire to Haunt Ancient Alleys" in These Seven Books
Because I don't have at the ready a pat way of explaining my lifelong fascination with the ancient world, when I'm asked to account for it I often turn to "Broken and Beautiful," a gorgeous song Oscar the Grouch sort of para-erotically croons to a roomful of damaged ancient statues in the 1983 PBS feature Don't Eat the Pictures, which finds the denizens of Sesame Street accidentally locked into the Met Museum overnight. "Broken and beautiful, cracked but okay / Can't imagine who'd throw you away," he sings.
I've found myself mentioning it a lot recently, thanks to my new book of poems, forget thee, which devotes a lot of space of imaginary conversations with characters from ancient literature and history, including epochal celebs like Cleopatra and Jeremiah, and less-remembered characters like Enheduanna—the earliest poet whose name we still know—and her nephew Narām-Sîn, king of the ancient Akkadian Empire. The book finds an unnamed speaker seeking their wisdom from a contemporary world awash in post-Occupy political fragmentation and obscene capitalist domination.
If ancient artworks began their lives as collocations of labor, material, and aesthetics, Oscar's exultantly grouchy serenade highlights an additional collaborator in producing what we, thousands of years later, encounter: time. I'm a sucker for the durational element baked into art from or about the ancient world, remnant of the tidal push and pull of remembering and forgetting that slowly, over millennia, reform the topographies of consciousness. I hope that my book, like Oscar's musical number, is a love song to the partly destroyed, and that within it is room for affection, transcendent weirdness, and productive anger about the state our own partly destroyed world.
Of course, I'm far from the first writer whose desire to haunt ancient alleys and stow away on ancient adventures has spilled into literature. Some books in this genre frankly stink (looking in your direction, Norman Mailer), others need little help from me (TikTok has already done for Madeline Miller what no listicle dares hope to accomplish), and a few truly wonderful books strain the category (Dror Burstein's Muck, for example, or a little ditty called The Master and Margarita). But these seven books imagine the ancient world in ways that make me want to cut my heart on the jagged peak of some sacred mountain, its name lost to the eons.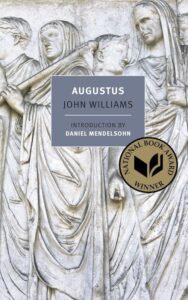 John Williams, Augustus
(New York Review Books)
Today, John Williams is best known for his beautiful novel Stoner, but in his lifetime Augustus was his most successful work, sharing the 1973 National Book Award with John Barth's Chimera (a runner-up for this list, to be sure). The last thing Williams ever published, it depicts the life of Rome's first emperor, from childhood into old age, in language that's crisp yet yielding, like an autumn morning. Ultimately, I think, it's a rumination on what power does to us, how intimately violence tarries in every breath of what we call "civilization." It's also decently clear history—if you want a faithful-enough depiction of how Rome became an empire and what the dude the month of August is named for thought about on his yacht, you'll find them here, en-toga'd in gorgeous prose. Fans of, say, HBO's Rome will want to bathe in it.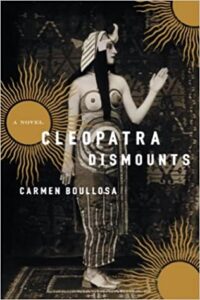 Carmen Boullosa, trans. Geoff Hargreaves, Cleopatra Dismounts
(Grove Press)
This book is a party! Such a party, in fact, that it even refers to the last of the pharaohs as an "inimitable party-goer," often seen kicking it incognita in the streets of Alexandria. It also has bovine kidnappings, protracted arioso lovers' deaths, and fun with pirates, salvaging Cleopatra from historicizations that have grown stale, stories about asps and carpets that sit dusty on the edge of lore, and sending her careening through history like the human cannonball it is at least very fun to imagine she was. Cleo Cleopatra!
Samuel R. Delany, Phallos
(Wesleyan University Press)
If Samuel Delany isn't your favorite sex-radical author of deep-space dragon hunts and intergalactic hitch-hiking poets, you're doing it wrong. Delany's books, notwithstanding his frequent association with sci-fi, span a huge range of conceits and genres, and Phallos, from 2004, occupies one of the most intriguing. It takes the form of an editor's prolonged, online synopsis of Phallos, a gay pornographic novel published in 1969, with claims to a distinguished ancient provenance that said editor severely doubts. (Beyond this frame tale is another frame tale, in which a young African-American man has been searching for a copy of Phallos since he was 12, finding only the synopsis that forms Delany's book.) The synopsis—overlaid with footnotes by contributing scholars—retells the novel's story of a 2nd-century Syracusan farmboy who, as the result of several arguably weird developments, spends much of his life seeking the golden, jewel-encrusted penis of a nameless Egyptian god. The ancient search for the god's legendary phallus becomes a mirror of the modern search for the legendary book Phallos, an erotic mise-en-abime of searches for elaborate penises standing in for other searches for elaborate penises, and Delany uses his polyphonic form to exhilarating effect, foreshortening the distances between ancient character and modern reader while meditating on pursuit, mystique, textuality, and, indeed, dick.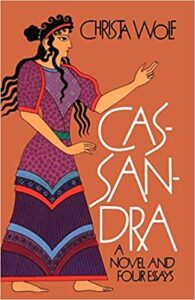 Christa Wolf, trans. Jan Van Heurck, Cassandra
(Farrar, Straus and Giroux)
In her essay "A Work Diary: About the Stuff Life and Dreams are Made Of," the East German writer Christa Wolf notes that epic writing like the Iliad "attempts to impose a standard of human emotion on a bare chronology ruled by the law of battle and carnage"—which, she writes, is also to say that in such tellings "the line the narrator pursues is that of male action." By contrast, she notes, "Everyday life, the world of women, shines through only in the gaps between the descriptions of battle." Wolf's 1983 novel Cassandra expands on this distinction, depicting the Trojan War through the eyes of a woman, a prophet who sees the devastating fate to which her city is being driven, but whose warnings lack the political force to interrupt it. In Wolf's telling, Cassandra is no longer a mortal seer cursed to be met with disbelief; instead, she becomes a furious form of broadly disavowed social knowledge, a wisdom originating outside the violence by which sovereignty enforces itself, stranded in a state of anguished witness. If the trajectory of myth has objectified Cassandra, Wolf works to re-subjectify her, to fill her lungs with everyday truths and capture her rolling her eyes at triumphal narratives.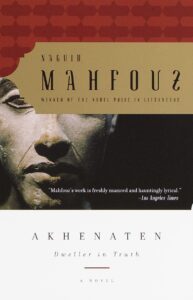 Naguib Mahfouz, trans. Tagreid Abu-Hassabo, Akhenaten, Dweller in Truth
(Anchor Books)
The 14th-century-BCE Pharaoh Akhenaten is an easy contender for most intriguing character from all of ancient Egypt: he declared a new, monotheistic religion everyone hated, totally upended canons of artistic representation, and built a freaky new capital no one wanted to live in. James Henry Breasted famously called him "the first individual in history," Freud spun some harebrained theories about his role in the origins of Judaism, pseudo-scholars like Immanuel Velikovsky consider him the historical Oedipus, and Philip Glass has a very rad and somewhat cocaine-y opera about him. (I've also written a little about the possibility that his lifestyle adjustments were partly an attempt to contain a devastating pandemic.) Mahfouz's novel gets at the beguiling variousness of Akhenaten's image by sending a young Egyptian man, living in the years after the king's death, to track down his surviving retinue and interview them. It's kind of like an ancient Egyptian Citizen Kane, whose "Rosebud" is the Aten, the divinized solar disc that Akhenaten declared to be the only god. The scene near the end where the narrator finally enters Akhenaten's abandoned capital for his climactic interview with the widowed Queen Nefertiti, who lives alone in a palace being slowly swallowed by the desert, is a scorcher.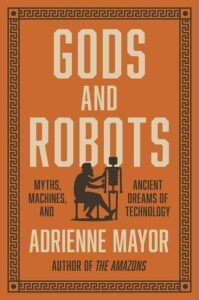 Adrienne Mayor, Gods and Robots
(Princeton University Press)
This list is mostly novels, but I had to include one work of non-fiction because I'm nuts for Adrienne Mayor's books. If it were up to me, I'd replace the whole internet and two-thirds of telephony with Adrienne Mayor books. I want to see her on Hot Ones and play a game where Mario and Luigi navigate landscapes based on her disorientingly proximate recreations of the ancient world. Mayor is a scholar of the complex interrelationship between ancient civilizations and what from a contemporary standpoint might be called scientific curiosity. Gods and Robots, her most recent book, is a riveting account of ancient conceptualizations of robots, automata, and beings that are, to use Mayor's distinction, "made not born." These include Talos, the bronze giant who protected the island of Crete from invaders (oh fuck yes), and Pandora, made of clay and deprived of interiority, her sole mission to open a jar of tribulations humanity would never outrun (thanks, Hephaestus). Humans have learned a lot about automation over the past three millennia, but of the threshold that separates life from hardware we continue to know basically nothing. Mayor invites us to linger in the richness of our incomprehension, and to share it with those who came before us, and had their own ways of sounding it out—still resonant after all that's happened since.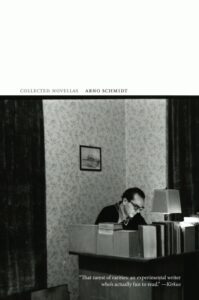 Arno Schmidt, trans. John E. Woods, Volume 1: Collected Novellas
(Dalkey Archive Press)
This one's a two-fer: Come for the all-devouring mind of German hyper-modernist Arno Schmidt, stay for the work of John Woods, a translator's translator if ever there was one and a brilliant hand at safely thawing and refreezing the snowflake linguistic configurations that were Schmidt's specialty. Several of Schmidt's Collected Novellas are set in the ancient world; Woods calls antiquity "a Schmidtian playground for mind-gaming since early youth." Alexander, or What is Truth? is a good place to start. It finds Lampon, a student of Aristotle's, traveling to the metropolis of Babylon, where the most distinguished of his classmates, Alexander the Great, lays dying. Rippling with aftershocks from Nazism, alive to the dizzying freshness of linguistic possibility, and studded with roadside meal tips of the fourth century BCE (shout-out to the tasty smoked bats of Borsippa!), this novella eats like a meal.
______________________________________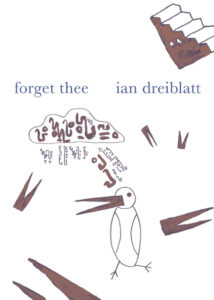 forget thee by Ian Dreiblatt is available via Ugly Duckling Presse.
---