How Do You Write a Biography Filled With Unreliable Witnesses?
Emily Midorikawa on the Challenges of Reconstructing Lived Histories
As readers, we are drawn to biographies because we seek truths about their subjects' lives. But how does an author write a truthful biography if these subjects are deeply unreliable witnesses?
It's a question that has been on my mind ever since I began contemplating what would become my latest book. Out of the Shadows tells the stories of six Victorian-era women who achieved staggering levels of fame and fortune—not to mention social and political influence—thanks to their supposed ability to contact the dead. Such clairvoyant "talents" opened doors to worlds from which they, as women, would otherwise have been barred, rewarding them with rock star-like levels of celebrity and creating a hunger for self-penned accounts of their lives.
But although many of these clothbound memoirs and fraying handwritten papers have survived, so too has the nagging question of how far we can trust them. After all, these women were widely condemned as frauds. And it quickly became clear as I delved into their histories that even the most fervent believer in the spirit world would have to accept that there are too many inconsistencies in these personal recollections to take them entirely at face value.
I first came across one of these women, Kate Fox, while transcribing a letter from Harriet Beecher Stowe to George Eliot in the New York Public Library for a different project. I was in town for less than two weeks, and had pages and pages of letters to get through. I didn't have the leisure to explore who this mysterious Kate Fox might be, and why Stowe took it for granted that Eliot—an English woman on the other side of the Atlantic—would require no explanation.
But I was intrigued by Stowe's vivid descriptions of Kate. The two had met at a séance, and Stowe painted a picture of a strange, sprite-like young woman who was able to summon phosphorescent lights to float in the darkness of the intimate gathering.
Such images burned within my mind too, and, once I had the time, I resolved to find out more. It became clear that back in the mid-19th century, Kate and her older sisters Leah and Maggie had been quite the news sensations, breaking free from relatively humble backgrounds to become the toasts of New York society. Their apparent clairvoyant abilities garnered yards of press coverage. They packed out huge auditoriums and commanded high fees for private readings. Fêted intellectuals, popular cultural figures, and influential journalists alike beat a path to the sisters' door, curious to see them at work.
Researching the lives of the Fox sisters opened up a whole world populated by women for whom Spiritualism served as a springboard. Former childhood clairvoyant Victoria Woodhull became a Wall Street trailblazer and later America's first female presidential candidate. Emma Hardinge Britten made her name as an orator, delivering highly controversial speeches while apparently in the throes of a trance.
And Georgina Weldon, whose Spiritualist activities nearly saw her confined to an asylum, went on to mount a successful campaign against Britain's archaic lunacy laws. I was growing hooked on the idea of writing a book about these improbable Victorian superstars, but the obvious conundrum I'd faced from the start remained. How could I capture the color and vivacity of these women's stories—never more apparent than in their own memoirs—but still write about their lives with truth?
How does an author write a truthful biography if these subjects are deeply unreliable witnesses?
When focusing on the most celebrated years of my subjects' lives, I was able to compare their—often self-aggrandizing, though highly entertaining—accounts with a wealth of other contemporary sources. Historical newspaper reports and the private papers of prominent figures of the era gave alternative takes on what Victoria Woodhull had to say about her notoriously close friendship with the tycoon Cornelius Vanderbilt, her establishment of the first female-owned Wall Street brokerage firm, or her decision to put herself forward as a candidate in the presidential election of 1872. They were less helpful when I was assessing the younger and relatively unknown Woodhull's reason for moving to New York City at the start of this period. Strangely, I didn't quite buy her story that she'd been commanded to do so by the spirit of the ancient Greek statesman Demosthenes.
The memoirs of Woodhull and her cohort are filled with incidents of this kind: stories of tables spinning, life-threatening medical conditions miraculously cured, and countless famous men speaking from beyond the grave. Sometimes these tales would become more and more elaborate with each telling. Such supposed incidents felt too richly described not to include in my book, particularly since they went a long way to explaining the charismatic hold of these women. At the same time, even though they sometimes contained kernels of truth, I could hardly present them as fact. Clearly, I had to come up with a compromise.
In the end, I wrote of many such scenes in my book, but always with the caveat that these women's lively accounts of what had happened were not the only possible versions of events. I also gave a sense of their social and historical context—which could sometimes prove crucial in explaining the surprising level of public credulity—and my own alternative explanations.
In the case of Emma Hardinge Britten's trance lecturing, for example, I put forward the theory that the provocative content of many of her speeches—which dealt with such "unladylike" subjects as national politics, or the plight of women working as prostitutes—might have seemed too shocking, even to Britten herself, to have come from her own consciousness. It must have seemed more palatable to insist that she was merely the mouthpiece for the views of dead spirits.
Throughout my research, I tried to remain open-minded. Although my personal take on these women's spirit communications was framed by a 21st-century skepticism, I'd discover that many of their other claims—which often, frankly, sounded almost as fantastical—were entirely credible.
Not only did Woodhull really run for the presidency, but she was, for a time, lauded by some of the nation's biggest newspapers as having a plausible chance of success. Britten, a relatively recent arrival in the United States, became so respected as a (rare) female orator that, after the death of Abraham Lincoln, she was requested to deliver New York City's first public commemoration to the late president­.
After Georgina Weldon outmaneuvered her husband's attempts to have her committed to a London asylum, on the basis that her Spiritualism was a symptom of an unbalanced mind, she took a very public revenge, representing herself in court throughout a series of highly publicized, and often successful, legal cases. And the Fox sisters' eventual fall from grace would be as dramatic as their ascent, their lives ending in a blaze of controversy, confession, and mutual recrimination.
What slowly dawned on me over my years researching and writing about these women was that the problem I faced was actually not so different from one that plagues all biographers. Frequently, when looking into the early years or the private musings of any person of public note—even one not associated with misdirection or fraud—a researcher can find themself forced to rely on a single chief source.
There are many famous examples of this. In the case of Charlotte Brontё—whose life I researched for my previous book—most biographers, me included, have drawn on Elizabeth Gaskell's early book about the great author. Some would argue that the fact so many past chroniclers have relied on the same source goes a long way to legitimizing it.
In the end, we are all working with the inherent unreliability of people.
However, the author Hallie Rubenhold—whose book The Five challenges received wisdoms about the victims of Jack the Ripper—has pointed out that unquestioning acceptance can lead to dubious viewpoints coming to be regarded as indisputable. Still, others might say that a witness such as Gaskell should be regarded as reliable. She and Brontё were friends, and many of the incidents described by Gaskell are based on her own recollections of things Brontё told her. But personal recollection is, by its very nature, fallible. And many of the scenes so vigorously described in The Life of Charlotte Brontё are notable for the kind of novelistic flourishes that Gaskell used to such great effect in her popular novels. The critical reader is forced to pause.
Over the past five years, I've come to see this pausing as a crucial part of the essence of the biographer's craft. This holds true both for authors researching figures like Brontё or the Ripper, on whom gallons of ink have already been spilled, and those investigating less well-known subjects, whose lives have not been endlessly scrutinized and reviewed. In the end, we are all working with the inherent unreliability of people—weighing their words against surrounding context and competing evidence, feeling our way out of the darkness toward an illuminated sense of the truth.
__________________________________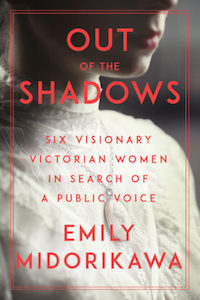 Out of the Shadows: Six Visionary Victorian Women in Search of a Public Voice is available from Counterpoint Press. Copyright © 2021 by Emily Midorikawa.
---