Rebel Without a Real Cause: On Surviving the Social Hierarchies of High School
Via Bleidner Considers Coming-of-Age in California and the Addictive Validation of Clout
Like any other teenager, I hate my parents. More specifically, I submit to the inevitable adolescent feud of Girl v. Mother, a side quest in my journey of being a teenage shithead. I have to channel my unprecedented angst somewhere, so I suppose it's only natural that I should choose the person who's in charge of me. I feel grown up, but I'm restless; I'm at an in-between age, one that comes with a constant frustration at myself and the people around me. It's the specific burden of an undeveloped frontal lobe.
I find my mother's presence infuriating. I navigate my own house like a squatter, veering sharp turns into bathrooms or closets when I hear her coming my way. I don't speak to her more than absolutely necessary. I'm mean because it's fun. I don't yet have the self-awareness to see that I must seem ridiculous; I am, after all, an angry, pubescent blob of brace-faced hormones. From the outside, I probably resemble a rabid squirrel.
My mother's a writer. She isn't afraid of anything. She keeps a photo of a fat white worm on the refrigerator. It's called a witchetty grub, a local delicacy she'd eaten while on assignment in Australia. "Tasted like chicken," she told me when I was a little girl.
Before I was born, she was a travel journalist. Then she was a correspondent for People magazine and Us Weekly. She'd once arranged for an interview with the Olsen twins, and they wouldn't let her onto their yacht, so she stood outside on the loading dock in 95-degree weather to ask them about their success. They were ten.
Growing up, I had to accept that I will probably never know the full extent of my mother's adventures. In conversation, she tosses in references to stories she's never told like they're mundane comments about the weather. Watching the news one evening, Hillary Clinton's face flashes on screen. "I was once threatened by Secret Service for posing as a Stanford student to interview Chelsea," she says, then stands up and yawns. "Alright, I'm going upstairs to take out my contacts. Put away your dishes."
My mother introduced me to the legal pad, made sure I learned to walk by balancing a book in each hand. Toted me to book readings. I like to tell people that my first concert was a Joan Didion Q&A. Born in New York, she lived in a house with big beech trees out front, turned down modeling scouts that stopped her on the street. If she wasn't my mom, she might be cool.
On a Thursday night, I fold the napkins and allow—just this once—for my mother to nag at me.
"Did you finish your homework?" she asks.
"Yeah." I fill the glasses with water.
"Because you know I will check online."
Forks. Knives.
"And after dinner you should study for your math test."
"Yeah." Plates. Butter dish. Serving spoons.
I like to tell people that my first concert was a Joan Didion Q&A.
"Are you listening to me?"
"Yes." No.
"I was talking to your math teacher," she says. "She says you haven't been turning in homework."
"Oh," I say.
"I don't want you doing anything with friends until you get that grade up."
"Okay."
"Listen," my mother says, pausing from slicing a tomato. "I bug you because I love you, and I worry about you."
"I know. Love you too."
But inside, I'm furious. I give my father a look, praying for him to be on my side. Give her a break, Irene, I wish he'd say. But in reality, my dad's even more of a hardass. He's from Queens, New York. In college, he poured drinks at a Mafia bar; in adulthood, he worked in advertising at Fortune and ABC. He loves to call me a snowflake. His parenting style could be summed up in three words: cut the bullshit. "Do your fuckin' homework, Olivia," he says. "You're too smart for this shit."
My little sister, Jackie, observes quietly from her seat at the table. She's five years younger than me. She has a biting humor and a sense of sarcasm beyond her years. Jackie has mastered the art of the facial expression. Tonight, she's smug, her mouth hidden behind a cup of water.
We try to have a family dinner every night, but I usually don't make it all the way through because I storm off in the middle. Tonight, my brat mode is activated when my mother uses the word lit four or five times in the span of three minutes. (My mom's favorite pastime is using slightly-dated slang until I've forced it from my vernacular.) So I make a fuss. I embarrass myself. I run to my room in a huff with little bits of corncob stuck in my braces.
Nobody understands, I think to myself, tears and snot dripping down my face, oblivious to the fact that my whole family is most certainly laughing very hard behind my back.
But I think teen angst isn't necessarily a bad thing. While yes, my bursts of attitude are perhaps more Diary of a Wimpy Kid than they are Rebel Without a Cause, I maintain that it's still an important part of growing up. Some kids decide to use their angst for good. But some just use it to have a good time.
He surges to the top of Calabasas High's small-time celebrity Rolodex overnight. One morning, he's all anyone can talk about.
Valentino Devito, for example, is the poster boy for Good Time Angst. He's two years ahead of me in school, a transfer as of a month ago. I don't know his real first name. Very few do. He only ever responds to his moniker, Valentino, both in and out of the classroom. Of unknown origins, he surges to the top of Calabasas High's small-time celebrity Rolodex overnight. One morning, he's all anyone can talk about. Because under the hazy cloak of a temperate autumn night, he snuck onto campus and put up posters of his official logo: a Valentino bucket purse, cut-and-pasted above the Wikipedia photo entry for Danny DeVito. And it is taped to every wall, column, and bulletin board at school.
Faculty removes them, but they're not fast enough for Valentino. When one's pulled down, three more pop up somewhere else. He must have secret associates. That's the only explanation. We don't know who's working for Valentino and who isn't. It's a schoolwide game of Mafia.
Valentino drives a 1970 Chevy Impala. There's a set of blue fuzzy dice hanging off the rearview mirror, and his vanity plate is, of course, VLNTNO. He wears vintage aviator shades atop a head of long shaggy hair. He's handsome. Stocky and well-dressed, he looks he's just walked out of an 80s-era high school comedy. His voice is commanding, but soft; he's got a boyish mischief that both charms adults and frightens them. Youthful authority. It's the most powerful—and dangerous—combination a high schooler can possess.
We elect him as pep commissioner. He approaches this position with the utmost sincerity, reciting the Pledge of Allegiance over the intercom like he's performing voice work for the Schindler's List audiobook. He's got a taste for drama. He lets loose during pep rallies, usually to encourage some cockamamie plot on the student body: run shirtless through the quad, or pat Mr. Grisham on the back today, or bring water balloons to school.
His best friend and right-hand man, Norbert Cox, may be even more of an enigma than Valentino. Scrawny, quiet, and bizarre, he exudes dad energy, wearing ties to school and smoking cigars at parties where everyone else is drinking SKYY Vodka. Every two weeks he makes a mysterious trip to downtown Los Angeles to invest in platinum. "It's the only reliable currency," he claims, "if shit goes down." He once gained schoolwide infamy when, in order to win a scavenger hunt, he placed his manhood inside of a McFlurry; a few months later, CHS elected him as student body vice president. He and Valentino make for quite a team. Together, they make repeat trips to Nobu in Malibu, a celebrity hideaway where a salad costs seventy dollars. Norbert and Valentino sit in booths and order refill after refill of lemonade—and only lemonade—just to mingle with high society.
Monday mornings, Valentino wakes up early so he can drive all the way to Santa Monica and pick up a trunkful of Krispy Kreme on his own dime. Armed with a bullhorn, he sets up a folding table in front of the main office and hands out free donuts to those on their way to academic dread. Where he acquires the funds to make such a generous purchase, no one can say; but then again, why look a gift horse in the mouth? "HAPPY MONDAY, CHS," he yells, the words glittering with his trademark smarm.
Principal Stack stands at the window of her office, gazing over Valentino's giveaway with a grim smile. Technically, Valentino isn't doing anything wrong. But all this hullabaloo doesn't sit quite right with her. She can sense his authority looming over the school. He's gaining control of the student body, and with every fried glob of sugar planted into an open palm, she's losing it. And there is absolutely nothing that she can do about it.
For now, at least.
*
Lily accepts a donut from Valentino and smiles. "Thank you so much," she says cheerily. She's wearing the same outfit she wears every day: navy polo, khaki shorts that come down to the knee. And tucked under her arm is her most prized possession. It's an outdated Acer laptop, the keyboard a charcuterie of Nature Valley granola bar crumbs.
Lily is a bit of an enigma. She doesn't talk much about her parents or her home life and she abstains from gossip. What we do know, however, is that she has big dreams. Lily wants to become a star. During lunch, she roams the quad. She holds her open laptop at an arm's distance from herself and films covers of Top 40 hits. Nicki, Ariana, Janelle, Post. All full-volume, all a cappella.
Occasionally, she'll take a break from singing to vlog, skirting from table to table to introduce different cliques to her three or so subscribers. "Hey guys," she says, "today I'm at lunch with my friends. Everyone say hi!" Nobody dares make fun of her. She has an infectious confidence. Everybody loves Lily because she doesn't care what anyone thinks. She's similar to Valentino in that way. So it makes perfect sense that they should strike up a bit of a friendship.
He gives her shout-outs at pep rallies. High fives her in the hallway. If she had any form of social media outside YouTube, he'd probably hype her up on there too; it's a shame that she doesn't have a cell phone, or an Instagram, or a Twitter. Word spreads that he sometimes slips her an extra donut in the mornings.
In the meantime, Valentino, confident and backed by a throng of ardent supporters, escalates his antics. He locomotes from posters to chalk paint, scrawling his name in large block letters all across campus grounds. He discovers a doting lover in recreational drugs, upgrading his classes from drab to fab with the aid of a certain fungal psychedelic consort. One afternoon, he and Norbert drive his Chevy right onto the quad, bass-boosting Valentino's own mixtape over the speakers. It's a foolish mistake, a severe misjudgment of his own campus stature. Stack serves him a detention and trash pickup and delivers him Warning Number One.
__________________________________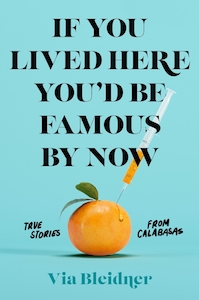 Excerpted from IF YOU LIVED HERE YOU'D BE FAMOUS BY NOW: True Stories From Calabasas by Via Bleidner. Copyright © 2021 by Via Bleidner. Reprinted with permission from Flatiron Books. All rights reserved.
---