Rebecca Solnit on the Empty Violence of the Underachievers' Coup
One Week After the Insurrection That Went Nowhere
Feature photo by Rachel Cobb
What did Trump and his mob think success looked like last Wednesday? Rudy Giuliani called for "trial by combat," but did they think that sheer violence would settle the matter of the election for the nation and the world? Did they think that all the apparatus of local, state, and national government (including all the bureaucracies, such as the judiciary, that need to function for there to be a federal government), as well as civil society, would just shrug and fall in line if they'd hanged Pence and murdered a number of other elected officials? That would have been terrible, but it would have only begotten a bigger backlash from a more wounded government and nation, and more peeling away from the Republicans who haven't gone full radical-right. Even the abominable Ted Cruz might have looked askance at Vice President Pence dangling from the gallows (though he and Jim Jordan and Matt Gaetz would have quickly figured out why it was the Democrats' fault).
Had they succeeded in holding the Capitol and taking hostages or killing some of the legislators within, that might have triggered further violence by the right around the country (and there is a real and alarming possibility of further right-wing violence in the coming weeks). But their capacity is limited to intimidation and inflicting destruction. Despite what the tearful Elizabeth from Knoxville said in the now famous video—"We're storming the Capitol, it's a revolution!"—even "insurrection" was an intention by a mob that apparently aspired to be a lynch mob.
The mostly white, mostly men who invaded the Capitol were not the Confederate Army, even if they were hot for its flag: they posed no real threat to overthrow the US government. They are not the military (or a military), and lack the ability to conquer or to dominate the way the forces behind a coup dominate a country. As others have pointed out, for a serious full-on standard-issue coup you need the military on your side, and ten former Secretaries of Defense made it clear Trump and his disgruntled minions would not have it—a somber note, just before January 6, as to how much of a threat they perceived, followed by yesterday's letter from the eight Joint Chiefs of Staff condemning the "violent riot" and reaffirming that Joe Biden is the incoming president.
Trump seems to genuinely believe he's risen to at least the status of absolute monarch or maybe demigod.
This was and is a slob coup, an attempt to discredit and undermine the incoming administration and keep Trump in the spotlight after his presidency is over and exact some sore-losers' vengeance. You could also call it an underachievers' coup, since some of its participants and supporters count the hours of chaos and violence as a victory. It is a propaganda victory for both sides. It has convinced the far-right of their own capacity and convinced a lot of the rest of the world to take them seriously. It also made the case to everyone else of the real dangers they have long posed and the necessity of responding more strongly than we have. Warnings that far-right white extremists are the greatest terrorist threat in this country have been ignored for decades, and perhaps that denial has come to an end.
The underlying question is, did they think at all? Trump is notably shortsighted, always focused on the next grift and not the long game—which is why he's in deep legal trouble and financial meltdown now, repudiated and isolated as a result of his most recent actions. In some ways his behavior since the election was more an emotional meltdown than a strategic plan, or a muddle of the two. It's not working out well for him—or them—at this point. His followers have played too many video games or watched too many dumb superhero movies if they thought even several hundred violent mostly middle-aged white men with, at the time, modest amounts of weaponry, were somehow going to convince 340 million people domestically and eight billion abroad that a mob gets to choose the next president of the USA. Had they succeeded to any extent, there would have been at minimum immediate international sanctions and refusal to recognize such a regime, as well as noncooperation around the country of many kinds.
It would have generated more violence and chaos, but it would not have been the kind of victory they fantasize about, which is the domestic-violence perpetrator's unthinking fantasy that by further harassing his ex-wife he can make her love him again. (Possibly because he thinks of this as a display of manly power.) Many among them apparently thought they could beat the nation into submission, specifically the submission to minority rule that overturning the results of the election would have meant. I think it likely that with slightly different circumstances there could have been far more beating, but that too would not have produced submission, but its opposite.
As it is, the main result has been a backlash leading to the disassociation of a lot of powerful institutions from the elected coconspirators, calls for some of them to resign, social-media shutdown of Trump and a lot of QAnon followers, loss of jobs and criminal charges for some of the participants who entered the Capitol, and a host of consequences for Trump, possibly spelling financial ruin and pariah status. For those who had dismissed the violence, the racism and antisemitism, and the delusions of the MAGA crowd to date, it was also a wake-up call (how anyone could sleep through four years of that neofascist racket or hear it as crickets is another question).
One thing that has been striking for me about Trump and his followers is that they have a devout medieval fantasy that power somehow reposes in the ruler rather than in the systems he heads. . But the systems we have here can withdraw cooperation if they find the leader illegitimate or in violation of the law. That the judiciary overruled or threw out more than 60 lawsuits brought over the election is one sign that power is dispersed in the system; that Trump believes it's concentrated in him was evident in his mad scramble not merely to put in a Supreme Court justice just before the election but his repeatedly expressed belief that the Supreme Court would then obediently obtain an election victory for him on command.
Warnings that far-right white extremists are the greatest terrorist threat in this country have been ignored for decades, and perhaps that denial has come to an end.
Trump seems to genuinely believe he's risen to at least the status of absolute monarch or maybe demigod, and some of his followers call him God-Emperor, or GEOTUS, apparently non-ironically, which is part of why it's appropriate to call at least part of MAGA-land a cult. His whole life as a rich white man has been about surrounding himself with sycophants and avoiding consequences, and the protected presidency he enjoyed furthered that. Of course authoritarianism (and most cults are authoritarian) is always inclined this way: to make the leader infallible, flawless, oracular, unquestionable, to suppress and punish dissent and hold that infidels must die.
The Trumps had the White House, but that house was only a center of power as long as it was connected to systems of government, finance, and information circulation as it was connected to water, power, wifi, cable, and goods coming in and out. The fantasy of autonomy is a fantasy of masculinity and conservatism, or rather exists at the point where they intersect, which is why idiots with guns and jacked-up trucks who rely on the utility grid, food growers, road maintenance, and a host of less overt systems (including truck and gun factories) think they're autonomous survivalists or wild west frontiersmen. They have been fed on the lead-filled diet of cowboy movies and lone-cop-whose-violence-is-sanctioned action movies and the National Rifle Association's idea that a gun is the ultimate arbiter of authority.
It is, but only the authority to kill and dominate, and not the capacity to make the systems of cooperation work for you, to be part of the cooperative enterprise that is society, government, productivity and the rest, let alone the cooperative enterprises that are personal relationships. Of course many in the government fetishize guns and misunderstand or misrepresent the nature of power too; this stupid machismo is a rot throughout the system. Authority can look bland and benign when obedience is a given; it's in being challenged, in fear of losing, that it lashes out, and in so doing it can delegitimize itself, whether it's the head of a family or the head of a nation. White male Christian authority could posture as gracious and beneficent as long as it was unquestioned.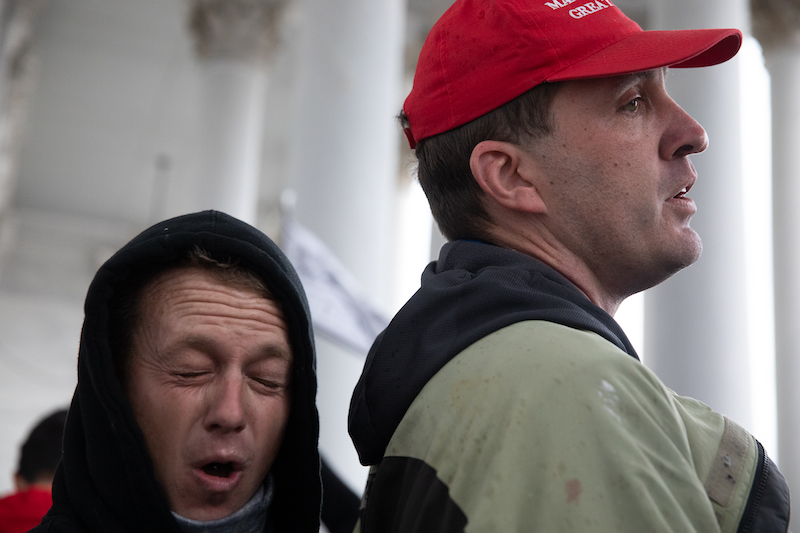 Minority rule, which was the law of this land when only white men voted, and long after women officially got the vote but nonwhite votes were suppressed, is what this insurrection sought to reimpose. Through violence, they sought aggrandizement of power for white men, for the loser of the election, and for delusions supported by (largely white) millions who are nevertheless a minority. There is a striking consistency through all this: a passion for inequality. For some people counting for more than others. For a small group of people getting to determine the fate of this nation. For the authoritarianism that is violence, the idea that I get to choose whether you live or die, that I get to have the power to inflict harm upon you, that I get what I want because of my capacity to damage. It's a destructive and not a creative power. "What claim will you have? That you rule over a destroyed society? That the ashes belong to you?" Alexandria Ocasio Cortez demanded of the mob.
There are short-term legal responses to the attempted coup of January 6, but one of the longterm responses that will matter is the discrediting of violence. By this I mean not just the legitimacy of violence but the efficacy of it, what it does. When you idealize violence, you idealize inequality, and vice-versa; you effectively declare that some people matter more than others. All last summer's Black Lives Matter and #defundthepolice activism was about how often giving people license to commit violence goes horribly awry, how using violence in the name of keeping the peace and enforcing the law too readily turns into a sordid brutality enforcing inequality. Which is a reminder that the case for equality has been stepped up mightily in recent years, as racial justice, voting rights, immigrant rights, trans and queer rights, feminism, and climate justice, just as the case against all these things and for reinstatement of the old inequalities has been amplified in response.
Trumpism has relied on the clannish sense that my people matter and yours do not, that violence is how we get stuff done, and that power consists of the capacity for violence and is the ultimate admirable skill. This stuff is woven deep into our society and we are reminded of it every day. Every problem is in part a storytelling problem. We just barely survived the result of some very stupid stories, and the longterm response has to include better stories at the substrata of our imaginations and our lives, personal and political. We have them, but amplifying them, celebrating them, circulating them, arguing their logic in our conversations and speeches and teaching is part of the work all of us can do.
____________________________
Author's note, February, 2021: The analysis in the pieces I wrote in the immediate aftermath of 1/6 was drawn from early reporting and documentation suggesting that the Capitol police did not take the threat seriously beforehand and were unduly friendly toward the attackers as the coup attempt unfolded. Later reporting and footage demonstrates how they were denied requested assistance by Trump-aligned officials, notably by extraordinary restrictions placed on the National Guard by the Pentagon, and that many officers fought valiantly for hours in a brutal conflict, in which well over a hundred Capitol police were injured. The apparent friendliness in some cases may have been the response of overwhelmed defenders, though in others questions remain. The underlying problems of unequal treatment under the law and white-supremacist threats and violence being ignored and dismissed for decades remains.
---