Reading Books About… People Reading Books?
Alice Jolly Recommends Biblio-Memoirs by Nina Sankovitch, Andy Miller, Jenn Shapland, and More
Eight years ago I wrote a memoir called Dead Babies and Seaside Towns about my experience of stillbirth and surrogacy. The book was rejected by the mainstream publishing industry, so I crowdfunded my memoir through the UK publisher Unbound and the book went on to win the PEN/Ackerley Prize.
Now, I am certainly not boastful enough to believe that my book forced publishers to reconsider what readers of memoirs might want, but I do know that my book rode the crest of a wave of change that was happening around the same time. Suddenly, life writing was bigger, bolder and braver. These changes were partly about subject matter, but also about form.
Memoirs started to overlap with personal essays, travel writing, nonfiction, autofiction. Whole new types of life writing emerged, including the biblio-memoir, which is defined as a memoir about reading.
Here I must be honest and admit that, initially, I was less than convinced by the biblio-memoir idea.
Reading is an inherently undramatic activity, so why write about it? Also why read about a person reading a book when you could just read the book? Plus, might it not be just slightly smug to tell other people about just how many books you read? But, of course, as always, the form itself is not as important as what the writer does with it.
Increasingly, I discovered that the best biblio-memoirs are a wonderfully quirky mix of autobiography, travel writing, literary criticism, self-help and immersion journalism. The list that follows includes books which push the genre boundaries, which explore and explode the form. So often books stay in our head precisely because we do not know exactly what they are.
*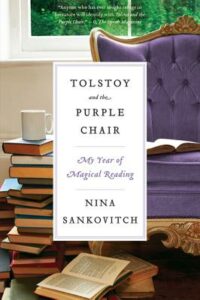 Nina Sankovitch, Tolstoy and the Purple Chair: My Year of Magical Reading
(Harper Perennial)
When Nina Sankovitch's sister died, she decided to take time out from her busy life and to sit down and read. For a year, she read a book a day, choosing a wide range of books which proved to be engrossing, frustrating, enlightening and challenging. Her account of her reading is generous, considered, and wise. For her, the reading process was profoundly linked to healing and the ways in which we preserve and process memory.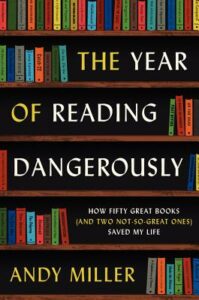 Andy Miller, The Year of Reading Dangerously
(Fourth Estate)
Andy Miller set out on a project of "betterment" after he realized that he had spent rather too much of his life pretending to have read classic books which, in fact, he had never read. His "betterment" project involved spending his long commute to work slogging his way through famous books, some of which he enjoyed, but many of which he found extremely turgid. The strength of his account of this strange project is his highly irreverent attitude to even the most famous novels and his quirky and humorous digressions into his own life and the way in which he has been shaped by books and reading. This is a clever, funny, mocking, eccentric, and dogmatic story, fueled by a real belief in books power to improve and transform.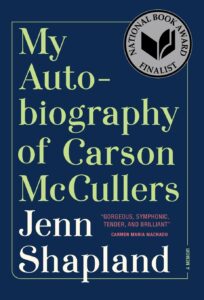 Jenn Shapland, My Autobiography of Carson McCullers
(Tin House Books)
Author Jenn Shapland takes a bold step here in treating the life of Carson McCullers as an imaginative space in which to explore her own identity. Her assessment of Carson McCullers is fresh, incisive, and alive with vivid details, and her writing about her own life is full of a gentle confusion and a profound tenderness. The result is a journey through literary criticism, cultural history, and the search for identity. This is a book which raises interesting questions about who owns a text and challenges our idea of what memoir can be.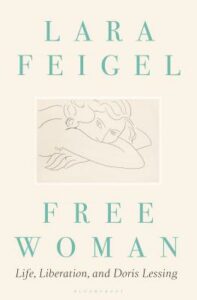 Lara Feigel, Free Women: Life, Liberation and Doris Lessing
(Bloomsbury)
Lara Feigel is a woman with an apparently happy life—a wife and mother with a successful academic career. Yet while hoping and waiting to have a second child, she finds herself asking questions about freedom, in particular: What would the life of a "free woman" look like? When Feigel discovers that the writer Doris Lessing was obsessed by similar questions, she sets out on a mission to understand Lessing's complex life and her varied and challenging novels. That quest becomes an opportunity to explore issues of political engagement, marriage, motherhood and aging. Feigel's book becomes a meditation on the challenges of living as a woman in the contemporary world. This is literary criticism as lived experience and also a book which might well be more useful to readers than many self-help books.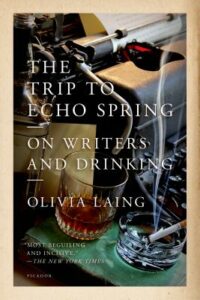 Olivia Laing, The Trip to Echo Springs: Why Writers Drink
(Canongate)
In The Trip to Echo Springs, Olivia Laing explores the lives and work of six major writers, including Scott Fitzgerald, Tennessee Williams, and Ernest Hemingway. Her project centers on these writers' relationship to alcohol, as she asks: Was heavy drinking really a necessary component of their art, or was it a blight which might have prevented them from producing even greater work? Laing has an amazing ability to analyze and explain both these writers' lives and the texts that they produced, weaving her assessment of them with elements of memoir as she touches on the ways that spending time with heavy drinkers shaped her own experience of childhood.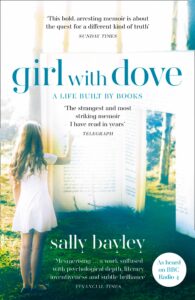 Sally Bayley, Girl with Dove: A Life Built by Books
(HarperCollins)
Sally Bayley shows how she survived an extremely challenging childhood by importing fictional characters into her everyday life. Living in an English seaside town, Bayley is neglected, lonely and confused, but Agatha Christie's Miss Marple shows her how to work out the mysteries of the adult world. Jane Eyre and Betsey Trotwood (from Dickens's David Copperfield) also dance through the pages of this vivid and haunting book, which brilliantly recreates the wonder and pain of childhood and the collision of the realms of reality and imagination. Perhaps more an anti-memoir than a biblio-memoir, this is a book which defies categorization but speaks powerfully of the imagination as a site of transformation.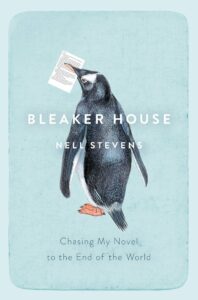 Nell Stevens, Bleaker House
(Picador)
Nells Stevens's book is not so much a memoir of reading as a memoir of writing and an exploration of the difficulty of getting words on the page. It tells how 27-year-old Stevens uses a three-month fellowship to set off for an island in the South Atlantic called Bleaker, part of the Falkland Islands. The island is inhabited only by penguins and the weather is grey, cold and threatening. Stevens goes to the island in the hope of finding the solitude necessary to write but soon realizes that being hungry, bored, and desperately lonely is not an ideal path to creativity. Finally, she does finish up a book—not the novel she planned, but a fragmented and wry comment on the struggles of writing. Gentle, funny and thought-provoking, it is a puzzling yet comforting exploration of the relationship between writing and living.
__________________________________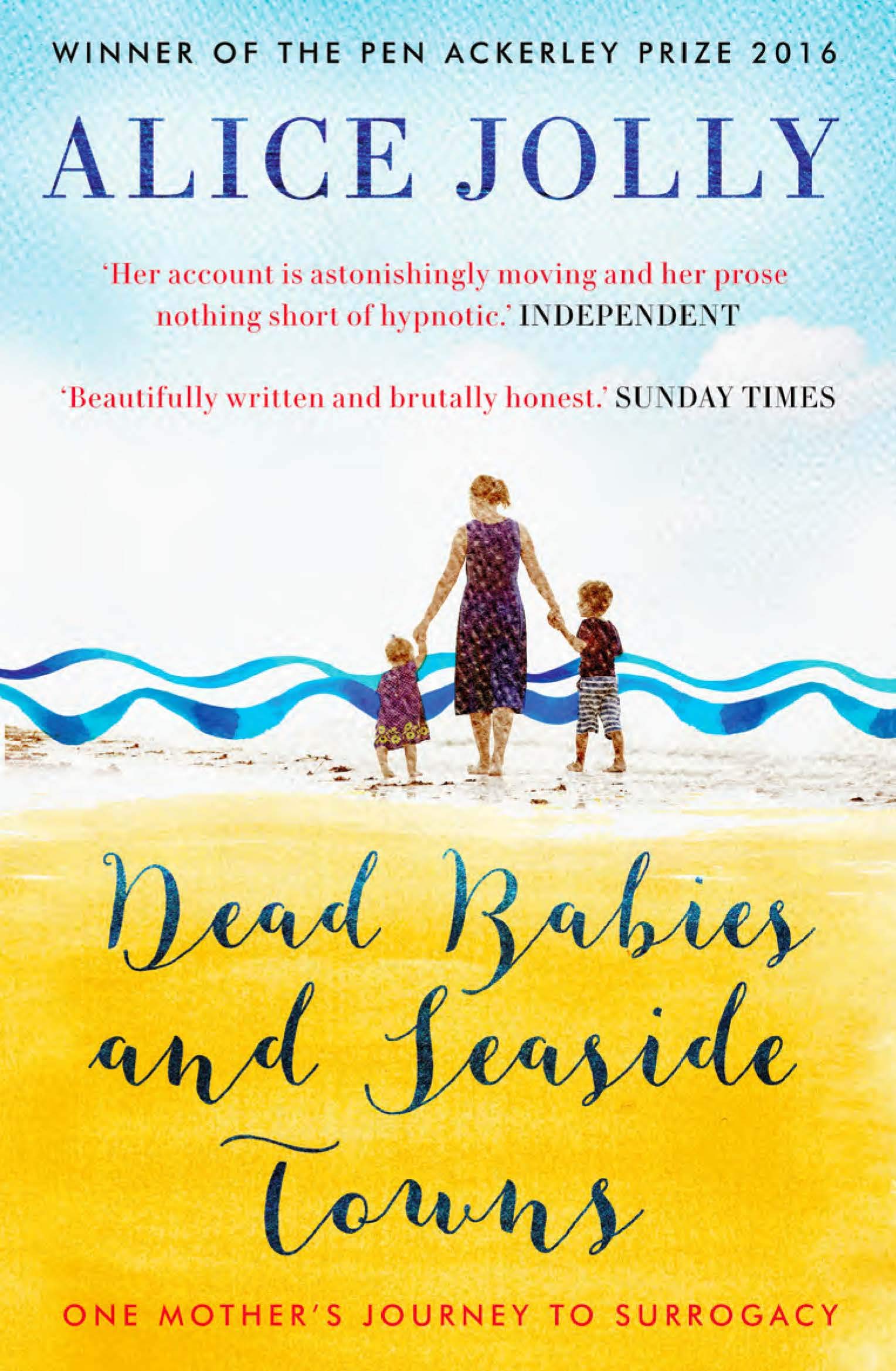 Dead Babies and Seaside Towns by Alice Jolly is available now via Unbound.
---