Read a Deleted Scene From Get Out
What If There'd Been an Alternate Opening for Andre?
EXT. SUBURBAN FRONT LAWN — DUSK 
Fireflies mingle. Behind them, an upscale white house with large windows comes into focus. Through the windows sits the SHAW family. Caucasian and warm—RICHARD, 34; NANCY, 30; JOSHUA, 6; and MAY, 4—eat dinner. Richard reads something on his tablet illuminating his face. 
JOSHUA: Are we going to Disney World or Disneyland? 
RICHARD: The one in Orlando. 
NANCY: Disney World. 
JOSHUA: Tony said that Mickey is not really Mickey; it's someone else in there. Is that true? 
RICHARD: Mickey's Mickey. 
EXT. SUBURBAN STREET — DUSK 
ANDRE, 30, an African American man runs down the sidewalk wearing a tracksuit. He stops to catch his breath in front of the Shaw's house. He glances inside. The Shaw's seem normal and content. Andre smiles. 
A motion detecting security light floods the lawn.
INT. THE SHAW'S HOUSE — DINING ROOM — DUSK 
Richard looks up from his table to see Andre standing there. The rest of the family doesn't notice. Nancy tends to May, who SQUIRMS in her chair. Richard watches Andre protectively. 
JOSHUA: There's only one Mickey right? 
RICHARD: Right. 
JOSHUA: Cause Tony said he saw a chef Mickey. 
RICHARD: I guess he changed his clothes for work. 
EXT. SUBURBAN STREET — DUSK 
Andre walks on. It's getting dark. Andre is suddenly very alone. 
A vintage creme-colored Porsche Boxter with tinted windows and a roof CREEPS up on the street behind Andre. It's tailing him. 
INT. SPORTS CAR — DUSK 
Driver's POV watching Andre. His BREATH ECHOES deep and tinny as if it were into a coffee can. A red cross hangs from the rearview mirror. Through the car's system we hear an English to French language tutorial recording. 
TUTORIAL: Pardon me. Where is the nearest restaurant? Pardonnez-moi. Ou est le restaurant le plus proche? 
The driver doesn't repeat. 
EXT. SUBURBAN STREET — DUSK 
Andre, feeling followed, stops to tie his shoe. The car also stops. Andre notices. He waves at the unseen DRIVER inside. There is no response. Just the PURR of the engine. 
Andre begins walking again. The car follows slowly. Andre stops again. The car does too. Andre peers through the windshield but can't see through the tint. 
ANDRE: Hi. Can I help you…? 
No response. 
ANDRE: I'm new to the area. I just moved here… Down on Evergreen… Look, is there something I— 
INT. SPORTS CAR — DUSK 
Driver's POV. Andre continues to talk outside. 
TUTORIAL: Can you show me the nearest bathroom? Pouvez- vous me montrer la salle de bain la plus prouche? 
EXT. SUBURBAN STREET — DUSK 
Andre hears nothing from inside. 
ANDRE (under his breath): This is some shit right here. 
Andre begins walking. The car creeps alongside him. After a few steps, Andre stops again. Again, the car stops. 
ANDRE: Wait a minute. This is somebody I know isn't it? You messing with me? … Come on. 
No response. He realizes it's not a friend. 
ANDRE: Cause, if you did know me, you'd know I'm an attorney; this could be considered stalking and harassment. I've put people in prison for less. Plus, you're sitting in a deadly weapon so that some felony shit right there. 
No response. 
ANDRE: Come on man just say something then. What?!? 
No response. Andre starts walking the other direction. The car stops and backs up, following Andre in reverse. 
ANDRE (to himself): Don't do it. Don't let him get to you. 
After a few more steps…
ANDRE: Fuck. 
Andre, fed up, stops. He approaches the passenger's side window and bangs on it. 
ANDRE: Hey, look I'm from Brooklyn. If you wanna do something, then let's do something. I'm ready to go. 
Andre bangs harder on the window three times. 
ANDRE: Hey!!! I'm talkin' to you!!! 
The car's passenger-side window rolls down. 
TUTORIAL: Can you help me find a hotel? Pouvez-vous m'aider a trouver mon hotel? 
Andre's expression goes from anger to terror. The driver wears a tubular metal helmet over his head and face that's rounded on the top like a silver bullet. It has slanted rectangular eye holes. 
ANDRE: Shit. 
The driver raises a gun with a silencer on it. Andre turns to run but is shot in the back. 
Stunned, he stumbles towards the Shaw's house and falls in the front lawn. There's a dart in his back. The security light floods the lawn again. He looks up towards the Shaw's bay window. 
ANDRE (weakly): Help. 
__________________________________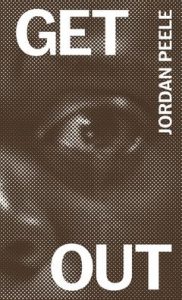 Excerpted from Get Out: The Complete Annotated Screenplay. Used with the permission of the publisher, Inventory Press. Copyright © 2020 by Jordan Peele.
---