Rax King on Giovanni's Room, A Little Life, and Susan Choi's Sex Scenes
Rapid-fire Book Recs From the Author of Tacky

Welcome to the Book Marks Questionnaire, where we ask authors questions about the books that have shaped them.
This week, we spoke to the author of Tacky: Love Letters to the Worst Culture We Have to Offer, Rax King.
*
Book Marks: First book you remember loving?
Rax King: Oh, man, I had this sick picture book called Left or Right. It was just, you know, photos of stuff and then the caption would indicate whether a certain object in the photo was on the left or right of the image. My dad and me wore that book out at bedtime. What the hell? How does this book only have a 3.5 on Goodreads? I know my left from my right to this day!
BM: What book do you think your book is most in conversation with?
RK: Maybe Lisa Carver's Dancing Queen. It's like her book is squealing with delight about the 70s while mine squeals right back in delight about the 00s, and then maybe right afterwards the books have a pillow fight.
BM: A book that blew your mind?
RK: Hanya Yanagihara's A Little Life, and I don't mean that in an entirely complimentary way. I stayed up until the wee hours reading it and then just, like, sat on top of my bed staring at the wall all haunted. Then my mom came into the room and was like, what's with you, and I told her what book I'd just read, and she immediately got it, because she'd read it too.
BM: Last book you read?
RK: Just finished Gayl Jones' Palmares.
BM: A book that made you cry?
RK: James Baldwin's Giovanni's Room always makes me ugly-cry no matter how many times I read it or how sternly I tell myself not to weep on the subway yet again.
BM: What book from the past year would you like to give a shout-out to?
RK: Kristen Arnett's With Teeth! I bought it, then read the whole thing in one day, then went back and read the whole thing again. I thought it was magical!
BM: A book that actually made you laugh out loud?
RK: Samantha Irby's Meaty made me laugh as much when I first read it as her blog did for the years I spent following it. I truly don't think any writer is funnier, but also no one is smarter or more thoughtful.
BM: What's one book you wish you had read during your teenage years?
RK: I wish My Brilliant Friend had come out during my teenage years so I could have read it and put better words to all the horrible, uncharitable things I was thinking and doing.
BM: Favorite book to give as a gift?
RK: I often give my fellow leftist podcaster types a copy of Zoë Heller's The Believers, to remind us all not to be so fucking self-important. I hope you guys don't edit out the swears for these, because to my mind that is a crucial one.
BM: Classic book you hate?
RK: I wouldn't say I hate-hate it, but: War and Peace. One life-changing sentence followed by seventeen paragraphs about an aristocrat's living room furniture. Repeat ad infinitum.
BM: What's a book with a really great sex scene?
RK: Susan Choi's Trust Exercise had some killer ones. I read where one of her other books "won" a Worst Sex Writing award some years back, and I couldn't believe it. Like, a lot of the sex in Trust Exercise is awful, but the writing about it is so vivid and thrilling.
BM: Favorite book you were assigned in high school?
RK: Even though he's sort of a punchline among my fellow girl writers with bangs now, David Foster Wallace's A Supposedly Fun Thing I'll Never Do Again—the essay, not the book, but I'm still counting it. We read it in my English class together the day after the news that he committed suicide was made public. I wound up devouring everything else he ever wrote in a matter of months. I have a very different relationship with his work now, but I do still love it!
BM: Favorite children's book?
RK: I've said it before and I'll keep saying it until someone in an official capacity asks me politely yet firmly to stop: Dodie Smith's I Capture the Castle. (Are young adult readers children? They sort of are, right?)
*
Rax King is a James Beard Award-nominated writer and host of the podcast Low Culture Boil. Her writing can be found in Glamour, MEL Magazine, Catapult, and elsewhere. She lives in Brooklyn, New York, with her hedgehog and toothless Pekingese.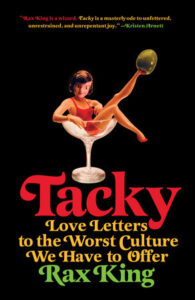 Rax King's Tacky is out on November 2 from Vintage
*
---