Rape As a Weapon: A Tragedy Both Ancient and Modern
Christina Lamb on the Widespread Practice of Sexual Violence During Wartime
On a brilliant blue-skied July afternoon in Stratford-upon-Avon, swans were gliding serenely on the river, while I sat in the dim auditorium of the Royal Shakespeare Company and watched Titus Andronicus, the Bard's most brutal play. This production, directed by a woman, Blanche McIntyre, spared the audience nothing. Murders, beheadings and cannibalism came at us in full technicolor gore. In Act One, the Roman general of the title slaughters his own son. By far the most disturbing scene, however, was the rape of his beloved only daughter Lavinia by Chiron and Demetrios, sons of the Goth queen Tamora whose forces the Romans have just defeated. Tamora has been captured among the "spoils of war," and, in revenge, her sons not only rape Lavinia but slice out her tongue and cut off her hands to leave bloody stumps.
Once I would have admired the acting, the edgy staging and the poetry of the dialogue but thought it far-fetched. Now my head filled with the faces of all the violated women I had met. Their tongues may have remained intact but too often they too had no voices, their words falling like leaves in a forest with no one there to hear them.
Lavinia's uncle Marcus comes up with the idea of spreading salt across the table and, with a stick in her teeth, she traces out the word Stuprum—rape in Latin—followed by the names of her perpetrators.
Shakespeare is thought to have been inspired by the story of Philomela from the Roman poet Ovid. Philomela was an Athenian princess who was raped by her brother-in-law Tereus, the king of Thrace, who then cuts out her tongue to stop her telling the world. Philomela weaves the story in a tapestry which she sends to her sister Procne, prompting her to kill her own son by Tereus and feed him to the king in a pie. The sisters flee and are turned into birds by the Gods, Procne a swallow and Philomela a nightingale—a bird which in female form has no song.
Their tongues may have remained intact but too often they too had no voices.
"These miseries are more than can be borne," laments Marcus to his brother Titus Andronicus.
My book, Our Bodies, Their Battlefields: War Through the Lives of Women was, in many ways, a journey through the worst depravities of man. But I hope it also revealed unexpected heroes—as well as bringing home why so much more needs to be done to end this scourge of man. My book is far from exhaustive. Sadly, there is war rape in so many countries—from Central African Republic to Colombia and from Guatemala to South Sudan—that if I had covered them all, my own tapestry would have been never ending.
The United Nations Office for the Special Representative on Sexual Violence in Conflict lists nineteen countries in its 2019 report and named twelve national military and police forces and forty-one non-state actors. This was not meant to be a comprehensive list, it noted, but one compiled from where credible information was available.
For my part, I focused on places I had reported from as a journalist, and in particular where sexual violence was used as a weapon of war, aimed at a specific community and directed from the top. Though of course no official strategy is needed for rape to be rampant in wars where impunity reigns. And aside from rape, we have seen how militaries and militias have used sexual slavery, forced marriage and pregnancy as well as stealing babies of opponents and forced sterilization of communities they wish to wipe out for religious, ethnic or political reasons. The resulting children of rape often find themselves outcast from their communities—or in the case of the Yazidis, separated from their mothers—for something that happened before they were born.
The last few years have also seen shocking revelations about sexual abuse by peacekeepers and aid workers, the very people tasked with protecting the most vulnerable.
Nor is rape only carried out on women or girls. Male rape is rarely discussed for it is even more of a dark secret, particularly in the Middle East and Africa where there is a common myth that survivors must be homosexual or will become so.
Yet one study in 2010 in eastern DRC found that almost one quarter (23.6 per cent) of men in conflict-affected territories had experienced sexual violence—an estimated 760,000 men. Aside from the Congo, I came across examples in Bosnia, Afghanistan, Chad and the detention centers of migrants in Libya—and heard horrendous stories in refugee camps about prisons in Syria and Iraq.
One early account, which has since been disputed, comes in T. E. Lawrence's Seven Pillars of Wisdom, his telling of his swashbuckling role in the Arab Revolt against the Ottoman Empire in the First World War. He graphically describes being captured by the Turkish governor of the Syrian city of Dar'aa in November 1917 and being beaten and gang-raped by soldiers—losing at twenty-eight, "the citadel of my integrity" as he put it.
Almost a century later, in November 2016, I went to Syria, to a war marked by its extreme brutality, its cities now shattered battlegrounds. East Aleppo had been under siege from the forces of President Assad for most of the year and I wandered the streets of the once-fabled Old City, past the derelict Baron Hotel where Lawrence (and Agatha Christie) once stayed, to find a bombed-out ghost town of stray cats wandering amid grey ash. It looked and felt like how I imagined the end of the world. Across each road twisted metal, corrugated iron, concrete slabs and furniture had been piled into makeshift barricades as protection from snipers. I jumped at seeing four naked shop mannequins standing ghost-like among the rubble. Nearby was a filigree cage where songbirds must once have warbled. Now the only sound was the periodic boom of artillery striking into the streets beyond the citadel on the mound where it was said Abraham milked his cows. More than five million Syrians had been forced to flee the country; more than 500,000 killed.
Three waif-like children suddenly appeared with a bucket looking for water then melted away in fear. By then, those left were so desperate that they were living on pancakes of fried flour and any greenery they could forage. The Assad regime was about to launch its final assault and a few days later would lay on buses to try and persuade the remaining civilians to leave. Many would remain under fire rather than risk captivity.
Human rights groups believe as many as 90 per cent of male detainees are sexually abused in Syrian custody. A UNHCR report in 2015 entitled We Keep it in Our Hearts was based on interviews with refugees and detailed some of the horrors of the Assad prisons, particularly sexual abuse of men and boys as young as ten, forced to have sex with family members, tortured with electric shocks to their penis and by anal rape with objects such as sticks, Coke bottles and hoses.
In every warzone I went to, I heard the same cry for justice—there must be justice and an end to impunity.
"One of my uncles in Syria was arrested," said a young man called Ahmed in a camp in Jordan. "A few months after he was released from detention, he told us—he broke down, crying in front of us—that there was not one spot on his body that had not been abused by an electric drill. He had been raped, they had put the drill in his anus. They tied his penis with a thin nylon string—they tied it hard for three days until it almost exploded. After he was released he stopped eating and became alcoholic. He died from kidney failure."
As I met survivors, I tried to see what worked in helping them and what didn't. It was clear from what they told me that no one really gets over such an ordeal. Baroness Arminka Helić fled the Bosnian war as a young woman to the UK where she ended up becoming a foreign policy advisor and a member of the House of Lords. She likens the issue to "a chemical weapons attack in that they have the immediate harm and long-term harm. They don't recover, their husbands don't forget, their children get bullied, they live in the same place and see their rapists in the café."
The challenge is to find ways for survivors to be able to get on with life. Now, when I look at roses, I think about the raped women of Srebrenica who did not want to cut those they grew because their perfume reminded them of happier times. Bakira, the hunter of war criminals, found solace with her vegetable garden. Aside from gardening, creative activities such as art and music in safe spaces that bring women together seem to be beneficial, as is yoga.
Clearly there needs to be far more support for victims, for what happened to them will be with them for the rest of their lives. Apart from medical care and psychological support, they need economic assistance to help support themselves and rebuild their self-esteem, particularly as survivors are often abandoned by their husbands and families and, in some cases, as with the Nigerian girls taken by Boko Haram, even ostracized by their communities. Faith leaders and community leaders need to be brought onside to explain that the survivors did nothing wrong, rather are heroes for what they endured, and should be welcomed back. Amid the chaos of the DRC, Panzi Hospital and the City of Joy are a model in what can be done, helping repair wounds, offering counseling, skills-training, legal advice and a safe haven.
Above all, in every warzone I went to, I heard the same cry for justice—there must be justice and an end to impunity.
__________________________
In honor of the 25th anniversary of the Baillie Gifford Prize for Nonfiction, Lit Hub is revisiting shortlisted books from the Prizes' past.
__________________________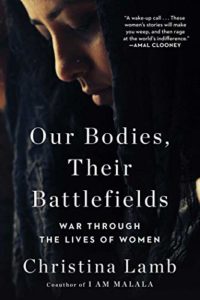 Excerpted from Our Bodies, Their Battlefields: War Through the Lives of Women by Christina Lamb. Copyright © 2020 by Christina Lamb. Available from Scribner, an imprint of Simon and Schuster and William Collins in the UK.
---