Yves Jeffcoat on the Slow Work of Writing That Centers Identity
"I am compelled to anatomize my being."
This first appeared in Lit Hub's Craft of Writing newsletter—sign up here.
I choose to write about race and identity in art. I choose to continually aggravate and then suture the wound. When I write about art, I must go through it. I must swallow it. It cannot remain on the tip of the tongue. And because I often accept commissions for texts on Black artists and about Black life, I am inevitably drawn into it. I end up lingering on pain, feeding my anger, detaching from empathy, and questioning the validity of my feelings. I am compelled to anatomize my being.
Cultural workers who are invested in "making revolution irresistible," as Toni Cade Bambara put it, often talk about the importance of uplifting marginalized voices and work as a means to challenge the status quo and transform society. And those of us who are part of oppressed groups justifiably reiterate how necessary it is to preserve our histories, share our stories, and tell our truths. We endure because we believe our work has purpose. But the urgency of the message does not nullify the difficulty of carrying and delivering it. I think of writer Lorraine Hansberry's rumination: "Do I remain a revolutionary? Intellectually — without a doubt. But am I prepared to give my body to the struggle or even my comforts? This is what I puzzle about." The implication was that Hansberry—who died of pancreatic cancer at age thirty-four—had not already given her body to the struggle. Beyond the fact that merely existing in a marginalized body puts one at risk, the reality is that repeatedly writing about our race and identities takes a toll on our mental and physical states.
This is the trade-off in intentionally writing pieces that center our identities. We may be driven to write them, fueled by our values and mission. But we must also understand that in doing so, we may subject ourselves to exhaustion, existential questioning, guilt, traumatization, overload, and other problems that can harm us or distort our sense of self.
For many valid reasons, we may rush to pitch or accept an assignment: We need the money; we'd like the byline; we want the experience; we have something to say. But in the pause before a decision, we have the agency and the time to determine if and why our answer is "yes" or "no," and we owe no one an explanation. In slowing down, we can ask ourselves whether we are eager and ready to write a piece, without weighing, say, payment and potential exposure more heavily than emotional cost. Rather than pursuing assignments based on what and how much we think we should be writing, we can take stock of our emotional availability to determine what we are capable of writing well in a specific moment. After all, we are the ones who must weather the writing process and its aftermath.
Beyond the fact that merely existing in a marginalized body puts one at risk, the reality is that repeatedly writing about our race and identities takes a toll on our mental and physical states.
Analyzing and critiquing art that encourages thoughtful engagement also requires us to immerse ourselves in the history, context, and space of that art. We might have to visit galleries, thumb through catalogs and textbooks, interview artists, watch videos, and attend lectures. Through our research, we could be transported to previous eras, distant cities, and unfamiliar cultures—in person and in our imaginations. This task can be particularly burdensome when the art is loaded with contentious subject matter, sensitive historical themes, or potentially distressing imagery and references—especially when our personal experiences exacerbate our emotional response. To write about art, we have to sit with our own and other people's narratives, baggage, mistakes, and accomplishments. This is no small task, since simply viewing art can elicit intense feelings. We must acknowledge that the content that consumes us when we're absorbed in the scrutiny of artwork is often taxing, and it inhabits our minds for an extended period.
During the research and writing processes, it helps to balance isolation and interaction in a way that feels healthy. When we are feeling stuck or overwhelmed, pushing through is not the only option. Take breaks from the work, and use all the time you are allotted (or ask for more). Consult with other writers, or speak with friends who have consented to letting you vent to them. Consider incorporating your experience into your writing. Then write.
When the raw emotion has settled, I may turn to practices that force me to step away from intellectual reasoning and refocus on visceral experience. I may shift my attention to the reasons why I persist in writing, so as not to become mired in the quicksand of trauma and cynicism. Sometimes, I practice breathing exercises. Other times, I've found it useful to compose a mantra and meditate on it. The silent repetition provides a simple way to wrangle spiraling thoughts and calm anxiety. I've also made time to walk or drive aimlessly, removing the demands of purpose and productivity. In reconnecting with my body and with the present moment, I'm able to manage dissociation and stress with little exertion. But no matter what method you choose, know that there is no guilt or shame in refusing to let the work chew you up and spit you out.
The process will still be difficult—we will still be challenged to be vulnerable, critical, and honest on paper while reckoning with our own reactions to the subject matter. And while receiving edits and revising our work can compound any emotions that writing may have surfaced, it's beneficial to remember that editing is a conversation, and that having the opportunity to craft nuanced arguments will allow us to have more confidence in the impact and legacy of our work. It's easy to become overwhelmed when revisiting heavy work. It's also easy to be defensive about suggested changes when a topic is charged or hits home and was exhausting to write about. But ultimately, it's advantageous to stay open-minded and pragmatic with edits to avoid undue stress.
An editor and writer are guaranteed not to have the same lived experiences and perspectives, and establishing trust with a new editor can be tough. This is especially true when the editor wields relative power or privilege through their social identities, and the collaborative text is criticism or opinion. It's reassuring when editors are truthful about sentiments that they don't understand and when they ask questions rather than make assumptions. Then I can worry less about an editor's intentions and have more confidence in their allyship in delivering a clear and potent text. I may be accustomed and willing to dissect themes related to my identities, but I am also often anxious about the quality and reception of my writing. Sincere affirmation that acknowledges the weight or value of the work can help to assure writers that we are being supported and not used. It reminds us that we're not just enduring labor for the sake of optics.
We care for ourselves when we finish a piece and move on, letting go of the side effects of writing it rather than letting them fester. This does not mean that we disengage with the subjects and ideas that we find meaningful. Nor does it change the fact that we may be tired and overburdened by the pressure to put ourselves under a microscope and prove our worthiness as critics. It does allow us to consciously reject burnout and return to our core reasons for writing, so that we may begin anew when we're ready to write again.
____________________________________________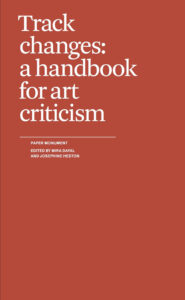 Originally published in Track changes: a handbook for art criticism, edited by Mira Dayal and Josephine Heston, available now via Paper Monument. © 2023. All rights reserved.
---