Prince's Death Brought Snowfall in April
Ben Greenman Remembers the Sadness, the Aftermath, and the Endless Tributes
Prince rarely made explicit mention of death in his song titles. When he did, he addressed the subject glibly ("Dead on It," in which he insisted that "the only good rapper is one who's dead . . . on it") or defiantly ("Dig U Better Dead," in which he pushed back against Warner Bros. for forcing him to temporarily abandon his birth name). Both of those felt considerably off the mark in the weeks after his own passing.
The main song that sprung to mind, for me and for everyone else, was "Sometimes It Snows in April." In a slightly different form, with orchestration added by Clare Fischer, the song served as the love theme to Under the Cherry Moon, or at least the costs-of-love theme. Prince's character, Christopher Tracy, attempts to elope with his girlfriend, but her powerful father instructs the police to shoot him dead. The first verse remembers Christopher in the moments just following the shooting, when he died "after a long-fought civil war" and went to an afterlife where he was "a whole lot better off than the fools he left here." As a metaphor for Prince's own death, this was a little bit on the nose (April, a long-fought civil war). There were other verses: in the second, the parallels between Christopher and Christ came to the fore ("Springtime only reminds me of Tracy's tears / Always cry for love, never cry for pain"); in the third, Prince imagined his alter ego in the afterlife ("I often dream of heaven and I know that Tracy's there"). But the first verse loomed large. It was the only one Prince performed when he played the song live on the One Nite Alone . . . record.
In the end, I couldn't get the song to solace me. It came off as a taunt, especially when I learned that it was recorded on April 21, 1985, exactly 31 years before Prince's death. Instead I listened to a strange, moody outtake called "2020," originally slated for Emancipation. In the song, Prince describes a futuristic Utopia—significantly less futuristic now than when he recorded the song in 1995—as a place of "peace and happy people" where the "walls between us soon all disappear." In a turbulent political year, that lyric hit hard. Peace and happy people seemed further away than ever. But what hit harder was the realization that Prince wouldn't even make it to 2020 to experience either his prophecy or, more likely, ordinary human disappointment.
*
In the wake of Prince's death, other artists remembered him the best way they could, which meant playing his songs. Mostly, that meant "Purple Rain." Bruce Springsteen played it at Barclays Center. Beyoncé let it run over the PA system during a moment of silence. Stevie Wonder sang it through a megaphone at the New Orleans Jazz Fest. The cast of The Color Purple on Broadway performed it onstage. Dwight Yoakam, in the middle of recording a bluegrass album, added a cover version as a final track. Others opted for "Nothing Compares 2 U," especially country acts like Chris Stapleton and Lady Antebellum, though Madonna also performed it at the Billboard Music Awards. The cast of Hamilton went a third way, with "Let's Go Crazy," as did Paul McCartney, on tour in Minneapolis. (As always, McCartney's accompanying remarks sounded like pained small talk: "Prince, Minneapolis; Minneapolis, Prince. It goes together.")
Not every tribute was musical. Helen Mirren sported a Prince glyph tattoo during a White House visit. Last Week Tonight with John Oliver memorialized Prince in its witty opening-credit graphics, with the faux-Latin caption "Dovus Cryum." Albert Brooks, Prince's old I'll Do Anything colleague, tweeted a reminiscence: "Met Prince once. He was sitting elevated with literally 15 people at his feet. I said, 'Which one is Prince?' No laughs." And the hip-hop star Drake—Larry Graham's nephew—posted a famous underground photo that purported to show Prince in a live-action version of "When You Were Mine." Some fans found it disrespectful, others triumphant.
Prince was the subject of loving tributes, and then he was a source of beloved objects. His Yellow Cloud guitar was sold to Indianapolis Colts owner Jim Irsay at auction for $168,000. The Purple Rain jacket and shirt went to an anonymous bidder for $192,000. Another bidder paid fourteen thousand dollars for a letter from Paul McCartney to Prince requesting money for a Liverpool performing arts school. The selling off of memorabilia was at once an act of devotion and a raiding of the tomb. But there were moments of quiet dignity, too. Three days before Prince's death, a woman named Heather Hofmeister saw Prince on a local bike path. Hofmeister had lived in Minneapolis for more than a decade but had never seen Prince in person; when she texted her husband to tell him, he encouraged her to take a photo. She did, and posted one of them to her Facebook page. A few days later, after his death, calls began to stream in from tabloids looking to buy the other images. She released the photos without taking payment. "I am not interested in profiting off someone's death, especially someone I have admired my entire life," she said. "I just can't do it." Her photos served as a reminder of how difficult ordinary pleasures were for a celebrity like Prince, and how much he treasured them. "He looked so free and happy," Hofmeister told Entertainment Tonight. "The wind was blowing through his hair. He just looked like he had no care in the world, and I just loved that."
Some fans took solace in conspiracy theories. There was no shortage of them; they mushroomed in the dank soil of the Internet. "Sometimes It Snows in April" wasn't the only prophetic song, apparently. Prince had died in an elevator, and he had written about elevators in "Let's Go Crazy." Prince had died at 57, and he had mentioned the number in "Positivity," in reference to the kind of gun that the devil would use to kill him. Prince had died on April 21, and he had released an album titled 3121, and 3 + 1 equaled 4.
After the funeral, a woman sitting near me in a Brooklyn coffee shop went on at length: "They cremated him. Cremated! They don't do that unless they're trying to hide something. I won't believe it until I see a body in the ground. There's a very real chance he's coming back." She was turned away from me, but I could see the face of her companion, and he was pained—maybe for Prince, maybe for her. I thought of an interview Prince did in the late 90s with Mel B. of the Spice Girls. The subject of birthdays came up, and Prince confessed that he didn't like to celebrate them, because they were the result of our fallen state. "We came here not knowing we were going to die," he said. "Somebody told us that. I'll celebrate the day I die." This stopped Mel B. for a second. "Because you're going to move on to the next path in life?" she said. Prince gave her a thumbs-up. "Yes," he said. Wouldn't that be cool?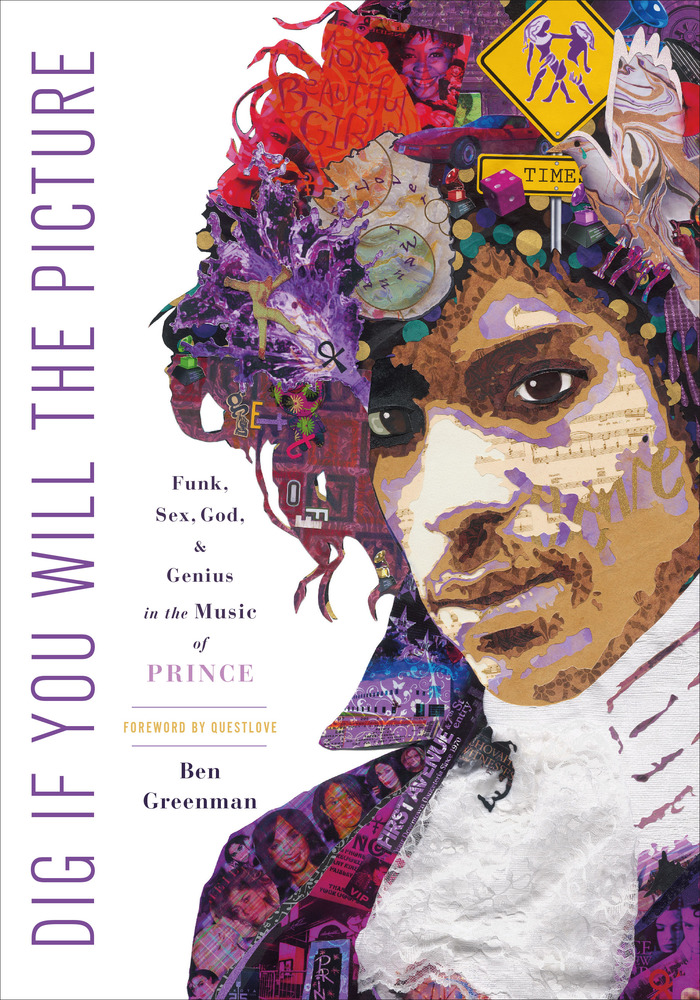 Excerpted from DIG IF YOU WILL THE PICTURE by Ben Greenman, published by HENRY HOLT AND COMPANY, LLC. Copyright © 2017 by Ben Greenman. All rights reserved. 
---