Prince: The Origin Story
When Ten-Year-Old Prince Roger Nelson Danced Onstage with James Brown
The following is excerpted from Michaelangelo Matos's Sign 'o' the Times.
Sign '0' the Times opens with a bare drum machine singing the blues and closes with a wall of sanctified sound fueled by Prince overdubbing himself into a gospel choir. In between, it sums up everything Prince had done up to this point. Even if it weren't his best album, it would still be his most complete—1996's Emancipation, which is more than twice as long as Sign, covers less thematic ground.
Which is quite a bit of ground. Prince got his start early. He was born Prince Roger Nelson on June 7, 1958, to pianist John Nelson and his wife, singer Mattie Shaw, and given his father's stage name (also the name of his group, the Prince Rogers Trio). Prince has credited two concerts—seeing his father in a Minneapolis theater at age five, and a James Brown concert five years later during which the young Prince danced onstage with Brown—with giving him the impetus to become a musician. John and Mattie divorced in 1968, when Prince was ten; when John moved out, he left his piano behind, and Prince, who had always tinkered with the instrument, began playing it in earnest. Soon he began doubling up on guitar, bass, and drums, as well.
After his mother remarried, Prince briefly moved in with his father, who kicked him out after catching him in bed with a girl; he bounced around several relatives' homes until moving in with Bernadette Anderson, the mother of six children, including Prince's friend Andre. Soon Prince and Andre, along with Prince's cousin Charles Smith, had started a band together called Phoenix, which later mutated into Grand Central. The group played most of the big R&B hits of the day, as well as songs by Chicago, Steely Dan, and Grand Funk Railroad (whose 1972 album Return of the Phoenix provided the group with its original name).
This points to a crucial distinction between Minneapolis and most other American cities with renowned black music scenes. Not only was the vast majority of the city's population white (according to www.census.gov, the city's black population was 19% in 2002 with the population of Minnesota as a state only 4%, and the number was significantly lower when Prince was growing up). but there was little black radio.[1] The city had one black station, KUXL, which went off-air at 8:30 pm; growing up, Prince and his peers would tune into the KQRS, which programmed progressive rock before calcifying into the city's classic-rock monolith. Prince would credit his early love for Santana, Boz Scaggs, Joni Mitchell, and Maria Muldaur to the station, and his affinity for Jimi Hendrix, the Beatles, and the Rolling Stones would logically seem to stem from there as well.
The city's club scene, too, was less than supportive of young black musicians. Small community centers like the Elks' Lounge, the Cozy Bar, and the Nacirema ("American" spelled backward) catered to Minneapolis's African-American community, but black musicians were shut out of the downtown clubs. As local activist Spike Moss told City Pages' Peter S. Scholtes, "What ended up happening was, the bands had to perfect the latest record like it sounds. We didn't even have Soul Train—it didn't come on [in Minneapolis] until the 80s. So you had to be a good musician, because you had to play those records."[2] Local musician Bobby Vandell noted to Scholtes, "That's largely why people like Prince and Terry [Lewis] and Jimmy [Jam] got to where they got, because they weren't able to make this meager living that we [white musicians] made. We could work. The black groups had one of two choices: Either hang it up, or transcend that scene. Move ahead and say, okay, fuck you. You won't let us play your club? We'll own your club. It's a double-edged sword. It was racist, but it kicked a lot of people in the ass."
This meant Minneapolis's teenage black bands of the 70s—Grand Central (who soon renamed themselves Champagne after Charles Smith was replaced by Morris Day), Flyte Tyme, Cohesion, the Family—had to book and promote their own shows, often at hotel ballrooms and YMCAs. By the time Prince and the Time—whose members were largely drawn from that pool of local talent began making waves in Minneapolis during the early 80s, they'd been part of a DIY scene that paralleled the recently minted new wave and punk audiences—who, not surprisingly, enthusiastically embraced Prince and his protégés when both scenes converged at First Avenue, a downtown club.
That was a few years away, though, when Prince made his first recordings in 1975, as a session guitarist for his cousin's husband, a songwriter named Pepé Willie. Soon after, Prince cut a series of demos with Champagne, and his multi-instrumental ability caught the ear of Chris Moon, an English ex-pat who ran one of the studios where Champagne recorded. Moon offered a deal: If Prince would write and record the music for Moon's lyrics, the Englishman would give the young man free studio time in exchange. Champagne balked, but Prince accepted the offer. Among the songs he and Moon wrote together was the chirpy "Soft and Wet," a bubblegum R&B song with a stop-start rhythm, insistent little rhythm riff, and googly-eyed soft-porn lyrics that were pretty difficult to resist when Prince sang them in his breathy falsetto.
Not long thereafter, Warner Bros. Records signed Prince to a three-album contract that allowed him an eyebrow-raising amount of artistic freedom, including the right to produce himself. For You, released in April 1978, took five months to make and cost almost as much as his contractual budget for three albums. While "Soft and Wet" did decently as a single, hitting no. 12 on Billboard's Soul charts, the album sounded thin and fared worse, pushing up to the mid-20s on the Soul album chart before collapsing, and barely making the Top 200 pop chart. His reluctance to make personal appearances or do interviews didn't help, either.
1979's Prince was made in six weeks for a lot less. Money well spent: "I Wanna Be Your Lover," the first single, not only went no. 1 Soul but no. 11 pop—hardly unusual during the high season of disco crossover, but impressive nevertheless. So was the song, hooked by a guitar-and-synth figure that sounded like a pop-funk clarion call, cool and insistent both at once. The lyric was disarmingly direct, but its bravado was funny, too: "I wanna be your mother and your sister, too / There ain't no other / That can do the things that I'll do to you." There's also a bit of conscious image-tweaking: In retrospect, lines like "They say I'm so shy, yeah / But with you I just go wild" sound like an embryonic version of guessing-game lyrics like "Am I black or white? / Am I straight or gay?" from later songs like "Controversy." The follow-up, "Why You Wanna Treat Me So Bad," didn't do as well, missing the pop charts and going to no. 12 Soul, but its art-rock-ish keyboard furbelows, sneaky funk bass, soul falsetto, and steady rock beat hinted at fusions to come.
[1] I'm extrapolating from the numbers provided by the City of Minneapolis's 2000 Census Report, archived online, which show that Minneapolis's non-white population in 1970 was 27,986 (6.4% of 434,400 total population); in 2000, it was 133,432 (34.9% of 382,618 total population). The bulk of the city's non-white population has traditionally been black or African-American.
[2] Peter S. Scholtes, "First Love," City Pages; 3 September 2003.
Photograph by © Deborah Feingold/Corbis.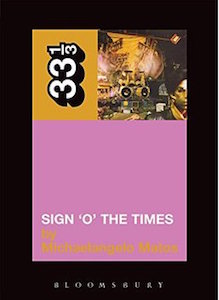 Excerpted from SIGN 'O' THE TIMES by Michaelangelo Matos. Copyright © 2004 by Michaelangelo Matos. Excerpted by permission of Bloomsbury.
---