Previewing the First Ever LGBTQ+ Rare Books Auction
Including Signed First Editions from Walt Whitman, James Baldwin, Radclyffe Hall, and More
"Queer history has long remained invisible," writes Eric Marcus in the preface to a catalog of rare LGBTQ+ books and artwork headed to auction in New York on June 20. Little by little in the 50 years since Stonewall, that has changed, and in a bid for supreme visibility, Swann Galleries will host its inaugural "Pride Sale" of material focused entirely on LGBTQ+ creativity. Volumes that were once censored are now celebrated—and, with auction estimates in the hundreds and thousands, they are codified as collectible, perhaps the highest form of praise in the literary marketplace. Here are nine that shine: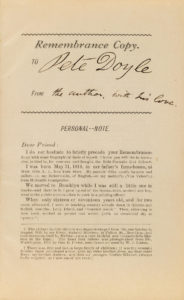 In his bicentennial year, Walt Whitman is everywhere, including this auction. This heart-stopping lot is a first edition of his Memoranda of the War (1875-76), inscribed by Whitman "with his love" to Peter Doyle, long considered his most significant romantic partner. Not much is known about Doyle aside from the fact that he fought for the Confederacy while Whitman nursed Union soldiers. (A photograph of the two of them is currently on view at New York's Morgan Library.) The auction catalog says it best: "A more important association copy of this title is difficult to imagine." It is estimated at $50,000-75,000.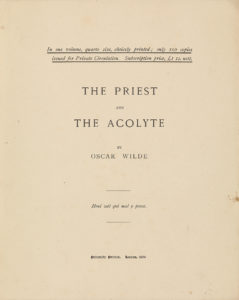 What about that other major W in LGBTQ+ literature? Oscar Wilde is well represented by beautiful and signed copies of his books, particularly the vellum-bound limited edition of The Importance of Being Earnest. However, it is another, rather dingy volume titled The Priest and the Acolyte, estimated at only $500-750, that reveals an interesting story in the context of sexual discrimination. The "tragic tale of gay love in the Catholic Church," as summarized by the auctioneer, first appeared in 1894 and was wrongly attributed to Wilde. This fake news was used to demonize him while he was on trial for "gross indecency" the following year.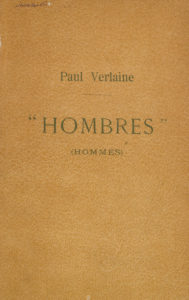 This limited edition of Paul Verlaine's final poems, "Hombres" (Hommes), posthumously published c. 1903, is plain but powerful. The 15 poems within focus on queer love, and the last one was written in collaboration with Arthur Rimbaud, a fellow poet with whom he had a tempestuous extramarital affair. It ended badly; Verlaine tried to kill Rimbaud and was sentenced to two years in prison. The gun he used for this failed assassination went to auction in 2016, selling for nearly half a million dollars. This book, however, will only set you back about $5,000.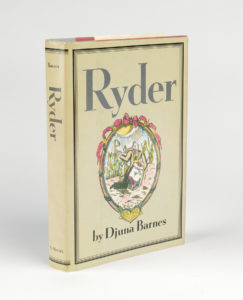 Often when we think of Djuna Barnes, her 1936 queer classic, Nightwood, springs to mind. This auction presents some of her other work, notably an earlier, autobiographical novel, Ryder. Due to its content, the original 1928 edition was expurgated. In 1979, St. Martin's Press reissued the novel, and this is Barnes's personal copy of that reissue, which comes with a half-page typescript of the jacket blurb with corrections in her hand and a signed check to her literary executor. Surely this will beat the $400-600 auction estimate. Two copies of her Ladies Almanack are also on offer.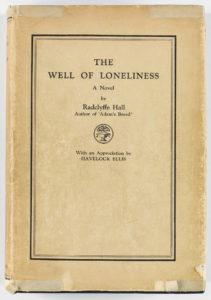 Another landmark of lesbian literature is Radclyffe Hall's The Well of Loneliness, two British first editions of which are included in the Pride Sale. Hall's book was famously banned in the UK upon its publication in 1928. It was then published in the US, where it went to trial for obscenity. Defended by the spitfire Morris Ernst, Hall and her US publisher triumphed. The copy pictured here is expected to reach $4,000-6,000, since it comes with a photograph of the author, a two-page typed poem signed by Hall, and a letter from Hall commenting on the British government's actions in regard to her book.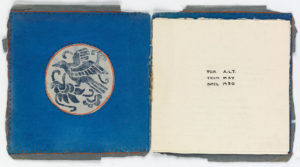 May Sarton's hand-crafted book containing seven manuscript poems, illustrated with linocut bird designs, is just about the sweetest lot in this sale. The poet presented it as a Christmas gift to Anne Longfellow Thorp, her teacher and lifelong friend (also the granddaughter of Henry Wadsworth Longfellow), in 1930. "It's just a beautiful handmade book that happens to be made by a woman who was gay," said Swann's Nicholas D. Lowry. And it would still make a charming gift, if you have $2,500+ to spare.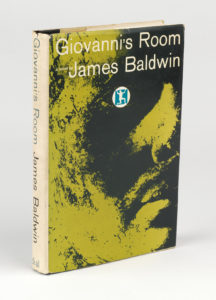 According to Lowry, James Baldwin was the most requested author to be included in the Pride Sale. The auctioneer succeeded in sourcing an advanced reader's copy of his debut, Go Tell It on the Mountain (featuring artwork rejected by Baldwin), and an inscribed first edition of his third novel, Giovanni's Room, a book that Lowry described as "overtly gay" and "very important to the oeuvre." The former will cost around $800-1,200, while the latter is likely to double that.
Frank O'Hara's 1957 book of poems, Meditations in an Emergency, experienced quite a publicity bump when Don Draper was seen reading it in Mad Men. O'Hara was a perfect prop, a mid-century New York School poet and artsy intellectual. But how many viewers knew that O'Hara was also the author of a poem titled, simply and proudly, "Homosexuality"? The first edition of Meditations headed to auction—and valued at $1,500-2,500—bridges this gap, bearing an inscription from O'Hara to his longtime partner, Joe LeSueur: "Dear Joe, / Some tries / answering questions in / mountains / Love, / Frank."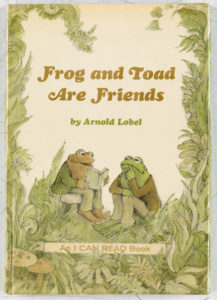 Last but not least—and perhaps most surprising to some—is a $1,000-set of four "Frog and Toad" first editions, each signed and including a small sketch by the beloved series' author and illustrator, Arnold Lobel. Much has been made in the past few years about whether Lobel intended to celebrate same-sex love in the children's books he wrote, particularly since he came out to his family in 1974, right in the midst of Frog and Toad's adventures. 
*
The Pride Sale books and art will be on exhibit in New York beginning June 15.
---