Poonam Chawla on Tourism, Cooking, and Raising Her Boys in Paris
Lindsey Tramuta Visits Paris's Little India
Before I even stepped out of the elevator, I knew I had come to the right place. An intoxicating smell of spices, garlic, and onion wafted out from the apartment door, left slightly ajar. I tapped lightly and stepped inside, announcing my presence with my usual allô? "I'm in the kitchen; come right in," I was instructed.
There, I found Poonam Chawla, slight with a shoulder-length bob and a long, button-up dress, shuffling back and forth from the stove to the small prep table, where she was plating chicken kebabs and spooning generous amounts of spiced red lentil daal into bowls. "This is where I give my classes," she said of her spacious-for-Paris kitchen, which overlooks a leafy courtyard garden. Countertops were stocked to the brim with homemade condiments, herbs, and spices, including her own blend of chai masala.
"I made a recipe video this morning for my website about broccoli stalk–and-potato curry. I'll have you try that too. Broccoli is a nouveau riche vegetable; in India we use cauliflower." I was already learning something.
I helped her bring our lunch spread to the dining room table where we sat for two hours discussing the vagaries of life, her career as a translator, cultural guide, and author, and the healing power of food.
We tend to assume that America holds the monopoly on opportunity in the immigrant imagination, but France, and Paris in particular, has its own appeal
 as the land of possibility. Early on, this was clear to Chawla, who began learning French when she was 16. At the Jawaharlal Nehru University in New Delhi, she specialized in French linguistics and entertained the idea of a career in tourism.
That's also where she met a man and married for love at 24 years old, against the wishes of her parents. "He was from a different caste. He wasn't a doctor; he was a travel agent. They blessed the wedding but didn't support it."
 By the time she was 26, her first son, Nikhil, was born and the marriage was already in sharp decline. "He was controlling and macho and emotionally unstable. It wasn't what I expected."
Poonam and her sons stayed as long as they could before the lack of sufficient work and looming sense of despair ushered them out, back to France.
After the birth of Pushan, her second son, she occupied the role of primary caretaker and stable breadwinner, working two jobs while her husband floundered. During the week, she was a translator for the Indian Railways, and on weekends, a tour guide in the city. "Tourism connected me to so many people, including the French," she recalled. That was the beginning of what would become a new life. "I got a job offer to work in translation from Bayonne, in the French Basque Country. I secured a visa, brought the kids with me, and told my husband to try to find a way over."
While the work was good and steady, the social exclusion she experienced made the adjustment challenging, particularly for Chawla's sons. "There were only a few families like us—the Pays Basque was extremely white. My boys faced racist remarks at school, and I felt like I was living in an aloof manner. It was hard to make friends. I even took out my nose ring for a time to try to blend in." What's more, her husband never joined them, turning the prospect of divorce from maybe one day (when it's socially accepted) to where do I sign?
After nine years in Bayonne and a finalized divorce, she picked up her family of three and moved to New Jersey, where her brother had been living for years. But she quickly found herself facing similar discrimination, a feeling exacerbated in the aftermath of 9/11. "There was a sharp rise in racism against 'brown' people that was deeply concerning. A photographer even refused to take passport photos for me! My boys felt French but [were] treated as Indians; we were all lost," she said, shaking her head.
They stayed as long as they could before the lack of sufficient work and looming sense of despair ushered them out, back to France. Only this time, she settled them in Paris, where she's lived, a few blocks from the Place du Trocadéro in the 16th arrondissement, since 2003.
It was here that she found opportunity and created a home. It was here that she discovered Little India, the city's Indian and Sri Lankan quarter in the 10th and 18th arrondissements, with nearly 100 specialized shops, from beauty parlors and fashion stores to spice markets and restaurants.
And it's here that she began leading tours of the neighborhood, guiding tourists, journalists, embassy workers, and employees of French companies like Chanel and SNCF through its history and landmarks. Her dark eyes shimmer with pride when she tells me she became the connector—to shopkeepers, to be sure, and to her own heritage. "Paris completed me."
"Curry leaves sizzling on the pan, the warmth of homemade chapatis, the smell of rice pulao and her mango cakes." The scent of home.
Then, in 2008, after years of mounting pain and muscle contractions in her
 leg that made walking increasingly difficult, she was diagnosed with dystonia, a neurological movement disorder that is considered a cousin to Parkinson's. "What I have is very rare. There's no biomarker, no cure, or even any treatment. The panel of doctors I've seen all tell me to just relax and breathe. Live your life, they say," she explains, her eyes despondent. "That's very complicated when you can't walk outdoors with any ease."
She scaled back the tours in Paris and limited the excursions she had been organizing to India for French travelers. Throughout our lunch, she never once lamented her hardships but recounted them as facts of life that build the layers of her character. Though visibly troubled by her disorder and its interference in her life, she doesn't feel frail or damaged. She has cooking—her greatest salve—to thank for that.
"Since I had to stay home more, I concentrated on cooking. I offer cooking classes on northern Indian cuisine, which I love, and document my recipes on my website," she said, filling my glass with chai masala iced tea. "I've even published two books in France with Pushan, who is now a photographer."
Her sons have more than benefited from her experimentation and storytelling through food. "It always smells like her cooking when I come in," Pushan told me. "Curry leaves sizzling on the pan, the warmth of homemade chapatis, the smell of rice pulao and her mango cakes." The scent of home.
On occasion, when she feels strong, she delights in the ability to run tours of her favorite pocket of town. "I've been told to meditate, but I can't. Instead, I meditate through food," she said with a so smile. "When I'm cooking or at the markets, everything else is forgotten. My pain disappears."
__________________________________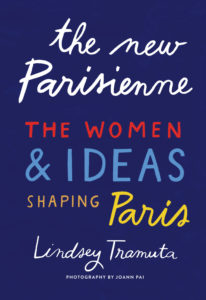 From The New Parisienne: The Women & Ideas Shaping Paris. Used with the permission of the publisher, Abrams. Copyright © 2020 by Lindsey Tramuta.
---