Amanda Brainerd on Bowie, Boarding School, and the Discourse Around Consent
The Author of Age of Consent Takes the Lit Hub Questionnaire
Amanda Brainerd's novel, Age of Consent, is out now, so we asked her a few questions about reading, writer's block, and David Bowie.
*
Who do you most wish would read your book?
Teenage girls—there are so few adult books written about them.
What do you always want to talk about in interviews but never get to?
Why I actually got kicked out of boarding school.
What time of day do you write and why?
I have a full-time job, so I squeeze in writing whenever I get the chance. Sometimes I even write by dictation on the subway commuting.
How do you tackle writer's block?
The best two ways are to take a long, vigorous walk, the second is to write by hand.
Which books do you return to again and again?
Lolita by Nabokov, Middlemarch by Eliot, The Secret History by Donna Tartt, A Severed Head by Iris Murdoch, and Moby Dick.
Which non-literary piece of culture—film, tv show, painting, song—could you not imagine your life without?
David Bowie's albums from 1969-1981.
What's the best writing advice you've ever received?
Aline Brosh McKenna once said, "The formula is simple. Ass plus chair."
What was the first book you fell in love with?
Jane Eyre. I thought it was so romantic. Now my daughters tell me that Rochester threatened to rape Jane and that the book should not be considered a paragon of romance.
Name a classic you feel guilty about never having read?
Beloved by Toni Morrison. Again, my daughter is shaking her head about this one. I am about to start it!
Were you ever as rebellious as the characters in this novel? Who do you identify with most?
Oh my goodness, I was MUCH worse! Eve is loosely based on my life, but in the writing of this book I really came to root for Justine and India. Less for Eve!
You've got to tell your boarding school expulsion story! How did the experience shape your book, if it did at all?
Okay, okay. It is very much like what happens in Age of Consent. My best friend and I had a radio show from 10 to 12 at night. U2 was playing in New Haven, and we taped a show in advance, snuck off campus, and went to the most incredible concert. On the way out of the theater, we saw several teachers, who were of course, in their early twenties and U2 fans. My friend had permission as she was a day student, I however, got the boot. Sadly, it wasn't for Bowie, like in the novel.
What has delighted or surprised you most about the evolution of discourse around consent since your school days?
That consent is even a topic! In the 80s, boys were not taught to ask, they just did what they wanted and the girl had to stop them. And not always successfully.
__________________________________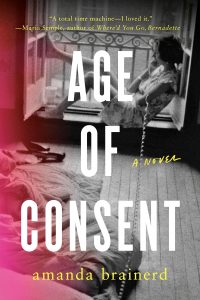 Age of Consent by Amanda Brainerd is available now from Viking. 
---