Poet Fred Shaw on Missing the Work of a New Orleans Restaurant
Reflections on a Life in Restaurants as the Coronavirus Shuts Them All Down
When I first punched in to work at Papa J's Ristorante at 16 years old, how could I have known I'd still be working in the service industry 32 years later? Though college was on the horizon, I was aimless. But what stuck with me from my time as a dishwasher was the cold soaked jeans, the fistfuls of shredded provolone, and the smell of roasted garlic simmering in a chunky tomato marinara. Those late 1980s high school nights, at a hip Italian-joint in a company town outside of Pittsburgh, taught me to appreciate a bite of mousse cake that cost more a piece than what I made in an hour. Soon, I'd be promoted to busboy, and with it, I would come to learn about people.
It was in the dining room, with hardwood floors I scrubbed each night with warm water and white vinegar, that I had my introduction to the wider world. My family and friends weren't diverse, but here I met and worked alongside an African American woman who'd flirt with me and sometimes ask the cooks for an extra order of stuffed banana peppers for us to share. In the dish room that felt like a sauna, I met an undocumented immigrant from Mexico who spoke no English, and an ex-con who washed dishes and, if asked, would do push-ups beneath the back end of a parked car, lifting it into the air with each rep on his broad back.
We'd joke about that prep-cook with OCD who had an elaborate ritual for taking out the trash that involved lots of deodorant. There were sexy waitresses who barely tolerated me, though some of them, I learned, were having affairs with married men. The waiters sometimes bought me beer, and their stories of working as airline stewards or skating in the Ice Capades left us all buzzing with laughter.
For two weeks we studied lackluster food, memorized table numbers by shadowing others and learned theories, like "Five Easy Pieces" and "The Corner Bar."
The best part was the end of the night when each server found me for tip-out, handing me a stack of ones and fives. The gay waiters always tipped best. To an introverted working-class white kid, getting a taste of the service industry was an important lesson in humanity. I was struck by the way hard work and helping each other went hand in hand, like the way the cooks slid plates of food to the expediter on the line or the way a manager might run a busy server's drinks to a table.
It wasn't until years later, when I burned all my bridges and headed for New Orleans, that I came to know what it means to be of service. My girlfriend (now wife) and I had moved to the French Quarter on a whim and didn't know a soul. Putting in applications at the nicer spots, we were offered little hope. When a late summer rain struck, we found ourselves huddled beneath a short overhang on Royal Street, still getting wet. Looking to our left, we spied the red and white striped awning of a T.G.I. Friday's and stepped through the dark wood double-doors, hoping to speak with a manager.
Hired as a "dub-dub," it was the first time I waited tables. The training began at 8 am, I recall my grogginess at that hour being offset by the bright Louisiana sun and the thump of techno coming from behind the dimly lit entrance of the Golden Lantern as we passed, where people were either just starting to drink or ending a long night.  We knew we weren't in Pittsburgh any longer.
Training took place in a spare dining room only used for Mardi Gras, the Southern Classic and Jazz Fest. There were other young people in our training class. We were given manuals, two sets of "stripes" (the red and white rugby shirts that were the core of our uniform), two short aprons and a pair of suspenders to display our "flair."  It all seemed hokey, but we needed loot. For two weeks we studied lackluster food, memorized table numbers by shadowing others and learned theories, like "Five Easy Pieces" and "The Corner Bar," each of which kept us hyper-focused on customer satisfaction.
From then on, I paid attention to details and all who came into the orbit of my life were somehow related to restaurant work. I learned to be comfortable talking to strangers, gaining a regular visiting from Japan, and met a Lafayette Square busker, who one night sat in my section wearing full clown gear and makeup.
The staff felt like family, with Skinny Keith, a dishwasher rocking a gold tooth, dubbing us "Ready Freddy and Shorty Pimp," and a bartender cooking a full Thanksgiving spread for those of us without a place to go. New Orleans, though, nearly ate Kristina and I alive; we moved back home and transferred to a store in Pittsburgh's North Hills.  So many of those people we met there remain friends to this day, with several being a part of our wedding party.
I've had other, better-paying restaurant gigs since then, and it all comes back to the relationships I've made with the cooks, hostesses, dishwashers, other servers, managers, bussers, bartenders and food runners who make it all happen, day after day, on holidays and weekends, by working as a team. We all share in the aches and pains, both mental and physical, that go with working a demanding job where the only recognition comes when something goes wrong. But it also brings us together at the end of another Mother's Day or New Year's Eve to down a shot and look each other in the eye, knowing we did good work.
Perhaps the best we can ask for is a more considerate dining public, which too often doesn't recognize how good they have it.
When I started studying for my MFA, I struggled to come up with ideas for poems, as it seemed my peers could write effortlessly about their personal lives while I hadn't yet felt comfortable doing so. My mentors turned me on to Phillip Levine, James Wright, Robert Gibb and Jan Beatty, each of whom celebrate "what work is" (to paraphrase Levine) and show that all jobs are worthy of examination and praise.
Since then, I've set out in my own way to humanize and recognize those often-faceless members of the service industry, who sustain us in our times of hunger and celebration. They are over 15 million strong in the US and many were hurting financially before this crisis. Now, they are unable to do what they do best, fulfilling what's at the base of our hierarchy of needs: food and comfort.
Until March 15th, when we were told by ownership we'd be closed until further notice, I held a job waiting tables at a place called Revival, an apt description for what needs to happen when this pandemic is over. Then and now, we need to consider how we'll regrow this important part of the economy that might never come back in full force. Perhaps the best we can ask for is a more considerate dining public, which too often doesn't recognize how good they have it.
So today, I'm thinking of Levine who wrote, "I can hear the music of the world in the silence," like the quiet dining rooms and kitchens that are making our neighbors and loved ones wonder how they'll get by, while others try to make sense of what it is that's been lost. Until then, I'll miss being connected to so many people who remind me I'm part of something that attracts and sustains the best parts of who we are.
*
Read two poems from Fred Shaw's debut collection, Scraping Away, here. The book is available now. 
__________________________________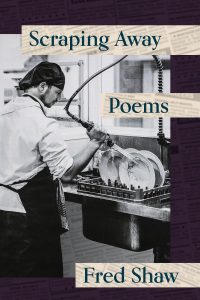 ---