Phantoms By Robert Prosser
At the Festival Neue Literatur, a Crash Course in Contemporary German Literature
Robert Prosser will be appearing as a featured writer at The Festival Neue Literatur, March 23–25. The following is translated by Daniel Bowles.

As for resistance: I was only ever at a riot once. In Tuzla, Bosnia. Sara's idea. Let's go there, I haven't been there in ages, she suggested when we were talking about plans for the semester break. We left Vienna-Erdberg at 6 p.m. One bus among many heading off every day at six sharp, taking various routes to Sarajevo or Zvornik or Mostar. A good eight hours on nighttime highways; we saw nothing of Slovenia and Croatia except noise barriers and fog. We stayed with Vehid and Refika, her mother's cousin, and Sara was all shocked at how Ismet, their son, had changed: a little older than us, late twenties and a baby face, but ripped from kick-boxing, good lord. Username: Tiger, is how he introduced himself.
When we arrived I had an uneasy feeling in my gut, as if I were unconsciously picking up some scent. We got out of the bus, rubbing our stiff necks. Strapped on our backpacks and went out to the parking lot where Tiger was waiting for us, and I felt like we were walking through an electromagnetic field. The sunbeams sliced through the cold air, sirens blaring off in the distance. It wasn't me who was nervous; it was the city this tension was emanating from.
There've been protests against the government since yesterday, Tiger explained to us, pointing toward a tall gray building. That's where the action is, you'll have to check it out if you have time. He typically wore sweatpants and a tank top, like the stronger, slimmer version of his father, just as sullen, too, and yet inordinately animated when the opportunity presented itself to do anything, even something like fishing in a nearby lake, which Refika cautioned against because factories dump runoff, but it was of no use; pieces of bread for bait were packed, and we were already sitting in the car.
Tiger took us along to parties, on the roof of an apartment building, for example. That's where they counted on three fingers what made Tuzla so special: it was the city that successfully defended itself, even against the Serbian army, in the war twenty years earlier; the city whose Muslim, Croatian, and Serbian residents fought side by side; and the city that's been celebrating rap and graffiti for decades now.
During one of the parties, Sara put her arms around my shoulders, inhaled the smell of weed, and said from within the skunky cloud: You feel right at home here, don't you? And she was correct. I liked the shaky videos played on smartphones at the parties, the ones shot in backyards with the whole crew, the gritty language, the badass flow, as if rap had taken a leap back to Brooklyn at the beginning of the nineties to start all over again, and this time to do it, if not right, then differently, and I liked the countless tags on street walls and roofs.
"When we arrived I had an uneasy feeling in my gut, as if I were unconsciously picking up some scent."
Turbofolk blasted out over the rooftop to spite the miserable February chill. They laughed at how Sara and I ate the cevapi with knife and fork instead of scooping it into our mouth with pieces of bread. Girls raised glasses and screamed we are crazy, we like to party, and after finishing their lines of speed the boys shot their noses up in the air like alarmed meerkats. Tiger told me about a cousin from Prijedor, in the North of Bosnia, a long-haired hero for the city's youth because of his talent as a guitarist. The fingers of his right hand danced over the strings, regardless of whether a schmaltzy tune was in order for Grandma's birthday, with everyone before the laid table in the afternoon, or whether it was for Roma rhythms for the later hours, when Grandma was fast asleep. For four years, Tiger said, his cousin had practiced every day until the plectrum picked each guitar string separately. That was his mastery; a pick between his fingers struck with a precision to the millimeter, millimeters that made all the difference in the sound and set the strings vibrating differently. On his visits, Tiger listened raptly when his cousin talked about creating a spherical space with music that would calm everyone who surrendered themselves to his funk or blues. People act as resonant bodies; their bones, skin, hair, their eyelashes, nails, lips, every cell absorbs vibrations and reacts to them, he believed. In the early part of 1992, his cousin was led off, an interrogation, nothing more, we'll bring him back in two hours, the men in uniforms claimed. He did not return home that night, nor on the following days, and when the family could no longer put off fleeing abroad, his mother took his guitar along because she was convinced that her son was in prison on account of some bureaucratic error and would soon join them, after the misunderstanding had been cleared up.
The guitar is now certainly collecting dust in some attic in Sweden, Tiger said.
One guy pushed up against me, you are from Austria, he slurred, poking me in the chest with his finger, I like you Nazis, and I utilized the little Bosnian I'd picked up, said jebem ti, and pushed him away, snidely and arrogantly; that there's no escaping that Nazi shit I just don't get. He, totally confused, started laughing hoarsely, his face red. In Vienna, on my way to Sara's place, I came past an advertising pillar at the Praterstern, an installation for the remembrance of Jews persecuted after 1938. On it were photographs of jeering crowds encircling two people on their knees in the street. The newspaper article copied there reported that an old Jewish couple, the two right there, had been forced to scrub political slogans from the asphalt at the foot of the Tegetthoff Memorial.
An older woman looking at the photographs wanted to know if I was from Vienna. She had, she said in English, just been standing at a locked gate to a park, peeking through iron bars at pruned trees, at a meadow, and, far off, two dark, massive structures that her travel guide indicated to her were flak towers. She'd stayed a while and looked without knowing the point of examining structures that had the same vaguely threatening effect on her as the smokestack fuming in the distance.
The garbage incineration plant presumably, I interjected. Later, she'd ended up here at the Praterstern where the advertising column with the black-and-white photographs had caught her eye. Could it be a coincidence, she asked, to stumble on this of all things on her walk? Her father, the youngest of a Jewish family from Vienna's second municipal district, escaped in 1938 at age eleven, thanks to a Kindertransport to London. He never spoke much of Vienna; she herself was in the city for the first time, she said, and was walking from one memorial stone embedded into the pavement to another, in the vague hope of discovering among the names of Jewish expellees and murder victims immortalized in that dark gold those of her aunts and uncles, of finding the building from which her relatives had been deported, of catching hold of a history that her father had experienced and understood as an eleven-year-old, but scarcely comprehended.
She followed my finger as I pointed out the general location of the former Nordbahnhof, the place where the trains had departed for the extermination camps. As if hanging in the air, she herself had ended up in between eras, having become a black-and-white photo in which a woman can be seen dressed in the fashion of the twenty-first century, wandering through Vienna of the year 1938, and reflected in her eyes were the ruins of two flak towers.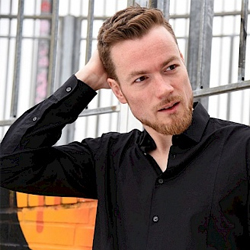 About the Author
Robert Prosser, born 1983, lives in Tirol and Vienna. After studying comparative studies and cultural and social anthropology, he spent a considerable amount of time in Asia, England, and the Arab world. Prosser is the Austrian curator of Babelsprech, an organization that funds young German poets and supports the development of their poetry. Prosser has received many prizes and stipends including the "Grenzgänger-Stipendium" of the Robert-Bosch-Stiftung in 2014 and the "Aufenthaltsstipendium am Literarischen Colloquium Berlin" 2014.
His debut novel Geister und Tatoos was released in 2013.
---