Elbow By Fatma Aydemir
At the Festival Neue Literatur, a Crash Course in Contemporary German Literature
Fatma Aydemir will be appearing as a featured writer at The Festival Neue Literatur, March 23–25. The following is translated by Tim Mohr.

If Desiree hadn't held up every single lipstick and nail polish in front of me with her long, clean fingers, I'd never have come up with the idea to shoplift. It was summer, I know that for sure, because Desiree was wearing light-blue hot-pants and the glossy little hairs on her legs were standing on end because the supermarket's air conditioner had turned the whole place into a freezer. Even though I was only seven, I knew I would never be allowed to wear shorts like that. And I also knew that Mama would never allow me to buy glittery lipstick. But Desiree had money in her hand and just had to decide what color she wanted. She chose a pink one, of course, since Desiree was blond and thought of herself as Barbie. She actually did look a little like Barbie, but I never told her that. Life had been kind enough to Desiree already.
I went with her almost to the door of her building. Desiree's mother was on the balcony with her hands on her hips. She was tall, extremely thin, and always tan. Not sure why, I guess they went on vacation a lot. She always wore a tight tank-top with no bra underneath, so whenever you thought of Desiree's mother you saw her tits in your head. They were much smaller than Mama's, but not pointed. They were as round as a two tennis balls, quite lovely actually. Desiree's mother gave us a stern look as she shouted that the family was about to sit down to lunch. Desiree nodded, looked at me and waved goodbye. She waved even though I was right next to her. I've never seen the inside of Desiree's apartment, but I've often tried to picture what it must be like.
*
Afterwards I went back to the supermarket and let the lipstick discreetly disappear into my pants pocket. I can't really say what I intended to do with it; I think it was just a question of having it and being able to smell it now and then. Because there was no chance I could ever wear it. Mama would smack me immediately. As I slinked past the sad cashier with her facial hair, I looked down and concentrated on the grooves in the linoleum floor. Outside I ran the three hundred meters home as if I desperately needed to go to the bathroom, opened the door with the key hanging from the dark-blue cord around my neck, sprang up the steps to the second floor, unlocked the door to our apartment, ran straight into our playroom and held the lipstick up to my nose proudly. Onur shot me an inquisitive look and then went back to playing with his stupid Lego blocks. Spaz.
"She actually did look a little like Barbie, but I never told her that. Life had been kind enough to Desiree already."
My ears wait for the blathering and background noise. I can hear something but I'm not sure whether it's time yet or not. The TV next door is so loud you'd think the entire family were deaf. The voice of the newsreader from our living room mixes with the song in TV ad coming from next door. I know the ad—it's for a brand of sujuk sausage. Two kids come home from school and hug their mother. They both say, "We're hungry!" The mother is wearing a sky-blue sweater. She pats their heads and answers: "I have a surprise for you!" She holds up a package sujuk and pulls a red pepper out of it, letting the pepper hang in the air before it disappears, taking the spiciness out of the sujuk. She cuts the sausage into slices, fries them in a pan, and the kids lap them up. The ad is so ridiculous. I mean, in a million years a woman like that in a kitchen like that would never fry up sausage for her kids. There are pots of fresh herbs all around. And one of those things that my uncle's wife has been dreaming about and showed me pictures of on her iPhone after searching "freestanding kitchen island." A woman who cooks in a kitchen like that would put on a white apron and work all day on overly elaborate and healthy things, like stuffed eggplant or a homemade lentil soup with a few drops of lemon juice or something like that. Maybe I should have had some rice at dinner after all, since my stomach is rumbling. Instead I just sat there pushing my salad around so it looked as if I wasn't hungry. But nobody cared anyway.
"Hazal, will you make çay?" mama calls from the living room. "On it."
I like to make the çay. Taking care of the çay means I can be alone after dinner. Without the feeling that somebody is looking over my shoulder watching for mistakes. I go through the same series of motions, I don't have to pay attention to anything, and I can just listen to the voice in my head. When I'm sitting with my parents, I never hear the voice. Because I'm always acting as if I'm somebody else. My gaze lingers on the family photos that are stuck to the fridge with fruit-shaped magnets. I take the picture of Onur's circumcision party and hang it underneath a shot of my grandparents. That way I don't have to see it anymore. Mama had put blue eyeshadow on me that day and stuck me in a horrible lace dress that was way too tight. I look like a miniature tranny in the picture. I think it's the last photo where all four of us posed together. After that there was never another occasion.
*
"Finally," says Mama. "I was beginning to think we wouldn't have çay at all today."
She's sitting in the gray chair wearing her TV-glasses, which make her look ten years older. Her hair is neatly combed to the side. My father sits stiffly in the middle of the sofa. He's holding the remote so tightly that it looks as if he is depending on it to keep his balance, as if he would fall to the side if he let go of it. I lean forward to place the dark çay on the coffee table in front of him. My hand reflexively reaches for the neckline of my shirt but it's too late. I cringe like a spaz and spill some of the çay onto the saucer. My father continues to stare past me, stone-faced, in the direction of the TV. But Mama noticed. I don't look at her, but I can sense her death-stare. It bores into my chest and I know that if my father wasn't here she would ask me: Why would you wear a shirt like that when you can't even move around normally in it? And I'd probably not say but think: It's not the shirt, god damn it, it's you.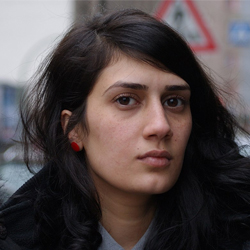 About the Author
Fatma Aydemir was born in Karlsruhe in 1986. She studied German and American studies at Goethe-Universität in Frankfurt am Main. She lives in Berlin and has been an editor at the daily newspaper taz since 2012. She also writes articles for numerous magazines, including the music magazine Spex and the feminist Missy Magazine. Her first novel, Ellbogen, was published by Carl Hanser Verlag in 2017. Ellbogen has been adapted for the stage by several theaters and was awarded the "Klaus Michael Kühne Prize" at the Harbor Front Literature Festival.
---