One in a Million: Where Were You When You Heard that Aaliyah Died?
Kathy Iandoli on the Impact of Generational Celebrity Deaths
Generational celebrity deaths are such an interesting part of popular culture, aren't they?
You remember every detail: where you were, what you were doing, who you were with. You might even hold on to these fragments of memories tighter than you would over the passing of your own distant relatives. That's because those who touch the world on a grander scale—for better or worse—have the potential to reach more people, and yet affect every single one of them individually and uniquely. JFK, MLK, Kurt Cobain, Tupac Shakur, The Notorious B.I.G., Michael Jackson, Whitney Houston, Prince, Kobe Bryant—the list goes on and on. Through the duration of their lives—no matter how long or short they may be—these humans become our superheroes. Their mortality, however, is our brutal reminder of the former. Their deaths become historical events in and of themselves, usually involving some anniversary people grimly commemorate. Since the advent of social media, that now includes a picture posted with some warm words, a vague memory associated with the dearly departed person, and a quote honoring their lives. Certain calendars even regard these deaths as international holidays, again showing the correlation between a celebrity's death and their impact on the world. Many, many people have only a rudimentary understanding of world history and key dates, yet they can tell you the exact date that their favorite singer died.
With the passing of Aaliyah, it was a double whammy of devastation, where there was little time to process her death before a global crisis hit.
Just two and a half weeks following Aaliyah Haughton's death, on September 11, 2001, the United States was thrust into a world-changing tragedy.
The news of the destruction of the Twin Towers overshadowed her passing, with fans left wondering what even happened, considering the details of her plane crash appeared so vague and before we even knew it two more plane crashes arguably eclipsed hers. Once award show season rolled around, Aaliyah was honored during artist memorial segments and through posthumous accolades. Still, her death left fans bewildered with little time to manage their grief; so even now when you scan the comments of her videos on YouTube, the responses almost always include a dismal "I still can't believe that she's gone."
Before I continue, let me answer my own question: Where was I when I heard that Aaliyah died?
I was four months out of college and still hanging out at the local diner. It was around 11:30 pm when New York City's HOT 97 was reporting the news. I was standing in the diner's parking lot with my friend exchanging our good-byes after a late dinner. He had an Acura Integra with a custom-designed sound system, so every time he turned on his car the radio would shake the pavement beneath the vehicle, as if it were directed to on command. This time, when he turned on his car the first thing blaring out of the radio speakers and shaking the pavement was famed radio personality and the Voice of New York Angie Martinez saying Aaliyah's name on New York's HOT 97. Her wildly bold voice was breaking as she spoke in her thick, immediately recognizable Brooklyn accent. That should have been my first clue, but I continued walking to my car. After all, it was not unusual to hear Aaliyah's name all over the radio airwaves, with her songs following in tandem.
It was 2001, and Aaliyah had the world in her palm. Her eponymous album had been released a month prior and Queen of the Damned was being filmed, so Aaliyah was everywhere. Still, Angie's voice aroused my suspicions, especially since this wasn't her usual time slot, so my brisk pace downgraded itself to a tiptoe, as my body involuntarily timed its own movements to the stillness of her tone.
"Hey, I think Aaliyah was killed in a plane crash," my friend called to me. I came to a full stop. You know that feeling like the sound is sucked out of a room and you suddenly can't hear a thing but the warbles of airflow? Well, imagine it being sucked out of the planet, because I was standing outside.
With the passing of Aaliyah, it was a double whammy of devastation, where there was little time to process her death before a global crisis hit.
I ran back over to his car, listening in disbelief. The news was being reported as information filtered through the pipeline in real time from the Bahamas, where she was killed. The crash happened hours before, though by midnight it was confirmed that she was gone, which explains why most online news articles show a published date of August 26, 2001, at the tops of their reported stories. (This predates the TMZ era, where it now literally takes five minutes to confirm or deny any piece of information.) Back then, there was an unspoken respect for families' finding out first, albeit their window was small. But as the evening came to a close, it was confirmed that so had Aaliyah's life.
I drove home crying that night. And not like a single glistening tear in memoriam, but full-on weeping as Aaliyah's songs filled my car from various radio stations blaring her hit after hit. It was like a continuous bout of punches to the gut, every time another song played. I had experienced the losses of the aforementioned Tupac, Biggie, and Kurt Cobain, but this one felt so different. It was Aaliyah. Baby Girl. She wasn't supposed to die yet. How could this have happened? These were all of the thoughts swirling in my mind as I drove home in a fog.
When I walked into my house, my eyes were so swollen that my mother thought I had gotten into an argument with my friend. This may sound dramatic to some, but to others it makes perfect sense. I felt this stranger's death on a deeply personal level. Aaliyah was born just a month before me, so she was almost exactly my age. I was a newly minted college graduate and my life was just beginning, while hers had just ended. I didn't just look up to her; I stood beside her. She felt like my very best friend, the cooler one of the duo where you oftentimes wonder why she chose you to be her partner in crime. That's how close my imaginary friendship was with Aaliyah, much like so many other people I know. I mean, she died on my friend Christina's birthday, and the next day she cut off all of her hair because she grew it long to be like Aaliyah's signature long tresses, even covering her one eye with half of her hair like Aaliyah had.
For many Halloweens thereafter, friends wore Aaliyah "costumes" before it became a vintage homage to her on prime-time TV series like Grown-ish or Halloween pics by celebrities like Kim Kardashian and Kash Doll posted across Instagram. When I interviewed Quincy Jones in 2007, he asked me if I was Aaliyah's friend since we shared a similar "vibe," as he punned (he founded Vibe magazine in 1993). I still haven't completely recovered from that compliment and I still wear it like a badge of honor.
It became clear to me just how powerful Aaliyah truly was when I covered the two-year anniversary of her passing at Ferncliff Cemetery in Hartsdale, New York, on August 25, 2003. To say there was a crowd gathered would be an understatement. Aaliyah had been put to rest in the cemetery's marbled mausoleum, and fans congregated, leaving balloons and flowers, cards, poems, photos with her, and her albums at the foot of the wall bearing her name. (Her father now rests right above her, as he died on November 8, 2012.) My best friend, Maryum, and I stood there in awe at the number of kids around our age (some younger, some older) who stood at that mausoleum wall and publicly mourned Aaliyah.
TV camera crews were present, documenting the phenomenon. I remember I scribbled in my little reporter notebook: "Girls dressed just like Aaliyah are sobbing, boys crying because their crush is gone" (gender normativity notwithstanding; it was a different time, and now I've seen such an even split between men and women being inspired by Aaliyah and applying her tenets to their own lives). Regardless of their reasons for attending, it was all so intense, and when you bring Aaliyah's death up even two decades later the reaction is still intense. Whenever I watch her "Rock the Boat" video, I feel that intensity knowing it was that very music video shoot that ultimately took her life—a life that ended abruptly at the age of 22.
Regardless of what you believe or who you believe in, seeing someone die so young makes you question everything.
Aaliyah was described by music industry people as "cool," with a subtle air of mystery, yet she lit up any room when she entered. She was known as LiLi by her team and those closest to her, the goal was to protect her and shield her from the chaos in which she entered into the business. Her final year of life was an important one, where Aaliyah inadvertently made every moment count. She was coming off five years of redevelopment. Like her mentor Missy Elliott's 2002 album title, Aaliyah was under construction. She sacrificed a fraction of her teenage self to the abusive hands of R. Kelly, where she was sketched like a neophyte with raging hormones and a taste for older men on her debut album, 1994's Age Ain't Nothing but a Number.
Her recovery time in the media post-controversy was impressively swift, though the healing of her internal trauma seemingly wasn't. She found ways to piece her old self together with her new self on 1996's One in a Million, as Timbaland and Missy allowed Aaliyah's airy vocals to be a musicology experiment in their tempering of time-honored R&B music with fragments of electronic music, which in turn elevated the entire genre. Her 1996 Tommy Hilfiger campaign proved she could model, and 2000's Romeo Must Die proved she could act. She even dominated soundtracks thanks to songs like "Are You That Somebody?" and "Try Again." So in the last year of her life, she had finally found herself. Her final album was aptly titled by her mononym, Aaliyah, and she was more hands-on than ever, working with the late producer and songwriter Static Major. Her lyrics were more personal, displaying a maturity into young adulthood while still remaining young, wild, and free. Her starring role in Queen of the Damned was setting the stage for her Matrix Reloaded role, which would later lead to The Matrix Revolutions. Aaliyah was the Phoenix, who rose from the ashes, yet returned to them just as she reached full form.
It felt so unfair.
Regardless of what you believe or who you believe in, seeing someone die so young makes you question everything. There was so much more to be done, and now we were left with unfinished business in this story we watched unfold right before our eyes. Would Aaliyah have married Damon Dash and started a family? How many films could she have starred in? What about all of the albums left to record? Would so many of the R&B and hip-hop artists who followed ever have gotten their shot had Aaliyah remained here? There were so many possibilities for what could have become her life, but none of that happened. Aaliyah was just getting warmed up and it felt like she was taken away. Yet through the duration of her physical absence, she's evolved into this mythical creature. A goddess, whose art transformed into this fantastical silhouette that hangs over music. You feel Aaliyah in the songs of today; you see her spirit in the artists who arrived after her. The "Princess of R&B" is an understatement; Aaliyah is at the crown of music royalty.
__________________________________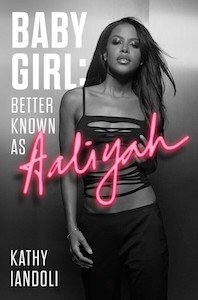 From Baby Girl: Better Known as Aaliyah by Kathy Iandoli. Reprinted by permission of Atria Books, a Division of Simon & Schuster, Inc. Copyright © 2021 by Kathy Iandoli.
---