On Writing (and Not Writing) About Mutton Biryani
Nandita Dinesh on Family Recipes and What Goes Unsaid
I was going to write about mutton biryani, the multi-layered, aromatic, mouth-watering rice preparation of which my grandmother created her own version—I clarify that it's "her" version because every family has its own biryani recipe.
Each home's biryani has its own preferred star ingredient—goat, lamb, chicken, egg, potatoes, or paneer—and its own first step: frying a shitload of thinly sliced onions; par-boiling basmati rice for just the right amount of time; marinating the chosen star ingredient in ancestor-defined ratios. And each has its own biryani masala: home-made, store-bought, or a mixture of the two.
I was going to write about why mutton biryani matters to me; how its preparation symbolized "occasion" during my childhood. How it is a particularly poignant allegory for the ways in which flavors collide and mingle in India's worlds, and how the dish carries a unique, evocative aftertaste for which I have no words in Malayalam, Tamil, English, Hindi, or Spanish.
Then I decided that I would write about why mutton biryani matters to me and my memories of my Amooma trying to get me to go into the kitchen, to learn how to make her version of the dish—an offer that I would immediately spurn or pass on to my brother. "I have too much to do, Amoo. Lots of homework," or "Teach him. He's not doing anything right now."
Of course, when I brought up my brother, the conversation stopped being about mutton biryani: "Your brother can already make omelets," I think I remember Amooma saying. "His cheese omelets this morning were so fluffy and beautiful. I never thought my grandson would learn to cook before my granddaughter." Our conversations around the subject would quickly move away from cooking to the subtle and not-so-subtle ways we clashed over what I remember as her preference for my brother.
How do I mourn never having learned to cook from Amooma when it has been almost 20 years since her death?
As soon as I started down this road, though, I realized that I couldn't write about why some grandmothers prefer their grandsons. Or about my regret now, almost three decades later, for not having been a better student under her tutelage. Or about my profound sorrow that my efforts to learn to read Malayalam as an adult have been for naught, because my Amooma wrote her recipes in a version of the script that is no longer used.
No. I couldn't make this piece about any of these things because it stings too much. Hurts. How do I grieve my childhood decisions and perceptions? How do I mourn never having learned to cook from Amooma when it has been almost 20 years since her death—which was almost ten years before I wanted to learn to make mutton biryani?
Maybe I was always going to write about the conditions that made me want to learn this skill (cooking) after 30-something years of using my lack of culinary interest and ability as a weapon in the battle against a trope I abhorred.
Maybe I was always going to write about a very particular list of ingredients that caused what I can only term a transformation. From being someone who could only make Maggi noodles—the instant kind—to an amateur cook who semi-specializes in mutton biryani.
The Recipe That Made This Cook
Ingredients
⋅ A pandemic
⋅ The seemingly interminable wait for a book to be published
⋅ The inability to go to India for multiple years
⋅A job that left too much time to obsess: over the aforementioned book, the pandemic, and missing home
⋅ A deep sense of regret, for not having learned to cook from an ancestor.
⋅ A collection of memories from other kinds of curfew in which turmoil was forgotten, however fleetingly, while consuming tehri, or phirni, or chai, or some other gustatory delight
⋅ A searing grief, from the deaths of the known and the unknown.
⋅ An eating partner who enthusiastically devours anything that is made, without discrimination
Instructions
⋅ Mix all the ingredients together in one bowl, in proportions that resonate with the cook's existential condition on a given day.
⋅ The outcome will not be affected if some ingredients are replaced by others. For example:
"Pandemic" could be replaced by any phenomena over which the cook has no control—a condition that forces consistent worry about the state of the world and the sheer insignificance of our lives: wildfires, wars, poverty.
⋅ The wait for a book to be published could be replaced by a wait for anything else that matters deeply to the cook, to their soul. Like the wait for a long-lost love.
⋅ The cook doesn't have to miss being able to visit India, specifically. However, given that most people miss something, or someone, all the cook needs to do is channel the emotions that stem from that which they long for, regret, obsess over, remember, and grieve.
⋅ Finally, the cook's non-discriminating eating partner could be human, sure. A dog would also suffice.
Once all the ingredients are combined, place the mixture on the stove until it boils over.
Add salt to taste.
Best served hot.
__________________________________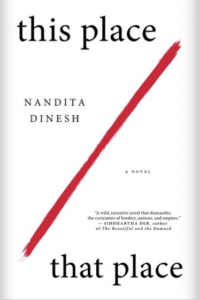 This Place That Place by Nandita Dinesh is available via Melville House.
---