Marcy Dermansky on Revising Without Losing Your Mind
"Writing can be a form of absolute play."
The following first appeared in Lit Hub's The Craft of Writing newsletter—sign up here.
*
A lesser-known fact about me: In addition to writing my own novels, I am a developmental editor. I help authors improve their novels. Sometimes these novels get sold; sometimes—as one of my despairing clients knows all too well—they don't. About a year ago, she came back to me wanting to work on a sixth draft based on the suggestions of an interested agent. "At this point," she said. "I just want this novel to be over."
There was true heartbreak in her voice—and also real animosity for her novel. It was clear to me that she had begun to hate the book she once loved, had been working on for years. And while the one interested agent's suggestion to move the end of the novel to the beginning, forecasting the events to come, could work, it was more likely not a good idea. I could sense pure dread. All the joy, all the play was gone. "You can rework material to death," I warned her, and honestly, she already had. "Why don't you start something new. See what happens. Have fun. Play."
I was not surprised when I didn't hear back from her. I understood. Without outright saying so, I had given this writer the worst news. Suggested she put her novel in a drawer. I have a novel in a drawer, too. I think many of us do. It's something we don't really like to talk about. My drawer novel was set on a spaceship. It was liberating to not return to that claustrophobic spaceship, a project I knew was not working; that was a recipe for misery. Writing, contrary to popular belief, should not be a form of suffering.
The truth is, I love, love, love to write. When it's going well, there is nothing better. My writing professor in graduate school, the tremendous Mary Robison (Why Did I Ever) once said in a class that writing is better than drugs. I never forgot that. I believe it, too. Not that I love drugs. But writing is the one and only time that I can actually feel my brain working: going into high gear, channeling a voice that comes from I don't know where, ideas feeding directly into my fingers, almost bypassing my conscious mind. That cameraman in Hurricane Girl who brings a vase down on top of Allison after making her coffee; I did not see that coming. I really and truly scared myself.
While making a book better, new ideas keep coming in.
Writing can be a form of absolute play; you never know what you are going to write. Even if you have an outline, you still don't know. Your fingers may betray you. And literally everything that has ever happened to you is material. In a scene from Hurricane Girl, Alison finds herself watching an episode of Star Trek with Ashley Judd in a hotel room with her boyfriend after going to a wedding; it's the same episode of Star Trek that I once watched with my boyfriend in a hotel room after a wedding. Allison watches that episode earlier in the book, too, in a hospital room with her father when he is dying—something that did not happen in my life. Somehow, it worked so beautifully in the book, and helped me address feelings about that time that I had been unable to process for many years. I had no idea I was going to write about it until I did.
Yes, editing and revision is hard. Yes, creating a plot that is cohesive, and makes the reader want to turn the pages, can be hard. And when I get stuck—and I do—I sometimes write pages that are flat-out boring. My characters go out for turkey sandwiches and swim more laps than they need to. The boring pages are always an indicator that I am on the wrong track. Theses page get cut. Sometimes, you have to write the boring pages and then delete them, to do what the story requires. This, however, is not suffering. This is revision, and revision is also fun. While making a book better, new ideas keep coming in.
Not long ago, my struggling writer got back in touch with me. She had rented a cabin in the woods. In less than a week, she had written a hundred new pages. I could feel the energy in her email. It was buzzing. She promised to send me a draft of the book by the end of the summer. I believe that she will.
__________________________________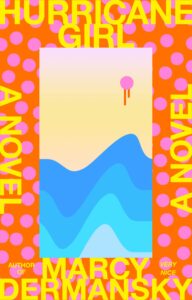 Hurricane Girl by Marcy Dermansky is available via Knopf.
---