On Writing About Childhood, That Most Precious, Precarious Time
Sadie Jones Follows the Lead of Her Young Protagonists
For most of us, entry to the world of books is as very young children, when they are read to us. As listeners, we participate in storytelling much as our ancestors did, our oral inheritance. Heard or read, receiving a story is itself a form of creation, the creation of a new galaxy in the universe of our mind, with landscapes and people that had not previously existed.
It's common to move away from fiction as we move through our lives; after middle-age the appetite for stories seems to wane. Challenging and sophisticated as fiction can be, it is still this essentially playful creating of worlds, and there is something inherently youthful in creation. Perhaps that's why stories of childhood hold such resonance, they're creation and new life combined.
Each mind's eye is unique. Everyone imagines their own gingerbread cottage in Hansel and Gretel, the dark woods surrounding, the snap of sugar grass, sweets set in the walls, just as everyone remembers loving or hating the illustrations, and understanding, dimly, that someone else imagined the same story, but differently. I remember sometimes covering a picture with my hand so it wouldn't spoil the story as I read. I can't be alone in that.
When writing childhood, as I've just done remembering those fairy-tales, that small phrase, I can't be alone in that is an essential one. To conjure an adult experience in fiction is one act of imagination, but to conjure or inhabit a child is slightly different. If I remember covering the pictures so they wouldn't spoil the story, or what it felt like to fling ones whole body onto the grass and it not hurt, and looking up at giant white clouds. Smelling the grass being cut when I was stuck in the classroom. Hovering in the doorway of a room, half-hiding, half-listening. If I know, and I remember what it is to be a child, doesn't everyone? I can't be sure. Writing is a leap of faith, and never more so than when writing childhood.
I begin a new book with very little: a worldview, or personal truth—sometimes less, maybe nothing more than a tugging echo of an emotion, image, or phrase. Then, if it is to become a novel, it needs the things novels need: a story to express it, and people. What will happen? Where will it happen? When, and who will tell it? This book, my sixth, is the first for which the answer to "who" was two children, and their names came up quite quickly: Amy and Lan.
Writing is a leap of faith, and never more so than when writing childhood.
I had the story early on: three families who share a large and beautiful farm called Frith. They also share values about how Frith should be run; they want to bring up their children in nature, free from city dangers, and to grow as much of their own food as they can. They hope, as many of us do, to be part of the solution, but they are beset with crises, small and large, the existential one being their romantic relationships. The book was going to be called Frith Farm, or The Echoing Green, and it was a parable about the impossibility of sustaining Eden.
I had all that, but I had an essential problem: my story was not Amy and Lan's story. Amy and Lan's story is prelapsarian, not about Frith's problems, but about its wonder. The only people who could tell it were Amy and Lan themselves—and they are both seven-years-old when the book begins.
I have written children before, but they don't remain children, they are adult characters in childhood for a short time, or remembering it. This book was not Amy's and Lan's memories of childhood, it was their childhood. I tried at first to resist, writing as I "usually" do, in the third-person, with events in the past. I rewrote several times, sometimes the whole book, more often sections. I knew everything that happened, but the book couldn't seem to find itself. The tone was uneven.
As the writer, I resented having to give the characters hindsight that was not the subject of the book; Frith was uncomfortable in a nostalgic glow and equally uneasy when touched with retrospective rage or cynicism. In short, Amy and Lan had not grown up yet, and their adult lives were not relevant. They were not looking back. They were just— there. They are children. They are in the now. So, I gave them the present tense, then, intimidated by the task, I spent some time trying to write only one or other of them, just Amy or just Lan, but that didn't suit either: they're best friends. It took too long to negotiate, but I gave in, they would both tell it.
Their childhood, like all childhoods, is the most precious, precarious thing imaginable, and the story that needed telling—the better to see ourselves, perhaps.
Writing people is not unlike method acting. The writer researches the character, asks themselves what they would do in situations, how they might feel, inhabits them as far as they can, then hopes that with the preparation and work instinct will take over in the writing. There's an element of play in it, certainly of improvisation. Writing children is immersive, the play and improvisation necessarily more pronounced, and the first-person voice demands monologue, there's no way around it. Amy, particularly, would not shut up. Lan was quieter, outwardly, but internally just as busy. Neither child was at all interested in the structure of my novel.
Each time, I set out with a vision of a perfect book, and halfway through find I'm not sure it is a book. Amy and Lan was no exception; it took some time to surrender to, and a while to understand. Amy and Lan isn't an adult story told through child's eyes in the manner of The Go-Between or To Kill A Mockingbird, most of the time the children are refusing to notice what's going on in the adult world at all. But the adults are there. The fights and happiness, the sex-lives, self-deception and various vanities of parents are not ultimately a matter of choice for any child. One's parents rule the earth and sky. Try as they might—and they do—Amy and Lan can't escape that.
Writing and reading about childhood is something like time travel. All our childhoods are just there, just behind us, just inside. Young, unformed, we are far more similar than later we become, and the state of being a child, however different our lives, is our common experience. Amy and Lan have children's perspective and children's humor; they fall about laughing at fart jokes, they sing songs over and over and over again, and roll in mud. They sit together in the bath and stare close, close, close at the soap-scum floating on the water and think it looks like tiny icebergs and imagine miniscule polar bears on them. Their childhood, like all childhoods, is the most precious, precarious thing imaginable, and the story that needed telling—the better to see ourselves, perhaps.
Amy and Lan's parents wanted to revive the tired land. They wanted to break the rules, leave the rat-race. Change the world. They wanted to bring up healthy children, not cringe with guilt every time they sent them out into the exhaust-filled city streets. They succeed with much of it. Amy and Lan have a great time—until they don't. All childhoods end. It always feels abrupt.
_______________________________________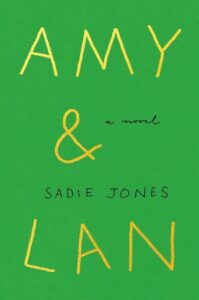 Amy & Lan by Sadie Jones is available now via Harper. 
---