On the Women Who Succeeded in the "Man's World" of Mountaineering
Katie Ives on Jean Crenshaw and Helen Kilness, the Women Behind Summit Magazine
As far back as the Victorian era, climbers have relied on journals of record to document what takes place above the clouds. Inevitably, events morph as they are turned into stories. Old errors become enshrined in books and perpetuated for centuries. Contrasting accounts by different participants remain irreconcilable. Distortions arise from shifting memories, altitude-addled brains, and subjective viewpoints. Uncertainties linger amid the chaos of a whiteout blizzard, a dark night, or swirling fog. Longings create their own realities. In one legendary anecdote, a mountaineer announced that he'd reached the top of the world's second-highest peak, only to admit, later, that he must have merely imagined the summit as he climbed in a state of hypoxic delirium. Such confessions are rare. In most cases of disputed ascents, as climbing writer Greg Child once said, "It's not like the murder mystery where you finally find the killer—in the end, there's no smoking gun. You don't have proof of the truth."
During the 1950s, it was harder for magazine staff to fact-check accounts of first ascents than it is today. There was no Google Earth, no readily available online photos of remote places. Although Indigenous trails and stories crisscrossed North America—as did a patchwork of government maps—printed cartographies of remote ranges retained some errors and gaps. Certain regions of the continent were still terra incognita to non-Native mountaineers. The deep forests of the Pacific Northwest hid isolated summits from their eyes, requiring days of arduous bushwhacking to approach. Entire Alaskan ranges remained unscouted by climbers, though they could already dream about the mysteries between waving contour lines.
Mountaineering communities were much more scattered and disconnected from each other than they are now. News and rumors disseminated slowly and often remained incomplete, fragments spread by word of mouth or reported in regional bulletins and annual alpine club journals. The only source of information about the first ascent of a lesser known peak or the topographic details of its upper regions might be the people who claimed to have climbed it.
Founded in 1955, Summit was the first monthly climbing magazine in the United States, and its influence remained paramount until the 1970s. When I visited its old office in October 2014, one of the retired editors, Jean Crenshaw, told me she'd often had to depend on her instincts to decide whether a writer was telling the truth. While she and co-editor Helen Kilness had struggled to verify the reports they received during the decades before our current Information Age, they'd also relied on that lack of connectedness to conceal facts about themselves.
Concerned that no one would buy the magazine if readers knew it was run by women, they'd hidden their gender on the masthead, listing themselves as "J. M. Crenshaw" and "H. V. J. Kilness." Later, Jean switched to using "Jene M. Crenshaw" in print (which sounded more like a man's name to her than "Jean" did). They published letters to the editor that addressed them as "Dear Sirs," without correcting the writers' assumptions. By the time their secret was out, the magazine was well established. "It was a man's world," Jean said. "I didn't resent it. It was just the facts of life. The less people knew about us, the easier it was to work. We had to do our own thing. We kept to ourselves. We had to."
Concerned that no one would buy the magazine if readers knew it was run by women, they'd hidden their gender on the masthead, listing themselves as "J. M. Crenshaw" and "H. V. J. Kilness."
The cabin where they lived and worked for much of the year was on a mountainside above Big Bear Lake in California, reachable only by long, winding roads. Stark light fell around the oak leaves, pinecones, and needles as I gazed at the surroundings. Low peaks rose across the valley, pale green and sunbaked white. The distant lake narrowed to an iridescent blue band. The small, brown-shingled building perched atop a granite crag, its sides merging with giant boulders. To train, Jean explained to me, the editors and their guests traversed around the outside walls of the house, clinging to the rocks and bricks, trying not to let their feet touch the ground. Other boulders clustered in alcoves nearby, offering rounded cracks and sloping holds that were perfect for practicing all kinds of movements—a natural sculpture garden of stone. It was the kind of place where a climber might dream of living.
The previous owner had designed each architectural detail according to his eccentric imagination, creating toy-size model dwellings nestled high in the rocks and constructing a little bridge over a small pool. For the front door of the main building, Helen and Jean had hired the magazine's main cartoonist, Sheridan Anderson, to paint a sign with the image of a piton and the words SUMMIT HOUSE.
When I stepped over the threshold, I felt as if I'd passed through a cliff face into the cool quiet interior of a peak. A blue waterfall glistened within a diorama of a mountainside. Beneath the floor was a catacomb-like basement, formed by a natural cave of wedged boulders, with stairs cut into the rock itself. Jean and Helen had created a darkroom inside a nook partly jackhammered out of the surrounding stone. There, they set up their printing press and stitched together the early issues.
Although other female editors had served at North American club publications such as The Canadian Alpine Journal and The Mugelnoos, Helen and Jean had launched Summit at a time when women had largely faded to the background of mountaineering stories in the US. Wartime posters of heroines working in offices and factories disappeared during the late 1940s, replaced by gleaming advertisements that showcased suburban housewives consuming new kitchen and beauty products. Women's magazines alternated between publishing scattered stories about female career achievements and promoting a vision of domestic bliss so perfect it was unattainable for real families.
Some men who felt stifled by the conventions of 1950s society could find an outlet by pursuing adventures in the mountains. Women who sought similar forms of escape sometimes had trouble finding a place in the growing counterculture of climbing, where their presence wasn't always welcomed. As American historian Ruth Rosen explained in The World Split Open, "For young men determined to avoid the world of their fathers, freedom meant cutting loose from women and children." Alongside the rise of postwar technology, Yosemite climber Joe Fitschen recalled, big-wall climbing became "quite violent . . . with the bashing of pitons and the struggling over overhangs." For many, "it just didn't seem to be the kind of thing young women should be doing."
Examples of strong female lead climbers, such as Bonnie Prudden, who established dozens of new routes in the Shawangunks of New York between 1946 and 1955, or Jan Conn, who made hundreds of first ascents across America, remained fairly rare. Irene Beardsley (who later took part in the first American ascent of Annapurna) met a number of talented, active women when she joined the Stanford Alpine Club in Palo Alto, California, in the early 1950s. But she didn't start leading, herself, for several years. "I think I positively enjoyed the freedom to be different," she recalled. "At the same time, I was quite shy. I did feel I was defying norms." With few clear paths to follow, female adventurers of the era often had to create their own.
Some men who felt stifled by the conventions of 1950s society could find an outlet by pursuing adventures in the mountains. Women had trouble finding a place in similar forms of escape.
"Everything was a challenge, and I was out to meet it," Jean told me. "I've never been frightened in my life. I can't even remember what it's like to be frightened." After the death of her father, an electrician, Jean's mother struggled to raise her and her brothers in Huntington Park, California. Like many of her high school classmates, Jean enlisted during World War II. While stationed in Georgia with the US Coast Guard, she met fellow radio operator Helen—a quiet woman who had grown up on a South Dakota farm. At the end of the war, the two friends pooled their small savings, bought a motorcycle, taught themselves to drive it, and set off across the country together.
Jean learned to climb with the Sierra Club on large, coed trips to the hills that provided a relatively friendly environment for female members. The idea of Summit came from her passion for the mountains and from her desire, after years of working for a Masonic publication, to have a magazine of her own. "Once we got started," she said, "the stories came to us." Many now-legendary climbing writers published their earliest articles in Summit, experimenting with new styles and ideas. Royal Robbins, who served as Summit's rock climbing editor from 1964 to 1974, helped usher in the age of clean climbing. Cartoonist Sheridan Anderson poked fun at the grand protagonists of the Golden Age of Yosemite climbing. Jean and Helen presented groundbreaking first ascents and ordinary excursions on an equal level, as if all that mattered was a love of mountains for their own sake—the ability, as contributor Rick Sylvester wrote, "to take pleasure from the experiencing, not just the experience."
In 1956, a reader penned an infamous letter that began, "Sir: I find a regrettable tendency in your magazine to refer to mountaineering as a career equally adaptable to both men and women." Outraged responses flooded the letters section over the next several issues (which perhaps was the publishers' intent) defending women's right to climb—including a note from Elizabeth Knowlton, who had accompanied a 1932 attempt on 26,657-foot Nanga Parbat. A year later, Jan and Herb Conn's article "We Work in Our Spare Time" explained the principles of dirtbaggery for couples: "It's a simple matter of mathematics—two people working six months a year are just as good as one person working twelve months to support two people."
Between Summit deadlines, Jean and Helen went on climbing trips in an old pickup with a small trailer. After dark, they'd turn off some back road, extinguish the headlights, and continue by moonlight or starlight until they found a hidden place to sleep. They preferred scrambling up unfrequented peaks, and they kept no record of their ascents. During one of their last big Sierra Club excursions, the trip leader had asked them to take a novice along on a route. At the top of a pitch, Jean told the man to stay to one side while she belayed Helen up, but he kept shifting back and forth, knocking rocks loose. A big stone thundered down, and for a moment, Jean thought Helen was dead. At last, Helen shouted up, "I'm all right." Jean recalled that "those were the happiest words I heard in my life."
After that day, they mostly climbed by themselves. "It was safer that way," Jean explained. "We knew what we were capable of." They trusted each other more than anyone else. "People would often try to play tricks on you," Jean said of her days as an editor, when I asked her about the Riesenstein. "People liked to do that to us." And then she laughed, with a glint in her eye, at once mischievous and mysterious. "That's the sort of thing I would do to someone else."
_______________________________________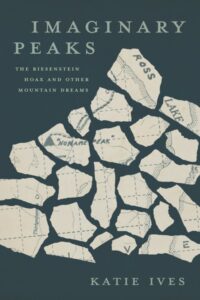 Excerpted from Imaginary Peaks by Katie Ives. Reprinted with permission of the publisher, Mountaineers Books. Copyright © 2021 by Katie Ives. 
---