How Opera Invented the Modern Fan
Alison Kinney Investigates the Barriers to Appreciating Art the "Right" Way
In Carmen, the toreador Escamillo, the most cock­sure, strutting baritone imaginable, describes his success in the arenas of bullfight and love:
The spectators are going out of their minds!
The spectators shout each other into a fracas!
Apostrophes, cries, and uproar pushed toward furor
Because it's the fête of courage; it's the fête of men of heart!
This triumphantly meta moment also captures the feeling we have, watching Escamillo inside the opera house: we're losing our heads! Maybe we can't be opera, or be in operas, but there's nothing to stop our fanning out as operatically as we can. It's a fulsome, reciprocal relationship: when we invest in an artform we love, that artform loves us back. Talking about opera means talking about its fans, as the music and its devotees have emoted, grown, and changed together. This act brings us closer to the history of opera, through the history of the fandom itself.
Opera's origins in the late 16th century were in royal and aristocratic entertainments, staged at court festivals and private theaters. Over the next two centuries, composers like Handel, Gluck, and Mozart transformed opera, which soon straddled the lines between patronage and public theater, the lofty and the popular.
Talking about opera means talking about its fans, as the music and its devotees have emoted, grown, and changed together.
As opera changed, so did the audiences, etiquette, and conventions for the "right" ways to appreciate it. In the 1800s, the artforms of Romanticism ideal­ized a new kind of intellectual, artistic, emotionally profound individual. Dr. Anna Fishzon's eye-opening book Fandom, Authenticity, and Opera: Mad Acts and Letter Scenes in Fin-de-Siècle Russia concen­trates on 19th-century Russian opera soci­ety but illuminates trends in opera and art all over Europe. She describes how Romantic-era and later opera critics and journalists helped create a culture shift by extolling the perfect audience: an "aristoc­racy" of educated middle-class white men, sitting silently in reverential, sophisticated appreciation of the music—and cultivating their excellent taste in "high" art, by reading the new classical music maga­zines these critics just happened to sell.
But there was another new kind of opera audience. The Romantic moment valued emotional "authentic­ity" in art and life. Some Romantic listeners felt that their own listening practices could be just as emo­tionally true as the art itself. These listeners didn't want to be stuffed shirts snarking over the music reviews: they wanted to fall in love with the music, be the music, be the characters, be the singers, and be enflamed by opera to the depths of their souls.
They were modern fans.
Fishzon tells amazing stories of 19th-century fans who wrote scary fan letters to opera stars and stood in ticket lines for days, till they fainted. Theater impresarios quickly recognized them as their ideal audience: the true-blue fans who reliably subscribed to the whole opera season; bought programs, auto­graphed photos, and other gift shop souvenirs; and drummed up the anticipation and conversation that kept theaters in business. These fans were sometimes messy, stalking singers and rushing stage doors. But that generated publicity, too.
The critics disapproved. They said that the new opera fans acted like urchins of the popular, boule­vard music culture and not like worthies of "high" culture. They said that the new fans were vulgar, hysterical, immature, and ignorant. They were too feminine, or effeminate. They were queer. They were oversexed sluts—or they were sexually repressed; ei­ther way, they were deviant, fetishistic, and onanis­tic. The new opera fans spent too much money on souvenirs, which stood to reason, because shopping was a pastime for women and effeminate men.
Romantic-era and later opera critics and journalists helped create a culture shift by extolling the perfect audience: an "aristoc­racy" of educated middle-class white men, sitting silently.
The war of the gatekeepers against the fans continued—and still does to this day—but took one startling, illustrative turn with the birth of the record industry. As Fishzon writes, opera was the perfect genre for early disc-recording: it embraced both the popular and the "classy," plus opera singers had pow­erful pipes for singing straight into a recording horn. But record companies faced a marketing dilemma: if shopping for opera souvenirs was the purview of bad feminized fans, how could you expand your record market to the snobs? The industry decided to re­brand record-buying as straight, masculine, cool, and a hallmark of rarefied connoisseurship: you weren't shopping, you were a record collector.
At this point, I'm howling with laughter. Plus ça change! Now I understand every toxic dude I've ever dated who believed he was a culture-leading iconoclast—not a tool of capitalism—and could emotionally attach only to his vinyl.
These nearly two centuries of gatekeeping repre­sent what Professor Wayne Koestenbaum, in his eu­phoric and elegiac book The Queen's Throat: Opera, Homosexuality, and the Mystery of Desire identified as the cultural tendency to "homophobically devalue opera love as addictive behavior and as displaced eroticism." He celebrates gay and lesbian opera fan­dom as a practice of creative self-fashioning in the time before Stonewall—and also, in the wake of the AIDS crisis, as a practice of mourning, celebration, and survival: "we turn to opera because we need to breathe, to regain a right we imagine is godgiven—the right to open."
Koestenbaum honors the history of opera fan­dom, from 1704, when Ann Barwick was arrested for throwing oranges at her diva's rival during a performance—to turn-of-the-century "matinée girls" who swooned over Nellie Melba—to the Bal­timore fans who tore Jenny Lind's shawl into souve­nir fragments—to the twentieth-century Tebaldiani, who regularly stopped midtown Manhattan traffic to allow their diva unimpeded procession. His book celebrates the sick, nerdy, awkward, lonely opera fan—and the ebullient radical opera fan—who are sometimes the same person. The Queen's Throat is full of life, challenging stereotype and pathologizing, embracing the dissolution and restoration of con­forming to a despised type, the opera queen. With its insistence on operatic sex, joy, and happiness, in the face of death and decay, it's the belles lettres equiva­lent of Violetta's "Sempre libera" in Traviata. It's a love letter to both divas and their fans.
Ever since opera helped invent the modern fan, people have disapproved of how fans fan out. I'm not interested in enforcing hierarchies of fandom: we can be the dizzy swooner, the rigorous critic, and the warm, embracing community builder, by turns or at once. We can applaud at the correct moments, then shower the stage with roses (also correct). We can hitch ourselves to a diva's carriage to pull it tri­umphantly through the streets (accepted), or throw panties at a tenor (less accepted, but not wholly discouraged).
We can, if we're James McCourt, write the post­modern masterpiece Mawrdew Czgowchwz (1975), so euphoric with fandom that he had to endow opera with his own, invented vocal range, the "oltrano." There's Bel Canto, the 2015 opera by Jimmy López and Nilo Cruz, commissioned by the Lyric Opera of Chicago's Renée Fleming Initiative. It's based on the novel by Ann Patchett, who listened to Flem­ing's recordings while writing about an operatic so­prano taken hostage in the Lima Crisis. Talk about fan art inspired by MORE fan art! Alex Ross's Wag­nerism details hundreds of artists', intellectuals', and politicians' responses to Wagner fandom alone, from writing The Waves and The Souls of Black Folk, to writing respectable, reputable nineteenth-century fan fiction portraying mega-fans copulating during performances at the Bayreuther Festspielhaus. (Sac­rilege! We're not even allowed to carry water bottles inside!)
The New York Times once welcomed opera fans to share their own what-comes-after-the-final-curtain fan fiction fantasies, generating one of the paper's wildest comment threads imaginable. Then you enter the world of Mozart x Salieri slash fiction, as reported by VAN editor Jeff Brown, and realize you've barely dipped your toe in.
There's room for all our fandoms, at least till someone throws down a challenge, slapping us with an elbow-length glove, and we fight dirty in the aisles.
I first thought about how opera fandom breaks down its own high-low dichotomies when I saw the art of Elizabeth Peyton. Her paintings of friends, lovers, and pop celebrities like Kurt Cobain and David Bowie explore portraiture, fame, and inti­macy; they're exhibited at galleries and museum solo shows. And then there are her rapturous watercolors of operatic tenor Jonas Kaufmann, looking as beef­cake as opera ever gets, stubble-faced and brooding in a 1990s-ish way or in passionate clenches with his costars in Manon Lescaut, Parsifal, Lohengrin, and Walküre. I recognized the paintings immediately as renderings of Met Opera advertisements and bro­chures, their "OMG we've found a tenor with mod­erate sex appeal!" publicity shots of Kaufmann.
I recognized them, because I was on the cusp of becoming an opera commentator, as judgmental and exacting as the first Romantic-era opera snobs, but also, because I had . . . uh . . . a collage of those same Kaufmann photos on my fridge. Opera fans love crafts; we've been scrapbooking and collaging stars ever since photography and craft glue were invented. Koestenbaum catalogs our history of adult opera coloring activities ("Color the illustrations in Opera News depicting the artists in costume"); collecting souvenir fragments of the Met's gold curtain fabric to make bookmarks, blotters, and piano covers; and the spectacular mid-century fad for building mini opera stage models: "One industrious miniaturist constructs her diva dolls out of chicken wishbones."
So, as I was saying, Peyton laid bare my soul—but I was gazing right back at hers. The paintings looked uncannily like the fan paintings shared in the Kaufmann Facebook fan groups I habituated. They were fan art, that just happened to be commissioned, hung in London's National Portrait Gallery, and pur­chased for private collections. They called back hard to their subscription brochure origins—looked (self-consciously?) inept—and suggested that celebrated artists become amateurs again, in the grip of fandom. They felt tawdry, awkward, earnest, and sublime. My favorite kind of fandom, as well as my favorite kind of opera.
_______________________________________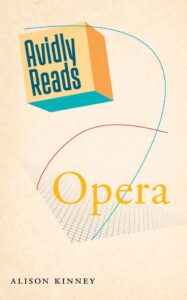 Excerpted from Avidly Reads Opera by Alison Kinney with permission from NYU Press.
---