On the Uncanny Adaptability of American Fast Food
How Global Food Hegemony is More Local Than It Looks
As the United States emerged from the Cold War as the lone superpower in the early 1990s, it endeavored to showcase its singular influence in new ways. In lieu of traditional territorial expansion or colonies, there would be American culture and language along with science and technology, all orbiting out to the world's far-flung corners. To be sure, a few scattered military bases here and there and a little expression of economic and political clout. And there would be American fast food.
The arrival of iconic chains abroad wove of all of these disparate strands of leverage together. The spread of Big Macs, Blizzards, Whoppers and Frosties projected the American character—approachable and agreeable, charismatic and casual, evangelical and democratic, hectoring and capitalistic. The expansion of fast food also embodied a defining enthusiasm of the era: globalization.
One major critique of globalization is that it has flattened and standardized the world. Through this lens, the international footprints of American fast-food chains represent a form of cultural hegemony, a dynamic that upends traditional diets and foodways, kills national culinary traditions, and foists American dietary norms and values upon unsuspecting communities. But fast food's interactions abroad have actually been less monolithic and more culturally significant than some might expect.
Take the USSR, for example, where McDonald's famously arrived in 1990, as the Soviet empire was beginning to break apart. For the first McDonald's to launch in Moscow, the company had to adapt its entire operation to fit within the parameters of Soviet-style socialism. The process took 14 years of negotiations and, with private companies outlawed, the construction of a massive multi-million dollar facility called the McComplex, where menu items were made from scratch. (That said, the company almost certainly enjoyed the symbolic yearly rent of one rouble.)
Part of what made McDonald's inroads into the USSR so revolutionary was that it inverted a system in which the average consumer held no power. The eternal shortages and rations of the state-controlled economy, which had worsened in the late-1980s, created a dynamic that placed customers arbitrarily at the mercy of commodity purveyors, whether it was a grocer, clerk, cashier, or waiter. The McDonald's system, with its cheerful focus on consumer, revealed possibilities that were alluring, new, and quintessentially American. Since opening nearly 30 years ago, the first Russian store has vied for (and frequently held) the mantle of busiest McDonald's in the world.
Any American chain seeking to flourish in a foreign market can only do so by adapting drastically to the tastes, customs, and mores of the host countries.
Not every company has had to find a way to work within a system as rigid as socialism. However, contrary to popular gripes, any American chain seeking to flourish in a foreign market can only do so by adapting drastically to the tastes, customs, and mores of the host countries. In recent years, a term among marketeers and academics alike has come into favor to describe the deliberate modifications that global operations must make to prosper within a new community: glocalization. It explains everything from region-specific MTV channels around the globe to Diwali Barbie to the principles of feng shui incorporated into the design of Hong Kong Disneyland.
In fast food, these efforts have produced an awe-inspiring pageant of unlikely cuisine. Any Quentin Tarantino buff knows that a Quarter Pounder with cheese is called Le Royal Cheese in France because of the metric system, but if you're on the hunt for its kosher counterpart, the McRoyal is available (sans cheese) at certain McDonald's outlets in Israel any day but the Sabbath. Meanwhile, there are actually Quarter Pounders on McDonald's menus in countries with the metric system, such as Jordan, Saudi Arabia, Lebanon, and the United Arab Emirates. The only little difference is that those burgers are certified halal.
But glocalization is more than just creating a menu to suit local preferences. It's also adjusting store amenities, decor, advertising, and service norms. And rather than simply conforming to the native orthodoxies of a given country, fast-food chains also project their evolutions. In 2015, Burger King began its takeover of Quick, the first-ever European hamburger chain, in an effort to expand its operations in France. In a nod to the country's booming Muslim population, about 10 percent of the 400 or so acquired stores kept their Quick branding and strictly serve halal fare.
One year earlier, as BK first opened its doors in India to court the country's burgeoning middle class, the company unveiled a specialty menu that included six meat-free sandwiches with India's massive beef-eschewing, vegetarian-heavy population in mind. And, just as Taco Bell in India exclusively serves its tacos and burritos with potatoes, chicken, and beans instead of beef, Burger King India offers paneer and bean burgers and swaps out the beef in its trademark Whoppers and replaces them with patties made of veggies, chicken, and even mutton.
Of course, the world is complex and not everything translates perfectly. In Malaysia, for example, religious authorities have compelled chains like A&W and Auntie Anne's to reintroduce their hot dogs and pretzel dogs as coneys and franks and sausages to avoid confusion with actual dogs, which are decidedly not halal.
Glocalization explains everything from region-specific MTV channels around the globe to Diwali Barbie to the principles of feng shui incorporated into the design of Hong Kong Disneyland.
Nevertheless, the interplay of American fast food and local fare has created unexpected harmonies. There's poutine on plastic trays across Canada. Gazpacho at the McDonald's outlets in Spain and light, airy macarons across Western Europe. Your breakfast at an Ecuadorean Wendy's could involve sweet honey hotcakes or savory fried plantains and salchichas. Meanwhile, at Domino's outposts in Nigeria, you can get a pizza topped with Jollof rice, the West African staple. Head south-by-southeast far enough, you might find yourself hungry for a Burger King hoagie made of boerewors, the classic South African sausage. Or if a traditional porridge is what your heart truly seeks, there are variations of bubur ayam at A&W, KFC, and McDonald's outposts across Malaysia, Indonesia, and Singapore.
From there, the possibilities for adventure are borderless. Some mind-blowing, limited-time offerings have included the fabled Birizza, a pizza and biryani mashup that once starred at Pizza Huts in Sri Lanka and India. More enduring international items include Steak Loaders, cheeseburgers that are topped with Philly cheesesteaks, wrapped in tortillas, and live in Hardee's outlets in Saudi Arabia, Bahrain, Oman, and Qatar. For a more understated selection, the pepperoni hot dogs at Dairy Queens in Cambodia or Laos might seem a way to go, while nothing may befit the spirit of Middle Eastern ostentatiousness better than Pizza Hut's Crown Crusts, which are pizzas featuring crusts studded with various gauntlets like mini-cheeseburgers, chicken fingers, or hot dogs.
If these princely arrays of sodium-chaffed glory drive you to drink, you should do so at the hundreds of fast-food franchises across Europe and East Asia that serve beer. And, for dessert, the sucrose is the limit. Taco Bells around the world have a line-up that would wet a stoner's dry eyes with tears of joy, including chocolate and Baby Ruth-filled dessert quesadillas across Central America and Spain and a Nutella-banana hybrid in Cyprus. Or just top it all off with a flavored Frosty from your local Wendy's—dulce de leche if you're in Argentina, coffee jelly if you're in the Philippines. And, if you're still not sated, there are always Toblerone McFlurries in Switzerland, Speculoos milkshakes at Steak n' Shakes in Portugal, and pork-and-seaweed doughnuts at Dunkin' Donuts in China.
As countries reckoning with the costs, upheaval, and resentments wrought by the integration of markets, it's easy to overlook the intimacy created by these networks. Today, international fast-food chains like Jollibee (Philippines), El Pollo Loco (Mexico), and Giraffas (Brazil) can be found in the States, commanding new loyalties reminiscent of Manchester United and Pokémon fan bases abroad. Simply put, it's a beautiful world out there.
___________________________________________________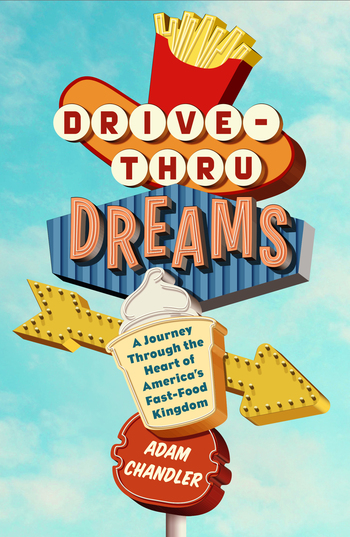 From Drive-Thru Dreams, by Adam Chandler, courtesy Flatiron Books. Copyright 2019 Adam Chandler.
---