How General Hospital Inspired My New Novel
Why Marcy Dermansky is Not Afraid to Mess With Her Characters
When I was twelve years old, my older brother went to a summer program and came home with a new habit, General Hospital. He watched it because the cute girls did, and I watched it because my older brother did. He gave up the show after a few weeks, but years later—more than I'm going to admit—I have a habit. An embarrassing one.
Much to my surprise, I continued to watch General Hospital all through college. This was before there was Hulu or TiVo. When I didn't even have a TV in my dorm room. I would catch General Hospital in the campus center, often in the company of the housekeeping staff, hoping no one would see me. Away from home for the first time, I found a strange comfort in my soap opera.
I realize now that all that time, hours and hours, multiplied by years, spent in front of the television has not been wasted. In fact, watching General Hospital has been an incredible aide to my writing process. This improbably plotted show has sparked something fantastic in me, giving me permission to go wild with my narratives. Not only do I go wild, I get away with it.
The character Carly Roberts, now Carly Corinthos, has played a big part in my creative development. Carly first appeared in the fictional town of Port Charles to avenge her birth mother. She did an excellent job of it, too, befriending her unsuspecting mother and then seducing her mother's neurosurgeon husband and then getting pregnant with his child.
Only, wait, the actual father turned out not to be the cheating husband, but the product of a drunken one-night stand, the playboy son of the richest family in the fictional town. The Quartermaines. Maybe you have heard of them? They rule Port Charles, run the titular hospital, weave their way into every major storyline. Even Carly's. I recently met someone at a literary party named after Monica Quartermaine. Her mother's favorite character. Much to my Monica's surprise, I hugged her. I may have been drinking.
Carly is still on General Hospital. Four actresses have played the role and I have never really warmed to the new Carly, though twelve years in, she is probably on the show to stay. The second Carly, probably my favorite, recently returned to the show, recast as a doctor at GH, whose teenage son is dying of cancer. Her dying son is currently dating Carly's teenage daughter. No one on the show has ever acknowledged that the old Carly somehow seems familiar. It's a little bit weird, but I have gotten used to
Once I created a framework for the story, had my POVS in line, the actual writing positively flowed. I became, essentially, the typist.
In her previous incarnation as Carly, she had an affair while she was pregnant and was subsequently shot in the head by her aggrieved husband, who in his defense, was aiming for the man she was cheating with. For a long time, Carly #2 was in a coma, but she came out of it okay and the baby, Morgan, was unharmed.
Are you keeping up?
Carly appeared in one of my first published short stories, "Adults at Home," and it was this story that led me to being discovered by a literary agent who I still work with today. The fictional Carly in my short story breaks a metaphysical wall, talking into the ear of my protagonist, urging the sad young woman to stop being so passive and fight for her boyfriend. Drug him if you have to. Do what it takes. It is good advice. The relationship is saved. The story was later reprinted in an anthology.
This was the first—but clearly not the last—time I found myself influenced by General Hospital.
Watching soap operas is not hip. It's not slick or clever. The production values are low. The ads are still geared toward housewives: cleaning supplies, sales at Macy's, prescription medication with alarming possible side effects. I am fairly sure housewives, as a concept, no longer exist. We all have to work. Even rich people. So who are we, the secret audience of General Hospital? Ask around. Fiction writers? There is me. I know a famous photo-journalist who will not be named who never misses an episode and frequently reads spoiler updates.
I have a close friend, a pre-school teacher, who texts me regularly about plot developments. She is currently upset by the serial killer plotline and has gone so far as to take a General Hospital break, the way one might take a Twitter break maybe. Amber Tamblyn, actress, mother, poet, novelist and badass social activist, once played little Emily Quartermaine. I wonder if she hopes her fans to know this pretty much forgotten fact, but I feel a strange sort of pride knowing this.
In my new novel Very Nice, a mother and daughter find themselves wildly attracted to the daughter's writing professor. Writing the first draft, I brought this professor to their beautiful home in Connecticut. I sat the characters around a dinner table, brought out a bottle of wine, and my mind started to spin. What if they both have sex with him?
On General Hospital, as you may remember, Carly slept with her mother's husband. More recently, Ava Jerome, Carly's longtime nemesis, had an affair with her daughter's boyfriend, Morgan Corinthos. Morgan, you might remember, happens to be Carly's son. It happens—at least, it happens on soap operas. It felt daring, this total leap into melodrama, and I went for it. I combined my two worlds.
So the mother and daughter in Very Nice both fall for the acclaimed novelist. They seduce him and proceed to keep their affairs secret from each other. As a plot device, it's a dream. Readers know a train wreck is coming, while my poor hapless characters earnestly carry on, hearts on their sleeves. As a writer, one of my favorite things to do is explore the inner thoughts of my characters. The interior monologues of the mother, the daughter, their lover, were completely honest and also over the top in their honestly and still emotionally true. While writing, I was all of these characters, in their brains, feeling the intensity of their drama. I love all of these characters, flawed as they are. Once I created a framework for the story, had my POVS in line, the actual writing of Very Nice positively flowed. I became, essentially, the typist.
On bad days, days when the writing isn't going well, on days when the current state of the world makes me want to bury my head in the sand, I sit in front of the television and watch General Hospital. I might clean my apartment while I am watching. Or draw flowers. I often find myself annoyed. And entertained. Sometimes engrossed. I never know what is going to happen next. Carly Corinthos, by the way, is pregnant again.
_____________________________________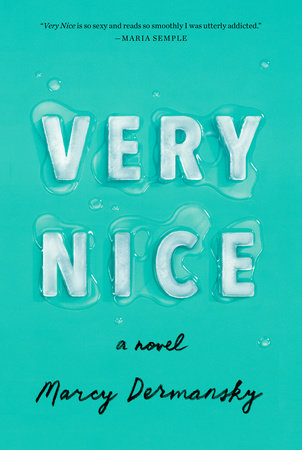 Marcy Dermansky's Very Nice is available from Knopf.
---