On the Time China's Leader Deng Xiaoping Went to a Rodeo in Texas
Michael Schuman on the Communist Leader's American Campaign
China has stood up. It will never again tolerate being bullied by any nation.
–Xi Jinping, president of China
* 
In February 1979, Deng Xiaoping found himself in an unlikely setting for a career Communist—a Texas rodeo. The longtime revolutionary luminary would probably have been much more comfortable marching with peasant soldiers or maneuvering in Beijing's cloistered halls of power. But unlike most other party brass, the personable and open-minded Deng knew how to play to the crowd, whoever might be in it. Donning a ten-gallon cowboy hat, Deng earned himself a hearty whoop from these otherwise red-blooded, anti-Red spectators. "Deng Xiaoping not only went west, but went Western," one television reporter quipped approvingly.
The rodeo was just one stop on a nationwide campaign for American hearts and minds. Deng sat atop a replica of the rover that explored the moon at the Houston Space Center. In Atlanta, Deng toured a Ford car factory—his guide, no less a figure than Henry Ford II—and then dined at the Georgia governor's mansion, on a menu of "spinach soufflé, thinly sliced veal and vanilla mousse—all foods especially selected for eaters unskilled in the use of a knife and fork," Time magazine thoughtfully noted. Earlier, in Washington, Deng attended a gala at the Kennedy Center to watch performances by John Denver, the Harlem Globetrotters, and the National Children's Choir, which sang in Chinese. Deng was delighted.
So was President Jimmy Carter. In a meeting at the White House, Carter pressed Deng on Beijing's restriction of emigration, which Washington saw as a human rights violation. Deng joked that populous China could "send you 10 million immigrants right away." Afterwards, a beaming Carter called Deng's visit "one of the most historic events in our nation's history."
Not everyone was so charmed. Deng was still a godless Communist, after all. Washington had only normalized diplomatic relations with the People's Republic a month earlier, after thirty years of icy hostility. The Texas governor welcomed Deng only grudgingly. "We will turn out in a normal show of Texas hospitality," he said in advance of Deng's arrival. "Whether we agree with him politically, philosophically or whether we like chop suey or not, is beside the point." But Deng did more than chomp barbecue and tell a few jokes to win over China's former enemy. Like Chinese leaders had done for centuries to tame the barbarians, he dangled the riches of China before America's profit-seeking eyes. The Communist was sure to mention how his nation required billions of dollars of investment to rebuild the economy and talked of importing lots of grain and allowing American oil companies to develop his country's energy resources. "Friendly cooperation between our two peoples is bound to exert a positive and far-reaching influence on the way the world situation evolves," Deng said at a Washington ceremony.
It most certainly did. The partnership that Deng forged with the United States altered the Chinese history of the world—or actually, the entire history of the world. It would restore China to the strand of history it had followed for millennia before it was rudely interrupted by the West: China always had been a superpower, and would be a superpower again.
The partnership that Deng forged with the United States altered the Chinese history of the world—or actually, the entire history of the world.
That's what Deng's trip to the United States in 1979 was really about. The crafty Communist was wise enough to realize he could not fix the Chinese history of the world without an accommodation with the West. For 150 years, China had struggled to come to terms with a civilization that thought itself superior and refused to conform to Chinese rules, norms, and culture. Some Chinese, such as Liang Qichao and Sun Yatsen, had hoped copying from the West could strengthen China to the point where it could again chart its own course in the world, only to face recurring disappointment. Others, from Commissioner Lin Zexu to the mystical Boxers, chose confrontation, a route that led only to lost wars and humiliations. Those were still very raw in the Chinese psyche. Even as Deng enjoyed Texas barbecue, Washington was still supporting the Communists' mortal enemies—the Nationalists ensconced on Taiwan and the Japanese fascists, now American allies, who had reconstructed their war-torn islands into a rising economic powerhouse. Deng was duly reminded of his government's fraught relationship with the United States during his tour. While in Houston, hundreds of angry, pro-Taiwan protesters gathered to greet him.
But Deng was willing to let bygones be bygones, at least for the moment. He understood that the old Chinese world order had collapsed, and in its place the West had crafted a new world order in its own image. China's former vassal states were now tied to the United States through defense treaties and bonds of commerce so strong they formed a cordon tight enough to strangle China itself. The West had forged new global institutions and installed international laws and practices to manage the global economy and guide relations between Western-style nation-states. The tribute envoys journeyed no more; the fleets of Zheng He, a hazy, distant memory. China could no longer afford to resist. For now, at least, China would have to do some kowtowing of its own, to the reality around it. If China couldn't beat the West, it had to join the West.
Even Mao had an inkling of that uncomfortable truth. The ice between the United States and China was cracked seven years earlier, when Mao hosted then president Richard Nixon at a summit in Beijing. After Mao's dramatic break with the Soviet Union, the United States and China shared a common interest in containing Moscow. Deng, though, desired more than a thaw. He had grand plans for China, to finally fulfill the promise of the Chinese revolution that began with such hope seven decades earlier. But that would not be possible in isolation. If China were to rise again, it would have to do so within the world around it, and would need American cooperation. The Ford factory, the high technology of the space center—that's what China desired. And the United States—the richest, most advanced, most powerful nation on earth, the new Rome (or Tang)—was the place to get it.
It was pragmatic thinking, something the idealistic revolution had distinctly lacked. But it was Deng's hallmark. Unlike the ideologue Mao, content in constant revolutionary upheaval, Deng had proven himself an adept administrator and practical policymaker. "It does not matter if it is a yellow cat or a black cat," he once famously said, "as long as it catches mice." It was Deng who helped pick up the impoverished pieces left by the Great Leap Forward.
That level-headedness won him plaudits from many, but not from Mao, who devised the Cultural Revolution to purge the independent-minded within the party. Deng was stripped of his titles and banished to labor at a tractor factory.
But by the early 1970s, the Communists needed Deng's steady hand more than ever. The Cultural Revolution had plunged the country into turmoil; the economy was paralyzed, the government in tatters. Deng had cleaned up Mao's messes before; he was called upon to do so again. Returned to the party's senior echelon, Deng slowly but surely—as was his method—built a coalition for change. What Deng had on his mind was more than merely restoring order to a nation broken by disorder. Destitution ruled the countryside. Industry was archaic. The world was passing China by—again. Something had to be done. How much more could the poor, brutalized people of China take? When would their frustration boil over and turn against the Communists, as they had the Qing? China was, again, desperate. It was time for a dramatic new direction. A new revolution.
__________________________________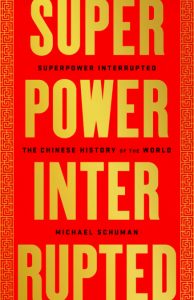 Excerpted from Superpower Interrupted: The Chinese History of the World, by Michael Schuman. Copyright © 2020. Available from PublicAffairs, an imprint of Hachette Book Group, Inc.
---