How Yusuf Idris's Stories Upended Respectability Politics in Egypt
Ezzedine C. Fishere on a Great Egyptian Tragedian
I was probably 12 when I first read Yusuf Idris's short stories. At that time, I lived with my aunt; my mother had left Egypt to join my father in Kuwait, where he was working. Like millions of Egyptian migrant workers, my parents couldn't take me or my five siblings with them due to their host country's visa regulations. Living with my aunt was a blessing for one particular reason: availability of books.
Mansura, the sleepy town where we lived, had no real bookshops or accessible public libraries. But my aunt had a daughter studying in Cairo who brought books when she returned for visits. As a starved bookworm, I often raided her book bags as soon as she arrived, mostly without her knowledge. This is how I was introduced to Anton Chekhov, Luigi Pirandello, Arthur Miller, Tawfiq Al‑Hakim, and, most important, Yusuf Idris. I still have a visual memory of the moment I opened her bag and saw that glossy green cover with a cubist painting and a weird title: The Summoner, Collection of Short Stories. 
The title rang a bell; a movie with the same name had been shown on TV recently, of which I understood little and found rather boring. Yet this was a different matter—it was a book, and I couldn't resist the temptation. I opened it and read the first paragraph, immediately mesmerized: 
Hamed died when he opened the door and saw that terrible scene—just died. He stood still, unable to feel or think. His senses stopped functioning. The whole world fell silent and died; gone. Fat'hya, his wife, was on the floor. The little boy clinging to her, crying in terror, and pulling her hair. Her head uncovered, her legs naked, all of her naked, almost. On top of her was a gentleman in a jacket, with no trousers or underwear; his buttocks immersed in Fat'hya's openings. It was over. [My translation.] 
I devoured the rest of the story on the spot; I had never read such a graphic description in Arabic. It was so poignant, it almost hurt physically; it was gripping. It burst the bubble of middle‑class respectability that shrouded public discourse in Egypt at the time. Hence creating a private channel with the reader—or at least with me. As I read, I could feel the pain and loss of Hamed, who had brought his family from the poverty‑stricken countryside to the city only to lose it all. I could also understand how Fat'hya fell for the attraction of the city and its pleasures, embodied by the "gentleman," as well as her ultimate demise.
Article continues after advertisement
The door Hamed opened destroyed his life in Idris's story, but it saved mine; it showed me what probably every good story can show: things fall apart for no particular fault of individuals who are just trying—and failing—to keep it together. There is nothing in the story that can be reasonably expected to prevent the loss of Hamed, Fat'hya, or the nameless child. While I empathized with all three—maybe because I did—I felt the only salvation was the telling of the story in itself.
Idris gave me a world of beauty in the midst of seemingly inevitable suffering. Although the deeper meanings of the story must have escaped my 12‑year‑old mind, its incisive language, its cinematic images and rhythm, its staunch realism, its crystallization of the "Egyptian tragedy" was so poignant that it has stayed with me since then, a constant reminder of the human condition. 
Each of Idris's short stories—and I think I have read them all—has common characteristics: a surgical style; an economical use of language, hostile to the redundancy, hyperbole, and melodrama that characterize much of Arabic fiction before him. You can easily cut his stories into scenes and film them without much change. Some of these are one‑scene stories, often the more powerful ones. 
Yusuf Idris's stories deal mostly with poverty and injustice—and there was no shortage of either, especially in Egypt's countryside in the 1930s and beyond.
While brief and pointed, his style captures small details of the characters—their postures, feelings, and the situations in which they acted—and place them all together in a cinematic whole. Yet despite its deliberate austerity, Idris's writing is aesthetically outstanding. The combination of his linguistic incisiveness and his visual descriptions transforms Egypt's human and social misery into beautiful, powerful, and lasting images.
Yusuf Idris is to the Arabic short story what Naguib Mahfouz is to the Arabic novel: a founder. Although the two men resented each other, and were occasionally mean to each other, their contributions clearly mirror each other. 
Idris's distinctive mark is his individualism, from which comes his unbent rebelliousness and his complex relationship with ideology and authority. It is also this individualism that makes his writing eminently modern. Yusuf Idris is not a neutral eye on society and individuals; not a camera left rolling unattended. He is deliberate and focused, directing the gaze of his reader to see his characters fighting for survival in the middle of Egypt's tragic conditions. He takes us to the "dregs of the city" in order to see and smell it, but also to incite us to search for a way out.
His stories deal mostly with poverty and injustice—and there was no shortage of either, especially in Egypt's countryside in the 1930s and beyond. His ideological commitment is therefore clear; he stood with the poor and underprivileged and traced the source of their suffering to Egypt's political and social conditions. Yet Idris's characters, even the most rudimentarily described, are real; they are conflicted, struggling and facing real‑life challenges, not types. This is why they stay with the reader long after one's finished reading. 
Fat'hya, for example, was not just a "villager in the city"; she was a person, with specific traits and conflicting emotions and hesitations. She was a real person, someone you could meet. No wonder she stayed with me for 40 years. Yet his characters have a universal presence; they translate dilemmas and challenges that Egyptians have struggled with for a long time. In a nutshell, his characters and their struggles are both individuals and a reflection of their "social condition." They are social beings. 
This is the key to understanding Idris's relationship to ideology. He is undoubtedly a committed writer. But his writing is above all about the complexity—and individuality—of human suffering. His story "The Queue" provides a perfect example of this dual commitment to "the cause" and to individual freedom—probably his personal struggle as well. While clearly placing the struggle of his characters within their social context, he also mocks and derides ideological promises. This is why his fascination with the Egyptian leader Gamal Abdel Nasser, and other leaders after him, was short‑lived.
This is also why he fell out of favor with the Communist Party and other leftist groups—and harshly criticized them in his novella The White. Idris's individualism made his commitment to freedom and dissent paramount; they are not only the writer's inalienable rights, they are also necessary tools to achieve the goals all ideologies claimed to seek. When ideology and individualism clashed, his commitment to freedom and dissent prevailed, both in his writing and in his life. 
Idris thought he would only write for a decade in order to transform Egypt's condition, then spend the rest of his life enjoying that revived and healthy Egypt. He lived long enough to mock his own dream. Nasser died younger than Idris but lived long enough to see his dream crumble as well. Both men left a legacy, a vision, and ardent defenders.
Today, there are people who still believe that Egypt's salvation will be achieved through discipline, mobilization, and a united march toward its dream. On the other side are the followers of Idris's path, people like me who advocate freedom, dissent, and creativity as necessary tools for human salvation. 
But above all, Yusuf Idris's contribution was literary. In my experience, reading Idris's stories considerably shaped my relationship with Arabic fiction. That day I came across the The Summoner, all I had read in Arabic literature were old and heavy texts. Idris organized modern Arabic words for me; their meaning, their use, their relationship to external and internal realities, and to my own imagination. He did this by charting a course to follow, not by preaching. Although I ultimately opted for the novel rather than the short story, his call led me to my writing and left a deep imprint on it, just like it did to many other writers of my generation. 
__________________________________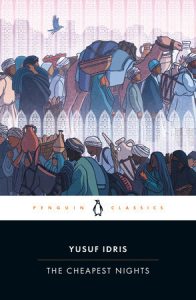 From The Cheapest Nights by Yusuf Idris, published by Penguin Books, an imprint of Penguin Publishing Group, a division of Penguin Random House, LLC. Foreword copyright © 2020 by Ezzedine C. Fishere.
---