On the Surprising Link Between Physical Strength and a Healthy Brain
Caroline Williams Wonders How Mastery of Body Relates to Master of Mind
Terry Kvasnik had been training for this moment his entire life. Starting with gymnastics at the age of three and then moving on to breakdancing, martial arts and parkour, he spent his twenties and thirties living the dream, working first as an acrobat in a London West End show and later for Cirque du Soleil. When a car pulled in front of his moped as he was riding along at 40 mph, it could all have been over in a flash. Thankfully, he knew exactly what to do. Or at least his body did.
"It was like my body said, 'I've got this, step out of the way, Terry,'" he says. "I just knew… 'I'm going to flip.'" And so, he did. Using the moped as a launch pad he dived up and over the car, rolled over on his back and popped back up onto his feet, 10 meters from the wreck of his moped. It was only then that his mind caught up. "I turned around and sat down again, like, holy shit, what just happened?"
He walked away from the accident with mild concussion, a torn cartilage in his chest and a banged-up knee, but it's a miracle he survived it at all. Ironically, he had only moved to Los Angeles, where the accident happened, to try and find work as a stuntman. "I often think it was my subconscious trying to get itself a stunt fix," he laughs.
Kvasnik is, it is fair to say, a fairly expert mover. But whether a car-leaping acrobat or ordinary mortal, there is a lot to be said for having life-saving strength and agility in your back pocket for when you need it. Evidence from psychology studies has been accumulating for some time that having the physical skills to get out of sticky situations makes a big difference to how mentally capable and emotionally resilient we feel as we battle our way through life. Becoming a master of your body, in other words, might help you become a master of your mind.
As far back as 1988, a study of teenage girls showed that weight-training to boost their physical strength by 40 percent over 12 weeks increased the girls' feelings of confidence about their "general effectiveness in life." It also improved their ability to resolve social conflicts that had nothing to do with physical confrontation. The study's main author, weightlifting enthusiast Jean Barrett Holloway, lamented "a population of women who exhibit strength levels below their own potential" and were missing out on the mental and emotional side-benefits as a result.
In the 30 or so years since then, women have actually begun to catch men up in the strength stakes, but this piece of good news is tainted by the fact that men are getting progressively weaker. A study from 2016 compared the grip strength of 20- to 35-year-old students in 1985 with a similar number of modern men. The men of the 1980s could exert 117 lb. of force, compared to millennial man's measly 98 lb.
The next generation are seemingly even worse. A recent assessment of British schoolchildren found that ten-year-olds are significantly weaker than they used to be—showing a 20 percent decrease in muscle strength and a 30 percent decrease in muscle endurance since 1998. Worse, their weakness is accelerating with every year that passes, and the trend has been speeding up since 2008. Unsurprisingly, the main culprit is too much sitting and not nearly enough weight-bearing exercise. There are similar trends across Europe and the US.
This is a worry because strength is good for all kinds of reasons. For a start, it has been linked to a longer, healthier life. Studies that followed people over decades found that muscle weakness is linked to a greater chance of dying from any cause, regardless of whether you are carrying too much fat and independent of the amount of cardio you may do.
There is also a link between bodily strength and a healthy brain. A ten-year study of twins showed that greater strength in middle age is linked not only to more grey matter but also to a better functioning memory and a quicker brain a decade later, while grip strength (an overall indicator of muscle power) is associated with a healthier hippocampus.
More important, perhaps, is how physical strength makes you feel. Since Barrett Holloway's initial studies, strength training has been shown pretty conclusively to make life feel significantly more manageable, boosting self-esteem and helping people feel capable of meeting physical and emotional challenges.
A brief dip back into the philosophy of consciousness suggests a possible explanation. According to the neuroscientist and philosopher Antonio Damasio, our sense of self—that feeling that there is one "me" living this life in this body in this moment—is built firmly on our body's implicit assessment of what it can handle.
There is also a link between bodily strength and a healthy brain.
This is because, as we've already seen, the tissues of our bodies never, ever shut up. They constantly prattle on, like children in the back of a car, back and forth to each other and to and from the brain, commenting on how things are going on the inside. Part of the power of movement is that it allows us to change this commentary in the moment, which has an immediate impact on how we think and feel. But its effects can run even deeper than that. Any movement that makes both muscles and bones stronger can change the content of the commentary for the long haul. Moving in a way that makes us stronger can dramatically change our sense of who we are and what we can achieve in life.
This assessment comes from the moment-to-moment tweaking of countless physiological dials that keep our biology within a safe, livable range. This system, homeostasis, comes in three basic flavors: hormones released in the bloodstream; nerve signals to and from our organs; and physical feedback from our muscles, bones and other tissues.
Part of this system is what Damasio calls the body's "musculoskeletal division," which has the job of updating the brain about the state of the muscles, bones and other parts of the body that are involved in movement. "Even when no active movement is being performed, the brain is also being informed of the state of its musculoskeletal apparatus," writes Damasio.
If our eyes are our window on the world, in other words, then our flesh and bones are the vehicle that allows us to act on that information in ways that tip the odds of survival in our favor. At the risk of getting my metaphors in a twist, this is not a passive vehicle, driven by an all-knowing mind, but a chatty one, like KITT, the talking car in the classic 1980s TV show (and soon-to-be film) Knight Rider, who constantly witters on about the odds of mission success. It's not surprising, then, that the way we feel has a lot to do with whether our particular vehicle is creaking and rusty or primed and ready to turbo-boost over the next roadblock.
If we let our bodies become weak, the message coming from the musculoskeletal division of the self will read: stiff, feeble, could definitely do better. And if, as psychologist Louise Barrett puts it, this read-out feeds directly into our perception of "what that body can achieve in the world," then it's hardly surprising that sedentary lifestyles have been linked to anxiety and low self-esteem.
The good news is that we can upgrade our vehicle at any time. Adding capacity to the muscles, bones and other weight-bearing tissues of the body is not only expressed internally as a tangible feeling of being capable in all walks of life: it also shows on the outside, giving off clear messages of confidence in posture and behavior. As if to prove that the mind-body loop never ends, this change in posture then feeds back into our mental state.
Micah Allen, a neuroscientist at Aarhus University in Denmark who studies interoception—how the messages coming from the body feed into our inner lives—says that, in his own experience, increasing his strength through climbing had unexpected side-effects that spilled over into life and work. "Climbing is something where you start off and you literally don't know if you're going to have the strength to make it to the top of the route and back down," he says. But as he progressed, he started to notice a creeping sense that he was more capable in other walks of life too. "Before, if I had a meeting with someone, I could be more easily intimidated or more nervous," he says. "But something about that implicit sense of confidence of knowing what my body was doing, purely anecdotally to me, it definitely did have an effect."
There is some evidence to suggest that his hunch is correct. Research confirms that people who do more physical activity tend to score higher score on a scale of "global self-efficacy"—which measures their sense of how much control they have over their lives. The effect is seen in healthy adults, children and adolescents alike, and according to studies comparing different forms of exercise, strength training has faster and more powerful effects on self-esteem than improvements in cardiovascular fitness and other kinds of exercise that focus on balance or flexibility.
It's hardly surprising that sedentary lifestyles have been linked to anxiety and low self-esteem.
Feeling capable and in control is, of course, the polar opposite of feeling anxious. It's a common misconception that anxiety is about living in a state of abject terror. Often (and I am speaking from experience here) it is more of a rumbling undercurrent of uncertainty about the future and whether you can cope with whatever it holds. Studies using weight-bearing exercise as a treatment for anxiety have found that getting stronger seems to make at least some of that angst go away, boosting self-worth whilst reducing symptoms of anxiety and improving sleep.
Similarly in depression, the overriding emotion isn't necessarily sadness, but more a pervasive, visceral feeling of "I. Just. Can't." Studies consistently show that weight training seems, literally, to lighten the load. Perhaps strength training helps to change the internal feedback from "nope" to "let's give it a shot…," providing a sense of confidence that the body can deal with life's challenges, allowing the "thinking" mind to take a break.
This raises the important question of whether there is a link between rising levels of anxiety and depression in our society and an increasing proportion of people who are physically weak. Scientifically, no one has looked at this question in detail, so it's difficult to be sure. However, given the evidence that sedentary lifestyles lead to anxiety and that strength training improves both self-esteem and symptoms of mental illness, it seems both likely and ripe for investigation. It's entirely possible that we, in Western society, have spent the past few decades turning ourselves into cosseted caged animals who no longer have implicit faith that our bodies are up to life's challenges. In short, poor mental health might be part of the price we pay for a cushy life of sofas and supermarkets.
The easy life may also be making large numbers of people feel down in ways that are less dramatic than depression but which can still color life in shades of grey. According to Damasio, the unconscious messages coming from the body provide not only the basis for the self but also a kind of undercurrent to our consciousness that sets the mood for everything else that happens. These "background feelings," as he calls them, act a bit like the soundtrack of a film: they have the power to make us feel happy, sad, hopeful or on edge, for reasons that we can't quite put our finger on.
It stands to reason, then, that if we can change the tune on our background feelings we can also change the way we feel. Perhaps if we can make our bodies physically stronger we can change that background music, from the sinister discords of a psychological thriller to the rousing harmonies of a superhero theme.
__________________________________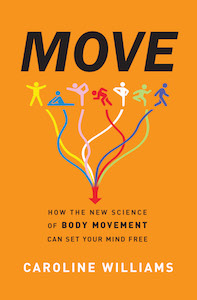 Excerpted from MOVE by Caroline Williams, Copyright © 2021 by Caroline Williams. Published by arrangement with Harlequin Books S.A.
---