On the Rise and Fall of Fictional Rock Stars
Glenn Dixon Talks Bootleg Stardust and His Favorite (Fake) Bands
When I was a whole lot younger, I wanted to be a rock star. I was infatuated with The Beatles, especially blown away by Sgt. Pepper's Lonely Hearts Club Band. "I thought it would be nice," said Sir Paul, "to lose our identities, to submerge ourselves in the persona of a fake group."
I've had an idea of "not quite real bands" in my head for a long time. I never did become a rock star but I did become a writer and for my upcoming novel, Bootleg Stardust, I figured I'd do something like The Beatles. I'd make up a band too, but instead, I'd write a book about them.
In my novel, it's 1974 and the band Downtown Exit is at Abbey Road Studios in London (because why not?). They're auditioning a new guy on guitar and things are not going so well. Even though their first album was a massive success, they're struggling to record the follow-up and they've already been booked on what is about to become a catastrophic European tour.
Of course, I had to do a lot of research on recording studios and touring venues and I spent a lot of time revisiting other books on my bookshelf, especially ones that already featured fictional bands. It was really a lot of fun and so, if even the littlest part of you has ever dreamed of being a rock star, here's your chance to play along.
Here are my top ten novels about fictional bands.
*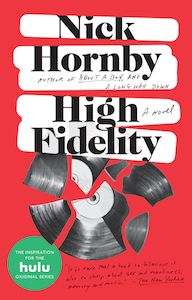 Sonic Death Monkey
Nick Hornby, High Fidelity
High Fidelity tells the story of a record shop (remember those?) and a side story about one of the employees (played hilariously in the film adaptation by Jack Black). He desperately wants to be in a band and goes through a number of possible band names including, at one point, Kathleen Turner Overdrive but Sonic Death Monkey it is, and when it finally does happen—this fictional band rocks the final scenes in both the book and the movie.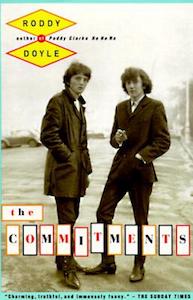 The Commitments
Roddy Doyle, The Commitments
Surely one of the greatest rock and roll novels of all time, except that really it's about soul music, Irish soul music. This is the book that launched Roddy Doyle's career and it's a monumentally funny story with a cast of off-beat characters who put together the most unlikely of bands (and of course the movie adaptation—and the accompanying soundtrack—was an instant classic).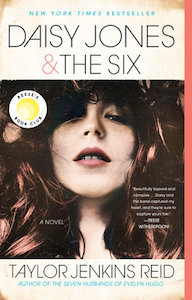 Daisy Jones and the Six
Taylor Jenkins Reid, Daisy Jones and the Six
Taylor Jenkins Reid tells the story of this Fleetwood Mac-like band (disastrous relationships galore) in an enticingly original documentary style. Snippets of interviews from the band's five members propel the plot forward to a final reveal about the mysterious event that caused the band's sudden end. And we'll soon hear the music of Daisy Jones as the book has been optioned for a limited series on Amazon Prime (produced by no less than Reese Witherspoon).
The Flaming Dildos
Jennifer Egan, A Visit from the Good Squad
Jennifer Egan won the Pulitzer prize in 2011 for this brilliant little book. It's not quite a novel and not quite a series of linked short stories. But it works. That's for sure. The kernel that starts it all is a punk band in early 80s San Francisco (which explains the band's blatantly offensive moniker) but there's much more to it than that. It's a meditation on time as we meet the players during different periods of their lives, a little bit before the band but mostly in the long years after. We get to see who they've become after the glory years are over and I can tell you, it's not exactly pretty. Highly recommended.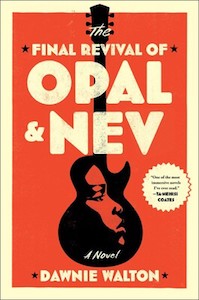 Opal and Nev
Dawnie Walton, The Final Revival of Opal & Nev
This is the most recent release on the list. A hard-hitting tale about a most unlikely duo—Opal who all but founds the genre of Afro-punk in 1970s New York, and Nev, a British singer-songwriter who teams up with her. They burn out early but, as the title says, this is a story about their possible reunion many years later and a deeper look at the issues they faced all those years ago.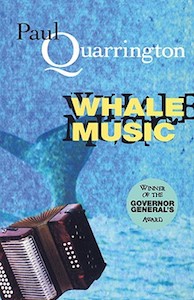 Desmond Howl
Paul Quarrington, Whale Music
A Canadian classic. This wonderful little novel is loosely based on Brian Wilson of the Beach Boys. It's the story of a troubled and deeply reclusive rock star living alone in a vast run-down mansion. His genius is still alive, but he now only wants to create a symphony for whales. Everything changes when a young runaway wanders into his villa.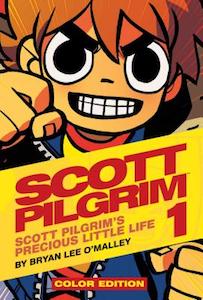 Sex Bomb
Bryan Lee O'Malley, Scott Pilgrim
The only graphic novel on my list, Scott Pilgrim is actually a series of six graphic novels (which were then made into the cult classic film, Scott Pilgrim vs. the World, starring Michael Cera as Scott Pilgrim). Scott Pilgrim plays bass in the band Sex Bomb (actually, it's Sex Bob-omb) and the story plays out as something between a battle of the bands and a video game. When Scott meets the luscious Ramona Flowers, he must set out on a quest to defeat her seven evil exes in order to finally date her. Notably, the soundtrack for the film contains songs by Radiohead, Beck, Broken Social Scene, and more.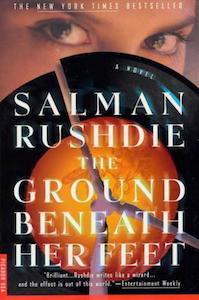 Ormus Cama
Salman Rushdie, The Ground Beneath Her Feet
The great Salman Rushdie gets a nod here for his retelling of the Orpheus myth in which Orpheus is recast as the rock star, Ormus Cama. His love for the singer, Vina Apsara, is the bedrock of the complex plot. Part of the fun is that the book is set in a parallel universe where John Lennon writes "I Can't Get No Satisfaction" and John F. Kennedy survives the assassination attempt in Dallas. The title comes from a set of lyrics in the book, though the very real band U2 composed a song to it (and filmed a music video in which Rushdie himself lands a small cameo appearance).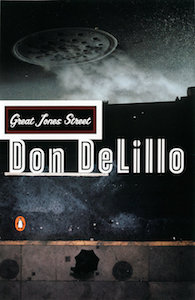 Bucky Wunderlick
Don DeLillo, Great Jones Street
The rock star here is Bucky Wunderlick. He's also a sort of messiah figure who receives "messages" that his faithful fans are desperately waiting to hear. He's so tired of it all though, and he retreats from his fame to a dirty apartment in New York's dingy Lower East Side (Great Jones Street is a real place). Bob Dylan is supposedly the inspiration for this character and much of the plot revolves around the release of his bootleg tapes (called Mountain Tapes in homage to Dylan's Basement Tapes). There the similarity ends—there's a domestic terrorism group (the Dog Boys) and a strange drug that the disables the language center in poor Bucky's brain and a whole lot of craziness. It's DeLillo at his finest.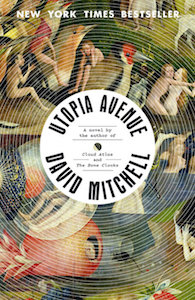 Utopia Avenue
David Mitchell, Utopia Avenue
It's 1968 in London and psychedelia is in full swing. David Mitchell (Cloud Atlas) shows us the genesis and rise to fame of the band Utopia Avenue, touring first through the small hamlets in the north of England and finally off to success in America, where we meet, along the way, luminaries including Leonard Cohen, Jimi Hendrix, David Bowie, and many others. The three main characters trade chapters telling their version of the events leading up to the band's sudden and terrifying end.
__________________________________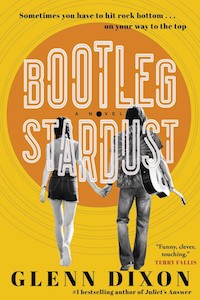 Bootleg Stardust: A Novel is available from Simon & Schuster. Copyright © 2021 by Glenn Dixon.
---