On the Radical Misremembering of Childhood
Joanna Howard Recalls TV Shows That Might Not Have Existed
I remember a show that may not have existed. A variety type show with western leanings, but one that was hosted by guitar man Jerry Reed. This was just about the time that he was singing "Eastbound and Down," and starring in Smokey and the Bandit as sidekick to Burt Reynolds, ultimate mustache. In this show that maybe didn't exist, Jerry Reed came on in a very dapper, flared polyester suit the color of rust or the color of sand and he interviewed musical guests and comedians and movie stars just like he was Dick Cavett.
My mother was always going on and on about Dick Cavett, who also came on a show and interviewed guests. But his show seemed to come from New York, and he wore an ascot, and we couldn't even watch his show—it was a show that I don't even remember genuinely airing on our TV, I just know somehow my mother knew all about Dick Cavett. Why? Did it come on after I went to bed? That seems impossible. I had no bed time. I just stayed up until I became hysterical and had a conniption and then fell asleep while sobbing and choking.
Or, I am little and instead of having a conniption fit and falling asleep choking on my spit, someone reads to me. Someone reads a book with rhyming which is a political allegory. Like Yertle the Turtle. My mother reads it, and then says, "that's really about Hitler's rise to power."
I am still very scared of Nazis. No one reads me the books about the mice living in a tree and making lots of pies. I have to get these from the public library and then read them to myself, via the pictures. I think I can read already because I have memorized all the rhyming books and because I feel like I can guess what is going on in the books about mice baking pies because the pictures are so detailed.
The blackberries are almost as big as the mice themselves and so you get the impression that they could make a lot of pies with even just one blackberry. It makes it seem like it is much easier to be wealthy and live in a multi-tiered mansion inside a tree trunk because having just one thing, like a blackberry, is so abundant.
My mother doesn't like the imaginative aspect of the mice books: they are somehow stupid. For this reason she also hates Smurfs and Ewoks, both beloved by me, and both of which live in vegetative structures. One time, when we are a Nielsen family for a week, my mother writes a letter to go along with our questionnaire saying that all the cartoons on Saturday morning are inane.
Everything on TV is inane. My favorite is a skit on Hee Haw where the barber starts telling stories, and almost immediately there is a tragic aspect:
"Have you heard the latest of my misfortunes and woes?" the barber begins and tells a tragic detail, and the person in the barber chair says, "That's bad!" and the barber says, "no, That's good." And the person in the barber chair says, "How so?" and the barber then fills in with something that makes the tragic aspect surprisingly lucky, and then the person in chair says "Oh that's good…" and then the barber says "No, it's bad, because…" and whatever the lucky thing is, turns out to be not so lucky after all, and ends up tragic again, and it loops. That's bad! No That's good! How so? Because… Oh, Well that's good!
Whatever! Fuck that!—I say to my brother, now, that we are grown. We remember what we remember.
No, it's bad! How so? Well because… and it goes on like that "that's good" and "that's bad" "how so" for the entire skit. This cycle could go on forever, an elegant, infinite loop. Everything good is bad, and everything bad is good. My dad laughs a lot at that, because this to him is reality.
I remember this skit and remember the barber as if he is Dennis Weaver. He has a mustache, and a drawl and a dent in his chin, I think. It must have been Dennis Weaver! But my mother, says no, that was Archie Campbell. And I look it up, and she's right, but that is exactly why I don't look things up anymore. They do look alike in a way, same silver swoop of hair, same mustache, same western-cut jacket, but Dennis Weaver is only about a hundred thousand times more handsome.
In one version of this skit, Archie Campbell, as the Barber, also tells Roy Clark how to get his little boy to go to bed. The little boy is five, and he won't go to sleep for nothing, so the Barber Archie says you can't just tell the same old stories in the same old way, you have to tell the stories backwards, "in reverse" which meant with letters transposed in the words of the story.
He tells the story of Cinderella as RinderCella, who lives in "a coreign fountry with her mugly other and her too sad blisters." And Barber Archie goes through the whole story, telling it faithfully but with letters transposed in just enough of the words that if you listened closely you could still make out exactly what was happening, if you remembered the story of Cinderella.
But by the end, it is all made up language—so that "the storal of the mory is this: if you go to a bancy fall and you want to have a prandsom hince lall in fove with you, don't forget to slop your dripper!"
Dick Cavett was an intellectual interviewer, whereas guitar man Jerry Reed, on this show that I remember that didn't exist, wouldn't have been an intellectual interviewer, my mother posits. But that's not my memory. My memory of this is that Jerry Reed was a very intellectual interviewer, but all of it in that lovely drawl of his. The way I remember it, Jerry Reed was very intellectual if anyone gave him a chance.
No, that show didn't exist, my mom says. You are remembering Glen Campbell's Goodtime Hour, she says. Was everyone on western shows called Campbell? Campbell is an old-timey name, perhaps? But how is it possible that I remember the Glen Campbell show, when it stopped four years before I was born. Maybe it was on in reruns?
Whatever! Fuck that!—I say to my brother, now, that we are grown. We remember what we remember. Don't let her convince you otherwise, I say to him in the garden between his house and hers, because that is where he lands in life, and so he is susceptible.
When I am little, I love Jerry Reed so much. His songs are genuinely funny, and possibly yes, inane, but I am five and thank god something is inane. And he wears the very flared pants, and he is in the movies where he drives a truck just like my dad. I don't make this connection. I don't make this connection for years. I go on loving Jerry Reed, and thinking he is a great guitarist and great song writer. I keep it to myself until now except in situations of extreme safety. Some things should only come out in situations of extreme safety. I will only talk about Jerry Reed a tiny bit at a time.
__________________________________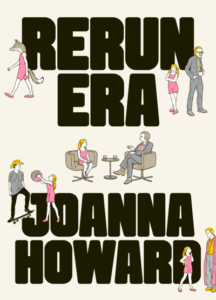 From Rerun Era by Joanna Howard. Used with permission of the publisher, McSweeney's. Copyright © 2019 by Joanna Howard.
---