Henrietta Lovell, the Tea Lady, Reveals Secrets of the Trade
Why You Should Expect the Unexpected When Drinking Really Good Tea
I should warn you, drinking too much tea can make you high and reckless.
I have seen chefs bouncing off the walls of my tasting rooms. Really. They get so revved up on the caffeine and the rush of new experiences that they're unable to sit down. Uncaged from their chairs, they roam around the room, touching the hand-made cups, sniffing the tins of tea, looking in drawers.
It all starts demurely enough, with the sipping of tiny tasting-cups of tea no bigger than the circle made by your thumb and first finger. They might not always be expecting much, and they often play hard to impress. I manipulate my gaiwan—a traditional Chinese tea set. The pot is really a small cup with a lid. There is no spout, so all the aromas are kept within. To pour, you tilt the lid at a slight angle, just enough for the tea to flow, but keeping the leaves inside. It takes practice to use a gaiwan and not burn your fingers, but the skill allows you to manipulate a high leaf-to-water-ratio infusion quickly and precisely. I handle my pots the way chefs might show off their knife skills if I were in their kitchens.
At the new flavors, they begin to uncross their arms from tight across their chests. I encourage them, of course, by bringing out my rarest leaves and feeding them stories of the farms with each taste. Shared from one obsessive to another, my enthusiasm redoubles back at me as they start to nod and grin.
And we start gossiping. The restaurant industry is a tightly knit community. People move from restaurant to restaurant, country to country. They know each other or have friends in common. Both the kitchen and front-of-house endure long hours under intense pressure. Working as a team, where everyone relies on each other, builds fierce friendships. There are few enemies. If you can't work within a team, you're soon out, before animosities have time to fester.
I get to see inside a fair few kitchens and find out who's moved where and what's going on there. If I told you any of my salacious stories—of fist fights, and sex in the stock rooms; of fury and exhaustion and tears; of wild nights after closing filled with mayhem, debauchery, drugs—I'd never be welcome again.
I want to get them hooked on my stuff. And tea is better than cocaine.
But there is a bit of all of that. Drugs weren't lost in the rock-and-roll days of the late, great Anthony Bourdain, who wrote the brilliant book Kitchen Confidential about restaurant life in the 1990s. He helped establish the image of chefs as renegade superstars, pushing them towards ever higher celebrity status. The young rogues now swagger like rappers, more inked than convicts. Their creative brilliance is worshipped by huge followings of adoring fans. The kitchen door, down a dark alley behind the brightly lit restaurant entrance, is not unlike the stage door. Social media helps massage aching egos, otherwise entombed in subterranean kitchens. Press attention gives the faceless genius, closeted behind the stove, a public stage. Like an athlete or an actor, he emerges from service dripping sweat, jacked on adrenalin, ready to dive head first into hedonism, the counterpoint to the fierce discipline of the kitchen.
The top players aren't strung out on coke. They wouldn't be able to sustain all that relentless brilliance. They'd have burnt out long ago. But there are younger men and women on the up, doing hard physical labor for 16 hours a day, six days a week. Please pause a moment to consider that. Those are very real working hours in the restaurant industry. That's a very real struggle to endure day after day, month after month, with no respite. The money is pitiful. They do it for the glory and for their comrades, and in the hope of becoming a superstar one day. They must keep going, work harder, achieve more. Only a very few will make it out of the basement and into the bright lights of fame and fortune. They might be tempted to take something to keep them from giving up, or in.
If the drugs aren't inside the kitchen, they're often on the outside. Working terrifying hours with barely time to rest between shifts and only one day off a week, chefs might want to live fast and make the most of every moment of that precious night off. There are casualties. Promising young chefs with so much potential get their first run of success, recognition or just responsibility, and then don't always handle their drug intake with moderation. Drug dependency can spiral into depression. It's not hard to see how it could happen. But in the highly demanding world of the kitchen, it's rarely acknowledged or supported.
I try and push tea on them. Like Florence Nightingale on the battlefields of Crimea, my mission is to save those brave young souls on the front lines. I have, of course, ulterior motives. I want to get them hooked on my stuff. And tea is better than cocaine. It gives you energy and stamina, and it both tastes better and does your body more good. I push a good drug that will fuel them, not burn them up.
Mostly, though, a restaurant kitchen is a happy, disciplined environment. There's more sex than drugs. Laughter and camaraderie are more prevalent than aggression. The love chefs have for one another and the pride they take in what they achieve together in a restaurant is truly wonderful. And it is an amazing world they are shaping. All that undaunted dedication has changed the international culinary landscape forever. There is almost no room for lazy complacency. London, once a post-rationing laughing stock of bland, uncaring mediocrity, now boasts many of the best restaurants in the world. The Nordics have really stirred things up with foraged wild herbs, ants, and ferments. Spain stands loftily in the culinary hierarchy, where once it was known only for paella. The United States, home of hot-dog stands and diners, now blazes new trails and leads the way in service. The old leader of the pack, France, looks more like a tired racehorse, trailing the field, living on past glories. The more you have, the more you have to lose through change and reinvention. But change is happening in the back streets of Paris, where young bloods no longer cling to old masters.
People crowd their restaurants and queue outside the latest opening the way they used to outside clubs. It's an exciting world to be part of. When I'm sitting with an internationally renowned chef and we're drinking tea and he or she is freaking out with pleasure at all the previously unknown and unexplored tastes, it can feel a bit like impressing a rock god with a guitar riff or pulling off a Shakespeare soliloquy in front of an Oscar winner. As we start trying more and more wonderful leaves, it all gets pretty high and happy. Even these stoic professionals can succumb to tea.
So, I must warn you of two things.
Firstly: be careful of drinking good tea; you might get hooked and be unable to stop. If the tea is really good, you might indulge deeply, drinking and drinking until your heart feels close to exploding with pleasure and caffeine. Even those habituated to hard drugs and amazing tastes get swept away.
And secondly: the pleasure might take away your inhibitions. Above and beyond the caffeine, the exquisite beauty of tea can turn your head and rob you of your normal control. Intensely delightful experiences are so out of the ordinary that our response to them can be similarly unexpected.
It happened to me on a train in Italy. The train left Rome station at 2 pm; I was, highly unusually, on holiday, heading south to visit friends. It was a weekday, early afternoon, and I had a table with the four seats to myself and my enormous hat. I put my small case on the seat opposite me and laid my hat on top of it.
Just as the train was leaving the station, someone sat down beside me. I was reading and didn't look up immediately. I felt him before I saw him. He felt like the hum of a pylon. When I turned my head discreetly to look at him, he was smiling at me.
"Is that your hat?"
I apologized, embarrassed, and half stood to reach across the table and move it. My book fell to the floor. He bent down to retrieve it, his head almost in my lap.
I am, of course, British and full of inhibitions. Usually it takes alcohol to get us to soften. But very good tea can work even better.
"No problem. Leave it. I'm happy here."
There are two things I do when I'm unnerved. Make tea. Put on my lipstick.
I took out my compact and dusted my reddening jaw. He watched me so intently that I blushed even more deeply and could see the red creeping down my neck. I took out my lipstick. Putting on my lipstick, always red, gives me a moment to slow down, combobulate. It wasn't working. I got out my traveling tea things and asked him to fetch some hot water for my thermos.
Not everyone likes being asked to do something by a stranger. If you do it very gently, as though it were the most natural thing in the world and you are asking a dear friend, it sometimes works. When he returned from the buffet car, I made us some exceedingly rare oolong. I had in my bag some very high-grade Tie Guan Yin oolong from Anxi in China—the Iron Goddess of Mercy.
We tried infusion after infusion of the leaves and they revealed their green and fragrant florals, soft fruit, umami and sweetness. We drank on until the leaves were utterly exhausted to a smooth mineral finish. He was quiet while he tried each steep.
I explained how the tea master from whom I'd bought that tea always lays out the 12 or so grades he has crafted that year in the way a winemaker might set out the different wines from his cru. I taste them all and select three. On scraps of paper, he writes down the price of my selected teas and puts the pieces of paper in front of the relevant gaiwan. We have known each other for many years and though we cannot converse in the same language, we get along very well and have learnt to understand one another. By now he knows the form and leaves the room.
I then remake each of my chosen three teas and muddle them up. Only I know which tea corresponds to the price he has given me. I then call him back in and he goes to the teapots and lifts the lids one by one. In turn he smells the aroma from the condensation on the inside of the lid. He doesn't try the tea. Using just the smell of the liquid evaporated from the infusing leaves beneath, he arranges the teapots back in front of the scraps of paper with their prices on them. So far, he has always got it spot on, proving his pricing is no arbitrary figure.
The man beside me on the train gave his full attention to my story and increased his concentration with each sip. I was impressed that he was impressed, which impressed him further. He bounded off to get more water. We started again with a fresh handful of leaves. I didn't get off the train at my stop. I got off at his, walking slowly under the wide brim of my hat, but racing inside. I couldn't have remained in my seat a moment longer.
I tried to stay calm as we raced to the harbor in a cab with the windows down. He led me down a swaying jetty to a small old wooden boat moored among huge white fiberglass hulls. It reminded me of the barges along Regent's Canal in London, moored among the billionaires' homes of Maida Vale and Primrose Hill. He said his name was Vincent Bonaventura, and I didn't believe him. He spoke beautiful English with a rich vocabulary but wilfuly ignored all prepositions.
We didn't touch a drop of alcohol, but I felt drunk and irrepressible. I am, of course, British and full of inhibitions. Usually it takes alcohol to get us to soften. But very good tea can work even better. He insisted I make more as the sun set over a smooth sea. He heated water in a kettle on the galley stove. I can't not answer the telephone's ring or not pluck a whistling kettle from the flame. I fill the gaps in conversation and rush to answer a knock at the door. But that dusk I was sufficiently distracted to bear the kettle's urgent call without answer.
Two days later I reached my friends. He gave me reasons to stay, but I don't think there can ever really be any reasoning with the dark plum of the heart. I'm sure I recognized a pirate in Vincent Bonaventura. I saw his generous smile flicker when I asked him to take me ashore to the station. He would have had to drop me off at some point.
Don't go.
He didn't say it out loud but mouthed the words as I waved goodbye from the back of a cab.
My friends asked me where I'd been. I'd sent some cryptic texts and fudged a story about work commitments that was dull enough not to raise more questions. Strange that I'm happy to tell you, but I wasn't comfortable reporting on my recklessness then. Looking back, I can blame it all on the Iron Goddess. I'm certain I would never have been so daring if it hadn't been for Vincent's rapturous enjoyment at his first taste of the good stuff. If he hadn't appreciated the tea so much, things would never have gone so far. He got it. So, he got it.
***
Making Tie Guan Yin (Iron Goddess of Mercy) or any Rolled Oolong
Use 3 to 9g of tea per 60ml of water. If you use 9g, the infusions will be almost instantaneous and intense; for a slower experience, use 3g, or something in between. The amount of water and temperature remain the same.
The water should be heated to 95°C—just below a rolling boil. It will cool naturally as you infuse.
First, you should rinse the leaves. Pour on a little bit of the hot water, enough to cover the leaves, and after a few seconds drain it off and discard it. This is called a "wash," but rather than cleaning the leaves you are softening them. These leaves are rolled into tight balls that have a low surface area to volume ratio. A quick bathe in very hot water opens them up and allows the next steep to penetrate more deeply into the leaves. It also releases the first wonderful aromas.
Now smell the leaves. The released scent will give you a hint of the flavors about to be revealed in the next infusion. It's an exciting moment.
Add 60ml of water (just under half a teacup) to the leaves. If you've used the smaller amount of tea, allow thirty seconds for it to infuse. With 9g it will take only a deeply inhaled breath before you pour.
You might strain the infusion into a small jug and then pour the tea into little tasting bowls, like sake cups, no bigger than the circle you make between first finger and thumb. Pouring the tea from the jug into these little bowls will allow you to really savor it, sip by sip. And, of course, to share it.
Repeat the infusions up to seven times or until the leaf is exhausted. You don't have to reheat the water—unless you're sitting around for a long time, sipping slowly. As the water cools, so the leaf softens, allowing easier penetration. The silky-smooth flavors of the later infusions are extracted best at slightly lower temperatures. But when the leaf feels like it has given up everything, you can try heating the water back to 95°C and doing one last infusion to get the lovely dry minerality with the last vegetal notes. If you're using a dark oolong like the Da Hong Pao (Big Red Robe), grown on the high rocky ground of the Wuyi Shan, this trick can produce a truly spectacular finish.
A good Tie Guan Yin oolong could be compared to a dry New Zealand Riesling—it starts off full of high floral aromas, and there is a sweetness, but it's not sticky sweet, it's more on the nose than a taste or texture. Then comes a complex, fresh, green, vegetal middle and a smooth flinty finish.
________________________________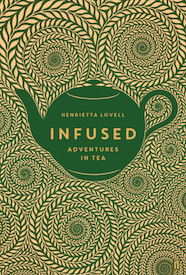 Excerpted from Infused: Adventures in Tea by Henrietta Lovell. Published with permission from Faber & Faber. Copyright © 2019 by Henrietta Lovell.
---