On the Pact That Helped Me Finally Finish My Book… After Four Decades
How Margaret Hermes Made a Promise to Her Neighbor That Finally Came to Pass
Like many of my contemporaries in the late 1960s, I thought I might be a poet when I grew up. I liked writing poems and reading poetry and talking about poetry. I liked alliteration and oxymorons and rhythm and irony. My hobbies were drinking coffee, smoking cigarettes, and protesting in the streets. It seemed to me that I already possessed the crucial qualifications needed to lead a poet's life. Imagine my satisfaction, then, when my university offered its first poetry workshop, and I was accepted after submitting a portfolio: my destiny confirmed.
Each class followed the same format. Sometimes we would be given an assignment to write a particular kind of poem—a sonnet in iambic pentameter, say, or a "found poem" made by cutting up and rearranging the words in a newspaper article, or some lines of free verse. The poet-prof guiding the class would select the poems to be read aloud and critiqued in the next class. He would return our poems to us graded. With comments.
My poems—only my poems—came back with more red ink than black typeface splattered across the page. The preponderance of the remarks was not about meter or word choice, but content. The last nail in my coffin resounded when the professor's analysis of what he deemed to be the product of an unhealthy relationship with my father—my deceased father, though he didn't know that—spread onto an additional page of typing paper.
I froze. The remainder of the poems I turned in for that class were found poems; someone else's words about someone else's father. Except for the last class, when I couldn't even manage that, and a fellow classmate slipped me a poem of hers, contraband, to hand in under my name. After I graduated, I continued to try to write, but I never finished what I began, except for frequent letters to friends, penned by hand and actually mailed in a stamped envelope, if you can remember that.
Ten years later, I became friends with a neighbor who shared her own story. In college she had taken a studio art class, confident she was one of the chosen who would make her living by the brush. Her artist-professor would position himself behind her while she stood at her easel. Invariably, at some point he'd wordlessly snatch the brush from her hand and add strokes to her canvas, then move on, apparently oblivious to the wreckage in his wake. My friend confessed that she had begun countless drawings and several paintings in the decade since her art class but had nothing to show for her efforts. Sitting on the concrete steps in front of my house, we came to the realization that by failing to finish anything, we were keeping ourselves safe from exposure; from having our work read, seen, judged.
That afternoon, we made a solemn pact, like giddy ten-year-olds. We swore that in a year's time, she would present me with a portfolio of her work, and I would deliver a finished manuscript to her door.
I had enough words scrawled on paper to constitute a page. But beginnings had never been my problem.
I knew I had no time to waste. The next morning, after delivering my daughters to school, I began to write. At lunchtime, when I picked up my younger daughter from preschool, I had enough words scrawled on paper to constitute a page. But beginnings had never been my problem.
Not far into our pact, my friend moved 1,000 miles away. We're still doing this, we promised each other tearfully. We'd promised! Though life intervened for both of us in many ways, we each felt obligated not to abandon our pledge because that felt tantamount to abandoning the other: if I don't, then she won't. But our pact provided more than a deadline and a sense of obligation and sympathy: it ensured an audience, even if it was an audience of one. I would view her drawings; she would read my manuscript all the way through to The End. And, though it seemed a nearly impossible task, I found stolen minutes between the hours spent with small children to write. A few days short of one year, I shipped a finished draft of a novel off to her. And about a month later she returned to town for a visit, bringing her portfolio with her.
My friend became employed as a graphic artist. My novel was published with a dedication to her. We both felt that we had not just finally completed something, but we had conquered something. Our professors, sort of. Ourselves, primarily
Around the same time, I experienced the ending of my marriage, and was beset with the challenge of the newly uncoupled: how to begin again. Taking the opportunity to get to know my new singular self, I set off alone with a borrowed backpack on a trip across Europe, a terrifying, exhilarating, lonely, and sometimes joyously convivial undertaking.
During my travels, I accumulated experiences, met others, conquered some fears and developed new ones, like the fear of finding myself in dire circumstances without funds or friends after having had my passport filched in Florence! Despite enticing offers to tag along by various strangers, I was determined to travel solo. With this declaration of independence, on a journey to some sort of reimagining of myself, I started writing a novel about another young woman backpacking her way solo through Europe. And though the character, Betsy, isn't me, I got to know this other character who also traveled by herself in search of herself.
I finished the first chapter while abroad in 1982. Two other chapters followed my return home. Betsy's story was alive and had the promise to become a full-fledged novel.
And then the writing stopped. I had no frame for my novel that satisfied me. I didn't want it to be a quasi-memoir or even a collection of well-crafted episodes. I was a novelist in need of a structure.
Those three chapters were published individually as short stories in literary magazines, and then I set the manuscript aside. But I never felt I was "done" or that those chapters had found their true destiny as published stories, even as I went on to write other things, some that got published and some that didn't. Still, the story of this young woman nagged at me. Years passed, and with them other, different stories became my focus. I would, from time to time, look at the sections I had written, hoping that whatever it was that I lacked would come to me and could, at last, finish.
What I understand now is that, though Betsy's journey was about her becoming herself—a solo journey—she becomes herself in relation to the world around her, a world much larger than her own. It took two more decades and another lap of international travel to give me the breadth to build that world. And I also needed the distance—in all the senses of that word—to divine a structure that would both encompass the largeness of the world and make it come together.
At the airport in Montreal in 2012, I watched a striking Muslim man kneeling nearby, directing his prayers toward Mecca. His noticeably dyed hair was growing out and the fact of this transfixed me. There was so much about him I wanted to know. I thought at the time, he could be the first person my protagonist meets as she opens herself to the world.
From its inception in 1982, the novel The Opposite of Chance took nearly 40 years, but it is finished.
This thought led to another, more ambitious thought, and my heart skipped a beat. What if, in the following chapter, this man brings the reader into his world? Suddenly, I had a blueprint for the architecture of the novel.
I realized I had never wanted to tell just that young woman's story, but to convey something of the complicated, interconnected world she was moving through. And I wanted to do that by immersing myself in the lives of the others she encountered, to examine the ways in which they were "other" and the ways in which they, in turn, view Betsy as "other."
Not that it flowed quickly or effortlessly from that moment on. My second chapter involved literally months of research. The writing of the remaining chapters and their additional research stretched over yet another seven years, punctuated by other writing projects interspersed with work on environmental issues where I live in St. Louis, Missouri. My efforts in defense of the local environment ranged from writing guest editorials to changing the City charter to prevent future sales of parkland without voter approval. As a writer and an activist, I know that one role can crowd out the other when urgency demands.
In all, from its inception in 1982, the novel The Opposite of Chance took nearly 40 years, but it is finished. Other novels, innumerable short stories, some essays, and book and lyrics for a children's play marked the decades during which Betsy "matured," until finally I, too, was ready for her ending. These days, I don't have as much of a problem with finishing things. I think perhaps it is because, like Betsy, I have taken my time. The novel that took so long to complete was, in the end, not so unlike life.
__________________________________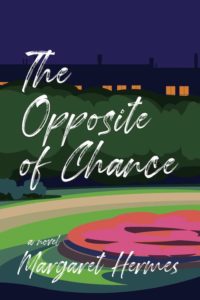 The Opposite of Chance by Margaret Hermes is available via Delphinium Books.
---