On the Vast and Multitudinous Worlds of the Library
Jamie Vander Broek Considers How a Library is Like a Museum
When introducing the library, I often ask people to imagine themselves in a museum. Although they are both institutions that exist to preserve and share things, museums and libraries position themselves differently. Museums contain objects arranged in settings that elevate their perceived importance. Close your eyes and picture a museum. You might see uniformed guards and barriers to keep you at a safe distance from the items hanging on walls and displayed in glass vitrines. Probably you aren't picturing yourself physically interacting with the objects, unless you like to imagine yourself getting in trouble.
If, instead, you picture yourself in a library, your imagined experience is likely much different. Libraries recede into the background of a user's experience. Personal interactions with books and other media are foregrounded rather than the objects themselves. A museum is important. A library is for you.
I should maybe stop here and say that I don't have anything against museums. I worked at one in graduate school, and for a while I was convinced that I wanted to become an art museum librarian, a very niche and museum-loving sort of thing to do. In fact, even if I think of museums as positioned opposite libraries on a spectrum of humility and arrogance, sometimes arrogance can be a useful tool for institutions that are constantly under threat.
Museums are experts at trading in their perceived societal importance. The annual Met Gala, a benefit for the Metropolitan Museum of Art's Costume Institute, is a perfect example of this. Each spring, celebrities and socialites work to outdo one another in responding to the event's theme. The red carpet portion of the event now rivals the Academy Awards for media coverage, and it was even the centerpiece of the film Ocean's 8. According to the New York Times, in 2017, the event raised over $12 million.
Libraries look at these threats and adopt a different strategy. The library I work in is part of a system of over 11 million volumes. If you were patient enough, you could have personal access to every single one of those, from ancient sheets of papyrus to born-digital books that have never been released in print. This is why I say that libraries are for you. Both libraries and museums are concerned with preserving their holdings, and the inner workings of each contain people dedicated to this effort. But the public-facing parts of a museum are really not about their objects so much as a succession of curators interpreting and presenting their materials. As visitors, we see only the tip of the iceberg in terms of museum holdings; most of what they own is kept away from public view in carefully controlled storage areas. What you get to see is always through someone else's lens.
Although they are both institutions that exist to preserve and share things, museums and libraries position themselves differently.
Libraries, instead, devote relatively little real estate and resources toward interpreting their collections, instead foregrounding the individual's experience with the materials. Another person's ego doesn't stand in the way of your access to, at our library, a letter handwritten by Galileo and the first cookbook published by an African American. That's how important you are to us.
Even if libraries contain rare, valuable, or one-of-a-kind resources, they usually don't exert much effort promoting these objects, particularly when compared to museums. They are obsessively concerned, by contrast, with providing pervasive access to all of their items. My library, for example, holds more writings on ancient papyrus than any other institution in the Western hemisphere. These objects are available literally nowhere else in the world. But you'd never know it when you walk in the door. Instead, you'll probably see information about the new version of our online catalog. In other words, who cares that some of the things we have are particularly special, even to many people? What really matters is that you can find what you're looking for.
Sometimes I make the mistake of attempting to visit a library as if it is a museum. Recently I traveled to Salt Lake City for a conference. The event offered tours of the Family History Library, which is the world's largest collection of genealogical materials. I eagerly signed up, but when I got there, I was surprised to find that it looked like, well, a library. There was a small interactive area much like the displays in a children's science museum, with opportunities for selfies with digital ancestors. But beyond that, there were stacks of regular- looking books and large cases of microfilm reels. I realized that because I hadn't prepared some questions about my own family, my time there was rather pointless, and I felt sheepish to have traveled such a long way to come to this conclusion as a professional librarian.
Some libraries, though, are more like museums to us, or at least hybrids. The New York Public Library's famous flagship branch on 42nd Street or the Library of Congress in Washington, D.C., for example. One could be forgiven for showing up at either of these locations without a research question, and in fact I have done just that at both. The leader of the latter institution is one of the few librarians people have (possibly) heard of: Librarian of Congress Carla Hayden. In an essay in the New Yorker, "The Librarian of Congress and The Greatness of Humility," Sarah Larson characterizes Hayden's mission in Washington D.C. as essentially to bring the lofty, museum-like institution back down to earth, aspiring to emulate the bustling, lively Baltimore Public Library system she used to direct.
Explaining the massive Library of Congress facilities to readers, Larson suggests that, like Hayden, they embody a paradox of "greatness and humility—the interplay and tension between them, the importance of both—seemed to echo across each gleaming stairway and emanate from each carefully labelled acid-free folder." The greatness, the cathedral-like setting, and the sense that the institution is important even if most people don't understand what it does—these attributes make the Library of Congress a kind of hybrid museum-library, a vaunted status shared by only a few other libraries in the world. However, Hayden's service-driven mission reflects the dilemma of being valued without being relevant or particularly embedded in people's real lives.
Some libraries, though, are more like museums to us, or at least hybrids.
One might ask whether the humble, unassuming attitude that most libraries adopt serves them very well. Libraries contain within themselves the most lofty ideals of a democratic society, but the average citizen would be hard-pressed to articulate that. We think of libraries as being about books or even literacy. But they're really about sharing. They're about recognizing the value of saving, sharing, and access to society. Public libraries, specifically, are civic organizations, representing the best of what our democratic model has to offer. Without reminders about their collectively boundless contents, are people very likely to think of libraries as places to seek answers, or even new questions, when faced with a blinking cursor in an empty search bar? To speak to the usefulness of a humble posture, I think we have to examine public libraries and research libraries separately.
I serve on our local public library's board of trustees. One of my former colleagues, who gave many years of his life to the board, often boasts that in all this time he has never checked out a book. He maintains his own large, personal library of rare and not-so-rare books. Why use the library when he has a perfectly good one of his own?, he asks. When talking about libraries with people outside my community, I often hear a related retort: why do we need libraries when everything is online and we can order what we need quickly and cheaply from Amazon? I see in these attitudes a community selling itself short, failing to consider the vast potential they have when working together to share something instead of investing in their own tiny empires.
Idealized self-reliance is at odds with the possibility of strength through cooperation. The self-reliant mindset romanticizes capitalism and its trappings, valuing acquisitions and demonstrations of accomplishment. The coronavirus pandemic exposed some of the weaknesses inherent in this behavior. No matter how much wealth or stuff a person might accumulate, there are some challenges that a community can only overcome together. In contrast, cooperation offers efficiencies that independence lacks. People can do more when they share their talents and efforts with each other, and research has demonstrated that diversity makes this especially true.
Our current age, though dominated by characters who champion self-reliance, is seeing a rise in library use. A new generation is using the library more than their parents. I would argue that younger people value sharing. They also have a reason to. Younger adults can't expect to own property at the same rate their parents did, and they are questioning ownership and the pride that comes from ownership. They are also challenging us to recognize the underlying equality of humans through movements like Black Lives Matter and Transgender Awareness.
A focus on community has served the public library well in a society in which young people are eschewing ownership. Even some who have amassed fortunes in the tech sector, for example, have walked away to live simpler lives less burdened by belongings. They thus become unexpected allies of people who have always depended on community—marginalized and disadvantaged populations. In our community, a recently renovated branch library with elegant, comfortable furniture and a cozy fireplace is an office for entrepreneurs working from home as well as a place to use a free computer and stay out of the elements. In holding steady to a model of sharing, the public library has become a cultural darling, hosting standing-room only sushi demonstrations and Bob Ross painting events, despite echoes of doom still ringing in the ears of those who preached a model of everyone for themselves.
Our current age, though dominated by characters who champion self-reliance, is seeing a rise in library use.
Academic or research libraries are a little different. While they have also ridden out the wave of projected irrelevance, their essential organizational humility has prevented them from fully capitalizing on the current moment. At academic libraries, we lack shrewdness and have had a hard time putting aside our commitment to service to develop and advance a strategy. The same spirit that leads us to equally obsess over the family photographs of Orson Welles on vacation in the Alps and the most recent edition of a math textbook makes us ill-equipped for success in contemporary life. Beyond the energy we pour into making our collections available to you, we can get so caught up in the needs of our users that we forget to have ideas of our own, or when we do we aren't quite sure how to make them come to life.
As a product of these two library environments, I personally exemplify these tensions. I've been working on the project that led to this book for several years. Throughout my experience, I've struggled to conceptualize what I could add to it as a librarian. We were pulling together experts from academic disciplines, artists, a lawyer, a business leader—what sort of voice did I have to lend? I wasn't sure. I was so used to helping other people effectively find things, briefly attending to their journeys as they prepared, created, and shared their thoughts, that I didn't see how I might occupy anything but negative space in the product of our collaboration. Much like a doula, I was used to offering support but not to ownership. It was never my baby.
As I read a version of this essay to the gathered speakers at the colloquium on humility, I was struck, however, by the attention and participation of my audience. Rather than looking bored with a talk on humility and libraries, as I feared they might be, they seemed to be synthesizing the perspective I was sharing with their own lifelong experiences with libraries, now considering them in a slightly different way. I realized that there was power in the ability of individuals to make libraries thoroughly their own in their minds. Even if you are more comfortable in the background, it's ok to speak up when you really have something to say.
There is probably a lesson here about the potential power of adopting a humble orientation as a strategy. If you're all about everyone else's aspirations, perhaps others can continue to focus on themselves when working with you, which is probably what they prefer to be doing in the first place. But one can see quickly the potential pitfalls of this mode of operation. It can be too easy to seek comfort in receding into the background and allowing others to shine. Perhaps this is why librarians are notoriously quiet, shy people?
Libraries could consider borrowing a little of the arrogance of museums, if only for the sake of advancing their cause and broadcasting it to a larger audience. But I think the lesson here is that they don't need to. Institutional humility has allowed people to make libraries exactly what they need them to be. Their power, which can never be matched by organizations more focused on status and self-promotion, is in their authentic connection to individuals, in service to the journeys in their minds. Libraries offer both a mirror of one's interests and limitless, individualized paths to explore new territory. Imagine yourself in a library. Where will you go today?
__________________________________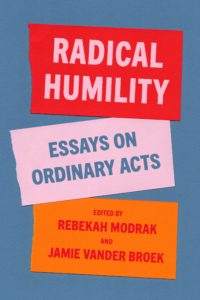 Excerpted from Radical Humility: Essays on Ordinary Acts, edited by Rebekah Modrak and Jamie Vander Broek. Used with the permission of Belt Publishing. Copyright © 2021 by Rebekah Modrak and Jamie Vander Broek.
---