On the Importance of How We Write Mental Illness in Fiction
Louise Nealon Considers the Ways in Which We Translate Experience
We spend our day-to-day lives trying to keep up the charade of being acceptable human beings. We have come to tolerate the estranged family of words that are housed under the collective term of mental illness. Anxiety, addiction, depression and her distant cousin suicide make their way into our daily conversations. Sometimes, they are introduced in reverential tones, or worse, they are sensationalized. At times, it seems like the media have come to use mental illness in the same way we use designer brands. Depression is the new black. It has become chic to "mind your mental health." All of the buzz words that surround the wellbeing industry are vague, verging on vapid. But I've discovered an antidote to the commercialization of mental health. I do what I always do when reality annoys me. I read.
I have no interest in categorizing fiction into books that specifically deal with issues of mental health. I don't think it's possible to lobotomize such an essential part of ourselves and package it off into a neat tagline that you can click into on Goodreads. Our mental health dictates the way that we see and experience the world around us. I would like to talk about some of the stories that helped me to reframe my own misconceptions of what our society considers healthy and unhealthy.
Convenience Store Woman by Sayaka Murata is a story about a woman who enjoys working in a convenience store. Most of the reviews of the novel are quick to try and diagnose the protagonist, Keiko Furukura, with some kind of neurological disorder or mental illness. It is unacceptable for Keiko to be working part-time in a convenience store in a culture that is obsessed with progess and bettering oneself. She is considered an oddball. Her mere existence threatens the status quo, but Keiko is a reluctant rebel. She cares deeply about what people think of her, to the point that she mirrors other people's behavior, and wants to fake a marriage. Working in the convenience store is the only thing that makes sense to her:
To stay in a convenience store, you have to become a store worker. That's simple enough, you just wear a uniform and do as the manual says. And before you say anything, it was the same in the Stone Age society too. As long as you wear the skin of what's considered an ordinary person and follow the manual, you won't be driven out of the village or treated as a burden.
When I was at university, I was given a questionnaire that asked me, among other things, to rate how much, from a scale of one to ten, I felt I was a burden to others. I was eventually diagnosed with depression and anxiety. I was initially relieved, but quickly realized how restrictive some of the language around mental health can be. The convenience store manual Keiko talks about here could easily be paralleled to the DSM manual and the way we diagnose mental health conditions. Ever since I was handed an information leaflet with a grim illustration of a cloud with the word DEPRESSION raining on a cartoon's head, I have been searching for a new way to talk about mental health.
Keiko relies on her manual the way I rely on books. I have discovered that disappearing into my imagination is my only form of defense against a world that refuses to make sense. I'm not alone in my attempt to try and live in my own little world. In Polly Clark's Larchfield, Dora takes this coping strategy to the extreme. Dora is a poet who has recently become a mother for the first time, and has moved to the small town of Helensburgh in Scotland where she is struggling to make new friends. When she discovers that W.H. Auden used to live in the same area, she finds solace in his company. As the novel progresses, it becomes clear that Dora's mental health is suffering, and the only thing tethering her to the world is the enigmatic figure of Wystan Auden. In a particularly distressing scene, she forgets her baby in a car. The baby is recovered and Dora tries to go about the rest of her day as normal, but the horror of what could have been haunts her:
If she stopped, she might begin to cry or blurt out to a fellow customer that her baby had almost died that morning and did they know about W.H. Auden?
Dora would rather remain in autopilot rather than break down the front she presents to the world. She is afraid to share her version of reality in case it is ridiculed and taken away from her.
Ever since I was handed an information leaflet with a grim illustration of a cloud with the word DEPRESSION raining on a cartoon's head, I have been searching for a new way to talk about mental health.
I know what it's like to be ashamed of imaginary friends. At university, after having failed to make an impression in the pub, I made friends in the library. I rubbed shoulders with T.S. Eliot and Sylvia Plath, Emily Dickinson, Chaucer and Oscar Wilde. They were great company. In her memoir Why Be Happy When You Could Be Normal? Jeanette Winterson writes about the fundamental importance of poetry in her life:
I had no one to help me, but T.S. Eliot helped me.
So when people say that poetry is a luxury or an option, or for the educated middle classes, or that it shouldn't be read at school because it is irrelevant, or any of the strange and stupid things that are said about poetry and its place in our lives, I suspect that the people doing the saying have had things pretty easy. A tough life needs a tough language—and that is what poetry is. That is what literature offers—a language powerful enough to say how it is.
Winterson concludes her argument by saying that poetry "isn't a hiding place. It is a finding place." It goes without saying that in order to find something, you must be willing to lose it in the first place. Reading doesn't necessarily guarantee safety or a grand prize at the end of the journey. There have been many times that I have had to stop reading a book because I was unable to navigate the emotions it stirred. To this day, I have yet to finish Toni Morrison's Beloved. There are some books that I'm not ready to open, stories that are so powerful that when they shake the foundations of my reality, I put them to the back of my mind where I can hear them beating away like a game of Jumanji waiting to be played. I know that when I am ready, I will return to the books that I used to fear, and they will be there to welcome me back. As Anne Frank once said, "Paper has more patience than people."
There are times in life that you encounter a book at exactly the right moment. For me, that book was A Goat's Song by Dermot Healy. It is not a book that you would find under the tagline of mental health. At first glance, I did not have much in common with Jack, a middle-aged alcoholic playwright who is living on the west coast of Ireland, waiting for his love, Catherine Adams, to come home to him. At least, this is what Jack believes as he goes in and out of an alcoholic haze. On Christmas Eve, he signs himself into hospital for treatment and soon discovers the liberation he feels from transcribing the other patients' stories of suffering. He decides to tell the story of Catherine in order to try and release himself from the pain of her absence.
Before I read A Goat's Song, I used to be ashamed of my own loneliness. Like Keiko, I put on the skin of an ordinary person and tried to follow the manual of life. Like Dora, I hid my fantasy world from others. But when I opened his book, it was like Dermot Healy opened a door and flung his arms around me. He welcomed me into his loneliness, and I felt utter relief. He taught me that loneliness could be transformative. I realized that revealing your own sense of alienation could be the most important gift that you could give to someone. A Goat's Song is the type of book that made me want to become a writer—not only to entertain people, but to reveal my own humanity, my imperfections and failings in the hope of reaching out and comforting another, the way Healy reached out to me.
In a particular passage of the book, an Irish teacher attempts to explain to his students the function of language:
The new language is merely the learning of an old and well-trained discipline, he said, for which our senses—tired of the language we usually express ourselves in—cry out. A language will return to its source, even in a stranger's head. The great joy is selecting from various languages what best expresses the content of the mind.
We all need stories to make sense of our different realities. We pick and chose words in a language to create a very specific patchwork of bandages to wrap around our pain. A Goat's Song is a book that speaks to me in my own language. It makes the old sound new again.
One of my favourite books is a memoir called Swimming with Seals by Victoria Whitworth, a woman living on the Orkney islands who goes sea swimming every day. Whitworth is an academic, and her love of myth and language seeps into her storytelling. It is from reading Swimming with Seals that I learned that the word translation comes from the Latin irregular verb fero, to carry. What is reading if it is not a way of translating—of carrying—one person's experience of the world into the imagination of another? And what is writing if it is not a way of translating—of carrying—pain?
Mental illness is less a disease of the mind and more of a societal blindness. Reading fiction opens our eyes to other people's way of viewing the world. As a reader, there have been magical moments that I have felt the soul of someone I've never met has seen me. As a writer, it is my job to search for new words and ways of existing in the world, and carry them onto paper, for other souls to see.
______________________________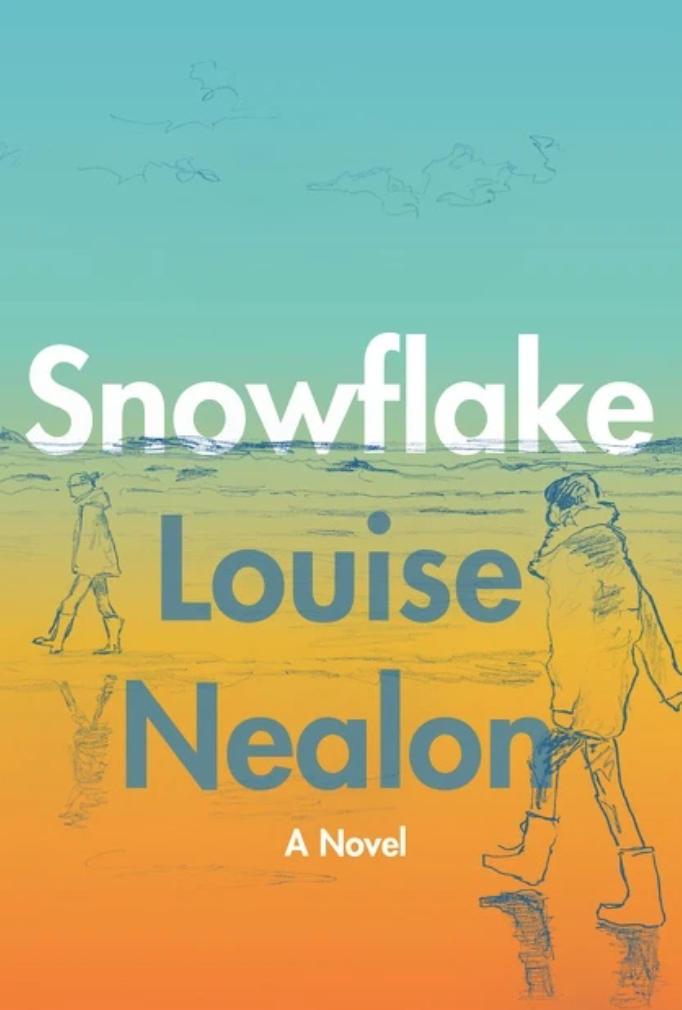 Louise Nealon's Snowflake is available now from Harper.
---