On the e.e. cummings Christmas Poem "little tree"
And How Its Tweeness Manages to Transcend Holiday Kitsch
One of e.e. cummings's earliest published poems, "little tree," paints for the reader a Christmas scene of deceptive simplicity. A young child addresses a tree which has been cut for the festivities and promises to bedeck it with ornaments, set it up for display, and celebrate its beauty. The language is childlike and the poem stands in some danger of being read as twee.
little tree
little silent Christmas tree
you are so little
you are more like a flower
But this is a tweeness that taps into a powerful literary relationship with William Blake, whose poetry cummings came to know and value during his college years.
cummings was an undergraduate and, subsequently, a one-year Masters student at Harvard from 1911 to 1916, and there he fell in with a circle of aspiring poets whose tastes and interests profoundly shaped his own literary development. Among that circle was S. Foster Damon, whose early love for Blake developed into a lifelong passion: Damon would go on to become an academic at Brown University and one of the twentieth century's foremost Blake scholars, with a particular interest in Blake's mythologies and symbols.
Damon's love of Blake was controversial in this shared Harvard friendship circle. Indeed, one of the group openly described it as "mental masturbation." cummings, however, was drawn to Blake via Damon and came to be influenced especially by Blake's Songs of Innocence and of Experience. Blake's explorations of the themes of coming and going, and of innocence and fear, show through powerfully in cummings's portrait of the Christmas tree.
who found you in the green forest
and were you very sorry to come away?
see          i will comfort you
because you smell so sweetly
i will kiss your cool bark
and hug you safe and tight
just as your mother would,
only don't be afraid
These Blakean themes are integrated into cummings's own poetic style—visible not just in the small i but also in the additional surrounding space afforded to two single words in the entire poem: "see" (above) and "look."
look           the spangles
that sleep all the year in a dark box
dreaming of being taken out and allowed to shine,
the balls the chains red and gold the fluffy threads,
It is a quintessentially cummings technique to use visual space to reinforce the looking and the seeing—words set apart so that we pause to look at them as word-objects on the page. In doing so, we also complicate those words, since it is the tree who is enjoined in the poem to see and to look, but it is we as readers who experience the visual effects of the poem. While the tree is prepared for display, we are made aware of our own gaze. The blurring of our gaze as readers and the imagined gaze of the tree heightens the hints of exhibitionism and of voyeurism in this exposure of the dressed tree to the stares of all comers.
put up your little arms
and i'll give them all to you to hold
every finger shall have its ring
and there won't be a single place dark or unhappy
then when you're quite dressed
you'll stand in the window for everyone to see
and how they'll stare!
oh but you'll be very proud
and my little sister and i will take hands
and looking up at our beautiful tree
we'll dance and sing
"Noel Noel"
The Harvard circle of aspiring writers routinely read out their poems to each other. Malcolm Cowley (later author of Exile's Return, chronicling the "lost generation" of American writers) described Damon as a reader "whose voice became flat and matter-of-fact when he recited an especially outrageous line…." In other words, Damon loved to generate contrast between delivery and content. While Cowley refers to the oral recitation of written poems, the same pleasure in disjunction can apply to written language and tone. Blake's poetry educated cummings in the tonal possibilities latent in the very simplest language, and cummings's "little tree" responds, moving simple language into a realm of complex, even dark, material and tones.
"little tree" was first published in The Dial, one of modernism's "little magazines," in January 1920. When cummings pulled together the manuscript for his first solo collection of poetry, Tulips & Chimneys, he placed "little tree" in a sub-section of five poems titled "Chansons Innocentes," nodding in French (chanson is French for "song") to Blake's Songs of Innocence. Only three of the five "chansons" made it into the published Tulips and Chimneys (1923)—a volume pared down through the extreme editorial intervention of the publisher, Thomas Seltzer. The recreation of cummings's original selection and arrangement, published in 1976 as Tulips & Chimneys (1922 ms), provides a far more interesting collection, in which many of the individual poems take on further nuance when encountered in the intended publication context.
The five Chansons Innocentes are all positioned at temporal, existential, or spatial thresholds. The first of these poems is one of cummings's most famous: "in Just- / spring," when the balloonman arrives with his whistle at the precise moment of seasonal change. Second ("hist whist") is a Halloween poem which presents a moment of contact with the world of witches, goblins, and ghosts. "little tree" stands third, and it too brings us to a threshold when the decorated tree is placed at the window, a portal of vision and open to our gaze. Fourth ("why did you go") and fifth ("Tumbling-hair") are two poems which speak to the threshold encountered at death. In the fourth, a child puzzles at the death of a kitten; and in the fifth and final poem, cummings crystallizes the moment in classical Greek mythology when Persephone is snatched by Hades from the meadow to the underworld.
It is hard to remember the deliciousness of child-size dangers.
Building on Blake's comings and goings in Songs of Innocence and of Experience, the child in "little tree" asks, "were you very sorry to come away?" In the following poem, the question, "why did you go / little fourpaws?" is posed by a child who does not quite comprehend that the kitten is dead: "you forgot to shut / your big eyes." The kitten is "maybe asleep," while the Christmas spangles "sleep all the year in a dark box." In truth, the kitten is dead; and also in truth, the tree has been cut when taken from the forest and is therefore not "safe and tight" but dying. cummings layers the innocence and joy of his poems with an ambivalence that hovers just at the edge of awareness.
The joy remains nonetheless palpable. This is definitely a holiday poem. While "look" and "see" are the only words set apart by additional visual space, the only capitalized words are "Christmas" and "Noel Noel." cummings reminds us that for children, holidays are times of disruption, transformation, and thresholds. Boxes are opened, routines disrupted, trees and people transformed, windows turned into thresholds of display.
cummings long retained his own fondness for "little tree." He even had it printed and sent it as his family Christmas card in 1960, two years before he died. Is the poem more than holiday kitsch? At a time when feelings of political danger and the dangers of pandemic are so dominant in our lives, it is hard to remember the deliciousness of child-size dangers. cummings's Halloween poem, standing just before the Christmas poem, captures an exquisite delight in the "little itchy mousies // with scuttling / eyes" and the warning to "look out for the old woman:"
for she knows the devil        ooch
the devil         ouch
the devil
ach       the great
green
dancing
devil
devil
devil
devil
wheeEEE
If there is innocence in these Chansons Innocentes, then it is the innocence of a childhood world where it is safe to enjoy a little danger.
__________________________________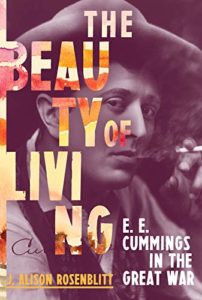 J. Alison Rosenblitt's The Beauty of Living: E. E. Cummings in the Great War, is out now from W. W. Norton & Company.
__________________________________
References: 'Mental masturbation' (as the view of Cuthbert Wright) recollected in a letter from William Slater Brown to E.E. Cummings, Houghton Library (Harvard), E.E. Cummings papers, 1870-1969, MS Am 1823 (150). Malcolm Cowley on Damon reading poetry: quoted in Charles Norman, E.E. Cummings: The Magic-Maker (Bobbs-Merrill 1972): 46. Further on 'Chansons Innocentes' and additional references to other scholarship: J. Alison Rosenblitt, E.E. Cummings' Modernism and the Classics: Each Imperishable Stanza (OUP 2016), chapter 4. Christmas card: Harry Ransom Center (University of Texas at Austin), Charles Norman Papers (10.4) (consulted with thanks to a Harry Ransom Center Research Fellowship in the Humanities).
---