On the City of Florence's Struggle to Get Back Dante's Body
The City That Rejected the Poet Came to Regret It
Giovanni Boccaccio's call for Florence to retrieve Dante's corpse appears in retrospect to have been primarily an elaborate literary conceit. The city's abusive treatment and subsequent unworthiness of Dante enabled Boccaccio to fulfill the principal aim of his biography—notably titled a "treatise in praise of Dante"—by casting the poet and his work as "divine." Later generations of Florentines took calls for repatriation more seriously by amplifying and periodically acting on them.
Dante's bones, cherished no less than the remains of a saint, acquired the aura of holy relics for many of these worshipers. Giannozzo Manetti, an early 15th-century biographer, thus implored his native city, "do at least one thing you are certainly capable of doing: summon back your poet's sacred bones from exile—from the place where you stubbornly refused to recall him . . . for many a year while he was still alive." The recovery of Dante's "sacred ashes," he argued, would allow Florence not only to cleanse itself of infamy but to attain a measure of "glory and honor." If nothing else, the attempt would prevent others from blaming the city for offending Dante in death as it had in life.
Manetti overturned the accusations of heresy leveled at Dante by Cardinal Bertrando del Poggetto and the Dominican preacher Guido Vernani a century earlier. He viewed the poet's remains as not just respectable but, like the holy body of a saint, worthy of outright veneration. Other Florentines had already begun taking great pride in their exiled ancestor and seeking his posthumous return even before Manetti's call for repatriation in the 1440s. The earliest sign of a Florentine attempt to retrieve Dante's bones appears in a Latin epistle ignored or barely mentioned in existing accounts of the poet's graveyard history.
Antonio da Legnago wrote this letter to his friend Pietro da Ravenna on December 5th, 1378. Antonio was a notary who had risen to the upper echelons of power in Verona, serving as councilor at the court of Bartolomeo and Antonio della Scala from 1376 until his death in 1385. All we know of his correspondent is that this Peter was a native of Ravenna who probably taught in Ferrara. 
Prosperous Florence would employ other methods—some less crude than the offer of money, others more so—to obtain Dante's bones.
The letter's date is significant because it means the "tomb of our Florentine poet," which Antonio saw "among other illustrious monuments in this famous city," already displayed the epitaph maligning Florence as the exile's "mother of little love." If Florence now sought to atone for this neglect, Antonio's letter suggests, then Dante's birthplace only managed further to debase itself—and to exalt Ravenna—by offering to buy the poet's remains.
"O happy you," he congratulated his friend from Ravenna, for being "born of a land that valued the ashes of its virtuous guest over the gold of this most wealthy people." Prosperous Florence would employ other methods—some less crude than the offer of money, others more so—to obtain Dante's bones in years to come. But, as this initial failure presaged, it would be difficult if not impossible "to take this treasure" from Ravenna.
Article continues after advertisement
Florence again took up the issue of repatriating Dante's remains less than 20 years later, this time officially and as part of a larger civic initiative. The Council of the People met on December 22th, 1396, to vote on a proposal to build monumental tombs for five Tuscans with Florentine roots who had achieved fame while mostly living elsewhere. The renowned jurist Accursius (Francesco d'Accorso, ca. 1182–1260), who taught law for many years in Bologna, was the first of these illustrious citizens.
In the Divine Comedy, Dante had damned him for sodomy among the "great and famous scholars" pelted by an eternal firestorm on the scorched inner ring of the seventh circle of Hell. The next four were dead poets "still considered alive by the glory and fame of their virtue." Dante (1265–1321) headed this list, followed by Petrarch (1304–1374), the poet and papal secretary Zenobi da Strada (ca. 1312–1361), and Boccaccio (1313–1375). The proposal called for the tombs to be erected in the main church of Florence, Santa Maria del Fiore, better known today as the city's Duomo.
Worthy of the men and the city, these "large, magnificent, honorable" monuments would be adorned with marble sculptures and other ornaments. Since they were each buried elsewhere—Accursius in Bologna, Dante in Ravenna, Petrarch in Arquà, Zenobi in Avignon, Boccaccio in Certaldo—their bones first had to be brought to Florence and then placed in the tombs for the "perpetual fame and celebrated memory" of the men and the Republic. The proposal, approved by a vote of 153 to 51, called for construction of the mausoleums even in the absence of physical remains, but they were not built. Whether the requests for repatriation were rejected by Ravenna and other cities or were never sent at all, the bones of Dante and his distinguished compatriots stayed where they were.
Hopeful of a better outcome, Florence appealed directly to the ruler of Ravenna three decades later. Leonardo Bruni, the Florentine chancellor (and Dante biographer), wrote a formal Latin letter on behalf of the city's signoria, or governing council, to Ostasio da Polenta seeking the restitution of the poet's bones. Dated February 1st, 1429, Bruni's letter affirmed that the young lord—the third and last ruling member of the da Polenta family named Ostasio—should not wonder at the "unique, even special affection and delight" binding Florence's leaders and all its citizens to the "celebrated, immaculate memory of Dante Alighieri, the great and famous poet."
Leonardo Bruni's letter reveals how Dante was used . . . "to promote a certain vision of Florence as a preeminent capital of culture and learning"
Dante's glory was such that "it brings praise and splendor to the city, the light of his genius illuminating his homeland." Recalling the earlier proposal to erect "magnificent tombs" for Dante and Petrarch in Florence, the council now sought to achieve that goal in the case of the former. Florence therefore entreated Ravenna's ruler to allow the return of Dante's "ashes and bones" so they could be venerated in a monumental tomb built in his native city.
Bruni's letter reveals how Dante was used, as an expert on the poet's reception in Renaissance Italy writes, "to promote a certain vision of Florence as a preeminent capital of culture and learning, one which encompasses both the contemporary revival of classicism and the earlier legacy of Trecento vernacular poetry."
A request for Dante's bones less than 50 years later confirmed that the proposal of 1429, like those before it, had gone unfulfilled. The petitioner in this case was none other than Lorenzo de' Medici (1449–1492), the Florentine ruler whose political and cultural achievements earned him the title of Il Magnifico. Lorenzo's request for the transfer of Dante's "most worthy bones" from Ravenna to Florence was promising for two interrelated reasons: Ravenna was now controlled by Venice, and Lorenzo had a strong personal and professional relationship with Bernardo Bembo, a powerful Venetian humanist, statesman, and diplomat.
Bernardo came to know Lorenzo and his court well during his time as Venice's ambassador to Florence. He arrived in January 1475 to celebrate the alliance of Venice, Florence, and Milan. An assembly of Medici followers named Lorenzo and his younger brother, Giuliano, as Florence's leaders after their father Piero's death in 1469, though Lorenzo in effect ruled the city. Letters show that Bernardo exploited his political position for personal gain by securing loans for himself and family members from Lorenzo. Another letter reveals that the Medici ruler in turn hoped his friendship with Bernardo would enable Florence finally to bring Dante home. 
__________________________________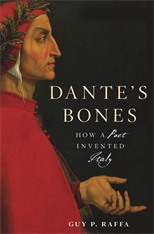 Excerpted from Dante's Bones: How a Poet Invented Italy by Guy P. Raffa, published by Harvard University Press. Copyright © 2020 by the President and Fellows of Harvard College. Used by permission. All rights reserved.
---