On the Bruce Springsteen Song That Reinvigorated My Writing
How Natalie Standiford Found Herself Down in "Jungleland"
One afternoon a few years ago, feeling stuck and uninspired while struggling with the billionth draft of a novel (okay, the fourth, but who's counting), I took a break from writing and turned on the radio. Bruce Springsteen's song "Jungleland" came on.
Born to Run was a staple of my teen years, but "Jungleland" was never my favorite track on the album. ("Thunder Road" forever.) "Jungleland" is an impressionistic story-song about rumbles, rock 'n' roll, and romance with tragic consequences, and at the end, over a trilling, pounding piano and trembling strings, Bruce lets out a series of passionate… yowls. I'm not sure how else to describe them. They're yowls: uninhibited cries of grief.
As a kid, I found them a little embarrassing. I had fully absorbed the late-70s/early-80s creed of minimalist cool: Don't care too much. And if you do, don't show it. It was the heyday of writers like Ann Beattie and Raymond Carver, of compressed stories with little explicit drama, all the emotion running stealthily beneath the characters' stoic or blasé exteriors. Big emotions were for kitsch and melodrama and were to be treated with irony. There was a sort of "cool barrier" around anything worth taking seriously: emotion will be expressed this far and no farther. Break through that icy ring and you risked an accusation of sentimentality, of corniness, and for a writer what could be worse?
I loved those minimalist writers, and I still do. But: as I stewed over my inert manuscript on that frustrating day in 2017, Springsteen's yowls reached me. The song was operatic, touching on love and death, Springsteen's wails reminding me of Rodolfo's heartbroken "Mimi!" at the end of La Bohème. Opera is another art form I shunned as ridiculous in my youth but have since learned to appreciate. Springsteen even refers to it in the lyrics: "There's an opera out on the Turnpike, there's a ballet being fought out in the alley… " It's a big, dramatic song, over the top in every way—and, although I wasn't sure I actually liked it, I felt invigorated by it. As a friend once said about opera as an art form: "I love the idea that these people are in a situation where their feelings are so big they have no choice but to open their arms and sing."
The novel I was working on, Astrid Sees All, is narrated by a sheltered young woman named Phoebe who craves experience and who feels compelled to test out her darker impulses. It's set in downtown New York in the 1980s, which, in my memory, had already begun to take on the patina of myth—seedy, spangled, death-haunted, and gleefully, deliberately over-the-top.
I began by sketching scenes and people I remembered from my own years in the East Village. Phoebe and I share some characteristics. We both grew up in Baltimore, and we both went to Brown. We both moved to New York in 1983; we both worked in a bookstore on the Upper West Side. We both quickly abandoned the Upper West Side for the East Village.
And in early drafts of the novel, Phoebe did other things that I had done—lots of other things. She worked in publishing. She moved in with her college boyfriend. She watched her hip East Village neighbors from afar, wistfully, as they opened galleries and avant-garde dress shops. She went sensibly to bed while they danced all night long wearing gold lamé Star Trek dresses and tuxedos made out of magazine covers. It was all "real," but it felt flat and shapeless on the page.
It turned out there was a secret formula to making the world of my book spring to life. Springsteen revealed it in his autobiography, Born to Run (and repeated it in his show based on the book, Springsteen on Broadway). I heard it that day in his "Jungleland" yowls. It's this: One plus one equals three.
"I come from a boardwalk town where everything is tinged with just a bit of fraud," he admits. "So am I." The man who wrote songs about miserable factory workers stuck in dead-end lives said, "I've never seen the inside of a factory and yet it's all I've written about." His characters—rebels itching to leave their stultifying hometowns, never to return—may have been "born to run," but Springsteen himself currently lives ten minutes from where he grew up.
Until he was 21 years old, the man who wrote "Racing in the Street" "had never driven a fucking block" and didn't have a driver's license. "Standing before you," he says in the show, "is a man who's become wildly successful writing about something with which he has had absolutely no personal experience. I made it all up."
"That's how good I am."
Springsteen didn't simply write songs; he created a dramatic world with its own mythology. He wasn't afraid to break the cool barrier, to say: Listen! People love, they fight, they die, it matters, and I'm going to sing like it matters. I'm going to celebrate these people. Listening to "Jungleland," I realized that I was trying to do the same thing: to recreate the world as I saw it and felt it. I was writing realistic fiction, and yet… maybe it was okay to exaggerate, to push the boundaries of realism, to project to the back of the room, in order to give the reader a deeper emotional experience. To put my characters in a situation where they had no choice but to open their arms and sing, or wail, or shake their fists at the heavens. To make one plus one equal three.
As Springsteen says: "It's the essential equation of love, art, rock 'n' roll, and rock 'n' roll bands." And, I would add, fiction.
The work of Elena Ferrante has a similar operatic quality. Her novel The Days of Abandonment tells the harrowing story of a woman whose husband has left her for another woman—a common subject for fiction and a common predicament in life. But Ferrante's heroine falls apart so spectacularly, the novel reads more like a horror story than contemporary realism. Ferrante took the abandoned woman's pain seriously. When someone leaves you, it HURTS, and you want REVENGE, and it feels HUGE. And sometimes the only way to get that feeling on the page is to let your characters yowl.
Springsteen didn't simply write songs; he created a dramatic world with its own mythology.
As Anaïs Nin wrote: "You must not fear, hold back, count or be a miser with your thoughts and feelings… Something is always born of excess: great art was born of great terrors, great loneliness, great inhibitions, instabilities, and it always balances them."
And as F. Scott Fitzgerald advised an aspiring writer: "You've got to sell your heart, your strongest reactions, not the little minor things that only touch you lightly, the little experiences that you might tell at dinner… you have only your emotions to sell."
"Jungleland" showed me why I felt stuck: I was too wedded to the reality of my own memories. My personal experience was, frankly, not exciting enough. I needed to make things up. I may not have gone out clubbing every night, but Phoebe would. No longer would she toil as an editorial assistant who had to get up early every morning; she found a job as a fortune teller in a nightclub. Instead of being too shy to speak to the scenesters who lived upstairs, as I was, Phoebe became friends with them. And at the end, I forced her to grapple with violence and death more viscerally than I did at her age. I let my memories run wild, shift, change, grow, and dissolve into fiction. The further the story strayed from autobiography, the better it worked.
I'm not saying, Be cheesy. I'm saying don't be so afraid of being cheesy. Don't let your fear of being cheesy hold you back. Don't be afraid of letting emotions take up space in your fiction, of saying, This is big. This is life or death. If you stray too far into sentiment or melodrama, you can always dial it back in revision. But if you're careful—precise, specific, detailed—some of the power you've infused into the story will remain.
I could have written this essay about any of dozens of other dramatic musicians—Nina Simone, Björk, Tom Waits, Courtney Love—but, for better or worse, "Jungleland" is the song that happened to hit my ears at the right moment. As I listened I picked up an index card and wrote, "There's an opera out on the Turnpike, there's a ballet being fought out in the alley… " and propped the card on my desk to remind myself of Bruce's magic math: one plus one equals three.
__________________________________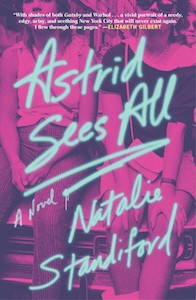 Astrid Sees All is available from Atria, an imprint of Simon & Schuster. Copyright © 2021 by Natalie Standiford.
---