On the Art of the Query: How the Best Kinds of Questions Move Beyond Objectivity
Amy Wright Wonders "What We Can Bear to Learn?"
The senior reporter who assigned my first story advised me to "be objective." My assignment: to cover a performance by my university women's chorus, at a school that had been admitting female students for less than 30 years. I need not include our school's history in my article, the reporter told me—but I could not hear a group of women raising their voices together without being aware of it.
As a reporter, I was trained to ask information-gathering questions, and to reach toward a perceived "objectivity," but what always sustained my curiosity were more complicated inquiries that reached deeper. At the time, the conflict between surface and psychic investigations seemed a limitation of journalism. I admired writers who defied the divide between journalism and literature, yet a forcefield of copyeditors restrained my quest to emulate them.
It would be two decades before The New York Times made the switch from op-ed pieces to guest essays, inspired by columnists like Margaret Renkl, who, in her weekly essays, asks enduring and personal questions of how Southern schools teach race and why cicada emergences feel miraculous. Had I the freedom, as an aspiring journalist, to explore more evergreen investigations, I might still be writing for newspapers. Instead, I pursued a degree in literature that allowed me to focus on the art of questioning itself: to ask young writers what questions they're not asking, and if specific forms of writing discourage certain kinds of questions. It became my life's work to ask.
Literature is, at heart, dialogue. I do not mean logs of crafted speech, but the exchange between writers and writers, readers and writers, and readers and readers, that is necessary for texts to come to life and stay alive. At this point, I would not separate journalism from literature any more than I would compartmentalize communities of people. Instead, I see us all as a collective capable of being joined—on buses, in cafés, over injera—in conversations through which people come to understand one another.
I pursued a degree in literature that allowed me to focus on the art of questioning itself: to ask young writers what questions they're not asking.
The ensemble of this social instrument is performed across genre. When we read texts and one another, we sample points of view that fuse and disrupt our neural pathways. Conversation taught me this: that the mind is an ever-changing opus. Our inner orchestras are externalized; the outer symphony is imbibed. This concerto trilled beneath talks I conducted over the years I worked as a journalist and writer. An interview about the climate crisis would ring in my ears when a friend shared that his father lost his house to a wildfire in Paradise, California, and reverberated while another source described her Indigenous family's history of conducting controlled burns. But the performance remained private until I collected and juxtaposed various anecdotes, precepts, and profundities into what became my debut nonfiction book, Paper Concert: A Conversation in the Round (Sarabande Books).
The years of intensifying talk that preceded composing this book-length essay taught me that the best questions exemplify one of a few attributes. First, great questions forge into the unknown, dizzying the course of expected exchange. They catch the shimmer in a deflection, and circle back to fish at that wellspring. They essay across genre to "push back the fringe of pines upon new horizons," as Jean Toomer writes in Cane, a work that when published in 1923 blew open our understanding of drama, poetry, and fiction by intertwining them. We begin, as Toomer does in a scene titled "Fern," by settling in at dusk, beside a canebrake ripe for cutting where "things unseen" glisten into our field of perception.
Sometimes, as with Fern, the resulting expression overboils with sap that scalds one's throat, after which someone breaks into song. Does that mean discomfiting questions justify themselves? Invaluable answers sometimes come at incalculable costs.
Second, conversational essays rearrange. "I don't want / gold per se. I / want change," Andrea Cohen writes in the poem "Alchemy." We "bright ingots," to continue her analogy, move toward transmutation. Our chemical structures, too, are subject to reactions that can alter us forever. We need not be passive recipients of influence; we can solicit contrary perspectives that strain our fixtures of knowledge. We can upset righteous certainties that justify inequality. We can admit and concede arguments. To question is to be called into question.
Third, great questions draw extraordinary insights from ordinary people. They lend authority. If we fail to protect shared agency, and prize status over integrity, corruption ensues. By querying restaurant servers alongside CEOs for his oral history Working, Studs Terkel brought many common struggles and individual injustices to light. To highlight one example, Terkel asked Roberto Acuna, an organizer for the United Farm Workers of America in the 1970s, how we felt about work. Acuna was a migrant child pulled from school in California for Pick-Your-Harvest Week. Returning from a week's education among fields of lettuce, carrots, and citrus fruits rather than among his peers at desks, he said that he would be given "a little gold star. They would make it seem like something civic to do." In calling on Acuna's and other laborers' representation, Terkel broadened the public discourse.
They probe the roots of our resistance, close-read uncommon losses, and keep us quiet until we can admit ignorance.
Inquiries are like style guides in that they hone every doubt, dilemma, and meander, until—as Benjamin Dreyer writes in Dreyer's English—it "sounds better. Literally sounds better." They train us to hear innuendos in communication. They pressurize listening. They stop us short with a turn of phrase or hold us in rapt attention on a hillock's drop into thought.
My favorite questions instigate anarchy, although "Anarchism is not enough," as Laura (Riding) Jackson writes in her essay collection with the same title. Such questions stage coups by which new rules manifest. They disobey dictums that say questions yield answers, and answers abide. Anarchy is just the incentive to reimagine governance, culture, gender, etc. (Riding) Jackson's line follows the question she poses to herself, "What is a poem?" Her resulting answer dismantles the inherited definition and conjures an original concept. Questions alone endure, and rarely in the same form.
The best questions ask what we can bear to learn. They probe the roots of our resistance, close-read uncommon losses, and keep us quiet until we can admit ignorance. They embolden us to express interest in taboo topics: leukemia, menstruation, aging, racism, etc. They circle, as Lucille Clifton does in her great book of instruction, How to Carry Water, "beyond the ironwork / encasing your human heart" where the better angels of our nature rise.
Finally, good questions query themselves; the nature of conversation, the questions we are conditioned to ask, and the interests we hold. One of Paper Concert's 53 contributors, Sejal Shah, asks in her essay collection, This Is One Way to Dance (University of Georgia Press, 2020), "How do you claim the I, the person dancing, the person leading the dance?" To begin to answer this question, Shah asks why leaders are so often imbalanced, misdirected, wrongheaded soloists who are led and led astray by patriarchal and other false paradigms. There are other ways to dance, we learn when we consult a variety of dancers.
Can questions create the communities that will practice us? Is that our next first step? Given that answer's potential, how can we not ask?
______________________________________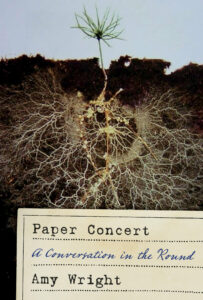 Paper Concert: A Conversation in the Round is available now from Sarabande Books.
---