On Reimagining the Limitless Potential of the Literary Western
Gordy Sauer Recommends Books by Téa Obreht, Hernan Diaz, and More
My heart has long been held hostage by the Western. The genre loomed large in my childhood and my sense of place while growing up in Texas; I'm aware, though, that it has historically been one of exclusion, framing adventure, romance, and the frontier through a singular lens. As a result, loving that genre is difficult, even a burden. So when I decided to write a literary Western for my debut novel, I did so with the intent to push back on the genre, opening it up in ways that rethink what a Western can be and do.
In my novel, Child in the Valley, 17-year-old Joshua Gaines is recently orphaned and deeply in debt after the death of his adopted father. He flees his St. Louis home and joins a vicious party of 49ers while they travel overland to Gold Rush California. It's a book that explores greed, violence, sexuality, and morality on the frontier in a brutal coming-of-age story, set during a seminal moment in American history. It's also a book that uses the Western, and all the baggage that genre carries, while expanding its possibilities.
Any writer writing a Western—even a literary Western—knows that they stand on the threshold of creating something that's equally capable of rocking backward as it is of propelling forward. Taking my own step meant acknowledging the critical work of those who did so before me. Below are seven literary Westerns that reimagine the genre's potential by giving us characters, voices and a West that is as beautiful as it is provocative and progressive.
*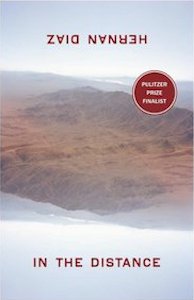 Hernan Diaz, In the Distance
Håkan Söderström and his brother Linus are young Swedish immigrants inadvertently separated en route to a new life in New York. Hakan winds up alone, on a ship headed instead for California, speaking no English and with the vague and distant hope that he can reunite with his brother by traveling overland across America. So begins a wandering, beautiful and violent journey that interrogates language, the immigrant experience, and mythmaking in the West. The larger-than-life ideology of the frontier is taken to a complex and literal level in one of the most innovative and disquieting literary Westerns I've read.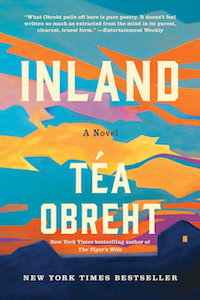 Téa Obreht, Inland
Did you know the U.S. Army imported camels in the mid-19th century to use as pack animals in the Southwest? Obreht harnesses this bit of obscure regional history for a literary Western that is inventive in a way that only she could accomplish. A cowboy immigrant from the Ottoman Empire (Lurie) who communes with ghosts; a resilient frontierswoman (Nora) whose desperation foregrounds the complex humanity that flies under the radar of most Westerns, particularly in their female characters—Obreht's engrossing novel shows readers how dynamic the characters in a literary Western can be.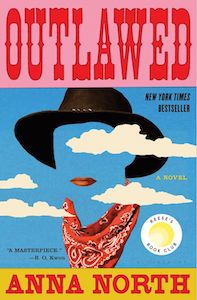 Anna North, Outlawed
"In the year of our Lord 1894, I became an outlaw," begins Ada, the narrator of North's striking and subversive novel. North recasts the infamous Hole in the Wall Gang, comprised in real life of men such as Butch Cassidy and the Sundance Kid, and fills it instead with women and non-binary characters, allowing her to use a basic Western trope—the outlaw—in a bold reshaping of how we think of the West, its diversity, and its purpose in our own histories.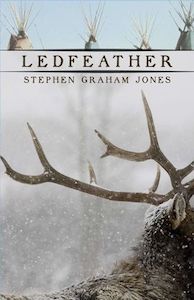 Stephen Graham Jones, Ledfeather
Formally experimental and navigating different time periods, Ledfeather is not a big-box, big-screen Western. The book follows two storylines: in the first, Doby Saxon lives on the Blackfeet reservation in present-day Montana, struggling with his mental health and alcoholism. The second, set in the 1880s, portrays Indian Agent Francis Dalimpere as he writes letters to his wife Claire, detailing his work and life at his "first 'Western' posting." The narrative moves between both characters, illuminating the legacy of expansion and trauma in the West.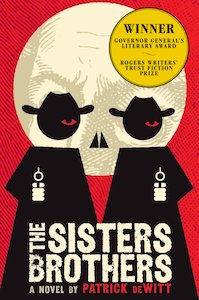 Patrick DeWitt, The Sisters Brothers
The premise is simple: Brothers Eli and Charlie Sisters are hired guns for a character known only as "the Commodore," and they're tasked with murdering a gold rush prospector accused of theft. The narrative seems equally simple, driven by Eli's straightforward, almost stilted narrative voice: "I heard Charlie coming up the stairs and jumped into bed, pretending I was fast asleep… He closed the door and moved to his room and I lay in the dark thinking about the difficulties of family, how crazy and crooked the stories of a bloodline can be." But this voice—brilliantly incisive as the story goes on—ultimately forces readers to question whether the Western's historic superficiality is in an author's failure to look deeper or the audience's failure for demanding a certain conformity to genre. The answer is: Both.
Tom Lin, The Thousand Crimes of Ming Tsu
Lin's novel employs the classic blood-filled revenge narrative, backdropped by "the vast disc of the sun slipping earthward," to focus on characters that this narrative has traditionally excluded. Ming is a Chinese American assassin avenging the kidnapping of his wife, a white woman, by railroad men. Given the deeply troubled history of Chinese immigrants and Chinese Americans in the West, especially as it relates to the building of the transcontinental railroad, Ming's journey is one with important historic implications, both personal and cultural—not to mention gorgeously cinematic.
Annie Proulx, "People in Hell Just Want a Drink of Water" from Close Range: Wyoming Stories
Proulx should be on any literary Western reading list. While her short story "Brokeback Mountain" is more widely known, "People in Hell Just Want a Drink of Water" takes a more subtle stab at the conventional Western's cultural exclusion and insensitivity. The story follows two different white families, neither of whom you root for, at odds with each other's way of life. Their role as anti-heroes distinguishes the story, as does the panoramic, haunting preface that pulls it out of its 19th-century setting and nails it to our present.
__________________________________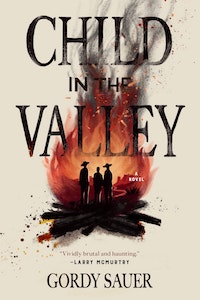 Child in the Valley is available from Hub City Writers Project. Copyright © 2021 by Gordy Sauer.
---