Edward Hirsch on Locating the Roots of the American Poetry Tradition
Poetry as Protest, Lament, and Call to Hope
June 1970. I had just started working extra-board as a brakeman for the railroad, which meant that they could call me anytime, for any one of three shifts, and send me to one of six Chicago yards. I had finished my sophomore year in college, and I had set my sights on becoming a poet, much to the dismay of my family, and I needed something to read that would carry me through the summer, something that would catch me up on American poetry, and propel me forward.
I didn't know much about our national literature, though I had taken heart from Saul Bellow's breakthrough novel, The Adventures of Augie March, which begins: "I am an American, Chicago born—Chicago, that somber city—and go at things as I have taught myself, free-style, and will make the record in my own way." I knew that I had to make my own entrance—"first to knock, first admitted," as Bellow put it, slyly echoing Matthew 7:7–8 (Ask, Seek, Knock)—but I was also seeking encouragement, something that would help me to envisage a life. I was on a quest. We invent ourselves as American writers—it's not a clerisy we're born into—and we each have to figure out how to create a path to our work.
I was roaming through a bookstore in a local mall trying to find something, anything, that would help me out and further my education—it was one of those suburban chain bookstores that don't carry many books—and that's how I stumbled on Hayden Carruth's paperback anthology of modern American poetry, The Voice That Is Great Within Us. It was the title that stunned me, and the epigraph, from Wallace Stevens's poem "Evening Without Angels," two lines that have stayed with me for fifty years:
Where the voice that is in us makes a true response,
Where the voice that is great within us rises up
I loved the confidence in these lines, the repetitive lilt and litany, almost like a chant, and all through that summer, as I rode on the engine from one gritty railyard to another, coupling and uncoupling cars, scrambling up and down the ladder on the side of moving trains, gazing out on the city as if it belonged to me, these lines kept coming back and inspiriting me with the sound of the voice that is great within us.
That voice cannot be contained or repressed. Stevens suggests that it belongs to all of us, that we all have access to it, that it is a divinity that lives within ourselves. That summer I threw myself into Carruth's anthology—I treated it more as a rite of passage than a gathering of poems—and it enjoined me to the larger project of our poetry, the greater music.
*
As a young poet, I was open to instruction, an ephebe and pilgrim eager to be tutored by poems and taught by books, which lessoned me in ways that my teachers often did not. I suppose I was purposing myself for the fuller immersion, the deeper initiation. "For poems are not, as people think, simply emotions (one has emotions early enough)—they are experiences," Rainer Maria Rilke declared, and I have tried to attend to the nature of these experiences in literature and life. I have endeavored to place them as precisely as possible.
This has also led me to consider how each poet ties into their time period, and ours, the bulkier tapestry, the weave of American poetry itself. I have also tried to underscore the way that our national poetry participates in an international interchange with other poetries, other languages. There may be self-enclosed or island poetries, but ours is not one of them.
American poetry springs forward, keeping account, reminding us of our core values and commitments.
American poetry is both very old and very new. It stretches back tens of thousands of years to the oral songs and stories of Native nations, Indigenous peoples, aboriginal tribal cultures. And it is as up-to-date as protest poems posted on social media one hasty character at a time. There is no doubt that a central strand of our poetry traces to Puritanism and the Puritan code, the import of classical and English metaphysical forms applied to the New World.
The New England Puritan poetic was a newfangled combination of theology and farming, a struggle not to get lost in the wilderness, hymns in small churches and meetinghouses, Virgilian songs roaming over rough landscapes. Puritan poetry is pious—of course, it is puritanical—but it also has an unexpected oddity, surrealistic moments like this one in Edward Taylor's Preparatory Meditations:
Should Gold Wed Dung, should Stars Wooe Lobster Claws, It would no wonder, like this Wonder, cause.
To me, this rhyming couplet sounds like something that the Comte de Lautréamont might have written if he were guiding a small parsonage from a frontier outpost in western Massachusetts, and it suggests that Puritan religious poetry is also punning and deceptive, and secretly literary. Colonial poetry is not quite so disapproving as it might seem—the first poet featured in my anthology, The Heart of American Poetry, is a woman, Anne Bradstreet—and it mixes with other strains in our culture of religious difference.
White European slavers did not give credence to the fact that they would be changing American history and life when they treated African people as chattel and transported them to the New World, but that's precisely what happened, and a new people, now African Americans, gave rise to a new syncretic culture and poetry, too. That's why three bedrocks of our poetry are Indigenous chants and stories, white Protestant hymns, and African American field calls and songs—field hollers, ring shouts, work songs, and arhoolies, all of which establish a call-and-response pattern that later would be transformed into spirituals and blues.
Ralph Waldo Emerson keyed American literature to what he called "the optative mood" ("The Transcendentalist," 1842), but that hopefulness had always already been shadowed by a deeper protest and lament, something older and darker, a legacy of trauma, a steeper and more sorrowful song.
The Heart of American Poetry is not a history of American poetry, but I've tried to remain conscious of our diversiform ancestry and heritage. As an American poet and critic, I tend to be on the upbeat, but it's important to remember that we've always had domestic torture—we just carried it out under the disguise of an encompassing doctrine, like Manifest Destiny, which justified a murderous agenda and nationalist landgrab. It's part of our historical DNA, our barbarous racist history, our legacies of genocide and slavery. That consciousness also gives American poetry a conscience.
I've tried to keep this historical backdrop in mind as I concentrate on the relatively recent poetry of the New World, a refreshing new possibility in world literature, the poetry of democracy. Walt Whitman called it "Democratic Vistas." Intrinsic to this poetry, these vistas, are a premise and a promise of freedom and equality. The abiding ideal of the republic—"We hold these truths to be self-evident, that all men are created equal, that they are endowed by their Creator with certain unalienable Rights, that among these are Life, Liberty and the pursuit of Happiness"—keeps resurfacing in our poetry, our poetries, because we keep letting ourselves down. American poetry springs forward, keeping account, reminding us of our core values and commitments—that underlying promise, that true destiny.
__________________________________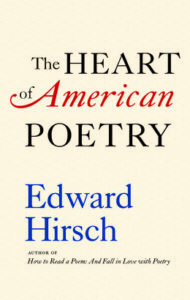 Adapted from The Heart of American Poetry by Edward Hirsch, available via Library of America.
---