On Oaxaca, Early Pregnancy, and Motherlands
"Place lurks in us like a gene waiting to be expressed"
On our first night in Mexico, at the 30-dollar-per-night Hotel Canada just off the Zócalo in Mexico City, Jorge dreams he's being chased by a giant gorilla. "Subtle," I say. "Scared of something?"
I am 12 weeks pregnant. As predicted by my mother and sister, who experienced the same pregnancy timeline, the fog of the first trimester lifts. It is dramatic as a curve in the road and around the corner, clarity, sun, the smell of meat finally enticing instead of repulsive. It comes at just the right moment, when we land in a city of a million taquerías. I am surprised to find that I'm able to walk the streets for hours, attend a massive protest against Enrique Peña Nieto, stomach black beans and meat and jalapeños. I am, just in time for Oaxaca, ravenous.
Jorge has booked two weddings in Oaxaca. These are paying for a monthlong trip to visit family and show them my still-tiny belly as proof that finally, finally, at the outlandishly old age of 31, we are having a child. When Jorge called his mother to give her the news, her relieved delight boomed through his iPhone: "Gracias a Dios!"
Landing in Mexico reinforces the dramatic change of pregnancy. More than any other place I have lived or worked or traveled, Mexico is the country of my youth. In Mexico I fell in love, formed a close-knit crew of friends, witnessed a revolution, grew and changed and grappled with the dramas and decisions of my twenties. I am accountable to Mexico in ways I have never been to Peru or China or France or Japan. I have family there now, and community, and a history.
In Mexico I began to assert myself as a writer, and when I get really angry, when I yell about how fucked up the corruption or the machismo is, Jorge yells back, "Mexico made you!" As with all marital arguments, he is right in a piercing, painful way, and he is also exaggerating. My first big essays were all about Mexico; the piece about the goat slaughter in Huajuapan got me into graduate school and then into Harper's. Life in Mexico provided ethical, personal, romantic, and existential grist for my writing for years; Oaxaca was to me what New York City so often is to the aspiring American bohemian. And as such it is also the place I associate with singing in the street at four in the morning; with riding in the backs of pickup trucks through the cloud forest; with impassioned half-coherent conversations in scruffy cantinas about the nature of life. Mexico was the setting for the ambition and adventure of my late twenties, the place where carefree drifting began to channel into career.
Thus landing here with a baby in my belly heightens the sense of remove I feel from myself and my life. I see Mexico anew as both foreigner and—by dint of the tiny Mexican within—as something more. In Mexico City I am taken by the sensation that my baby has more claim to these dusky-rose skies and stone streets than I do; that within our small family I am the sole American, and thus my Americanness becomes more exceptional and definitive. At the same time, the baby's blood, swirling with the history of Zapotec and comal smoke and masa slapped between palms, makes Mexico mine in ways that transcend my life and self. I feel this already, at 12 weeks.
Jorge and I board the ADO for Oaxaca, as we have done time and again over the years. Usually I am giddy for the bus ride's vacillations between eager attention and withdrawn contemplation. I embrace the Ultimate Travel Writer Cliché and prop my Moleskine against the window, ready to note ads for freelance clowns and construct the perfect phallic metaphor for barrel cacti. But this time as the bus pulls out of the TAPO station, I feel detached, as if I am back in Ohio, rooted in the cabin and woods, and this shadow person is watching Mexico City jostle by outside her window. Or more precisely, as if some essential part of myself was left in Ohio long ago, has always been there, and I am just now becoming aware of her.
The volcanoes hulk in rare clarity in the distance, their snowcapped massifs regal above the confetti colors of this plain, and I am not myself-the-American noting the difference, or myself-the-American-married-to-the-Mexican, so much as a person entirely removed from it all, seeing the world via a gentle, fragile distance. I jot down images in my notebook, but not with the same fervor for accumulation and meaning making as in the past. I allow myself the wild abandon of a half package of Nescafé in a Styrofoam cup of hot water and just sit, absorbing details with the unfamiliar stillness of pregnancy. There a donkey hunched amid felled stalks of corn, there men with ragged shirttails working the fields, there uniformed schoolgirls disappearing down a dirt road, there people clumped under a sheet of corrugated tin, waiting for the bus. I know it so well at this point, and yet now that I have been shoved off the stage of my life, that I can't quite see or place myself any longer, I find I don't know it as well: there is so much I assumed I knew, I could describe with confidence contextually or historically or with firsthand evidence, but in this visit I sense the profound limitations of that knowing. More important becomes the process of putting aside what I think I know or can know to accept what I will never be able to understand.
We arrive in Oaxaca at night and climb the highway up the Cerro del Fortín until the whole valley is visible, a gleaming river of lights bordered by low black mountains. The memory of showing up this way when I was 24 years old, electrified by every strange scent and vision, hits me hard with that particular nostalgia of early pregnancy. Not only will Oaxaca never be foreign in this way again, but I have the intimation that it will be a long time before any place will feel so exotic, so new, so wide open to enthralled perception. The baby acts as a screen between me and the world; she is the ultimate newness, the ultimate exoticism, the ultimate discovery, and everything else pales behind her, everything else I experience predominately through her. The tightly spun cocoon of motherhood renders the world distant as stars, and yet at the same time its details become more intimate, more personal, part of a shared humanity that transcends context and borders. This is a paradox that Mexico highlights.
"The baby acts as a screen between me and the world; she is the ultimate newness, the ultimate exoticism, the ultimate discovery, and everything else pales behind her."
In Oaxaca we stay in a tiny studio in an old hacienda-style home that has been converted into a series of furnished apartments. Our place consists of a two-burner stove, a mini-fridge, a dinky shower, and a bed that eats up the majority of the room. On the roof is a tiled terrace with a view of the surrounding streets and jacaranda trees; doves brood on the scrambled telephone wires, and from the neighboring roof, inevitably, come the frantic yelps of a puppy chained in the sun all day long. It is the archetypal Oaxacan blend of suffering and tenderness, the beautiful and the crude.
It is also populated mostly by elderly Canadians and Americans who shuffle up the stairs shouting loudly, "Joe, there's a very nice show in the Zócalo tonight! Did you hear Mary came down with something? Maybe it was the ice!" They make us feel terribly young, like a couple in a short story who show up at an ancient farmhouse, all fresh faced and innocent and preggers, only to confront a suspicious decrepitude. One man, somewhere in the haze of his fifties, alternately sits at a table on the patio or a table on the terrace drinking hard alcohol out of innocuous-looking cups. He reeks and talks too long and seems disconcerted when I reference my pregnancy, then opts to ignore it and offers us a drink. Supposedly he has a Mexican girlfriend, and in the day he disappears for hours to walk the colonias. Late at night I see his silhouette on the roof with a six-pack of Negra Modelo, pacing.
Most of the other guests are corpulent, flowing-white-linen types, vocal and opinionated, accumulating various florid handicrafts. They are friendly enough but not terribly interested in us, which adds to my sense of invisibility and the feeling that I am carrying a secret. Their community vibe—"Bill! Bill! Are you going to do the Zapotec weaving? The bus leaves at 2:30!"—makes us feel like outsiders despite the fact that Jorge is from here, that I have lived and traveled here for nearly a decade. They lend to the overall aura of liminality and unreality, the sense that we have left behind our previous lives but not yet arrived at the new.
In the afternoons we have the best sex of our relationship. I am stunned that pregnancy has filled me with desire and set a million sensitive filaments I didn't know I had on high alert. Pregnancy sex feels both illicit and innocent, sex at its purest and also its most superfluous. This blend seems fitting in our situation, as we muffle our moans while heavy-sandaled elders patrol the hallways. We are at the core of layer after layer of secrets, hovering in this yellow-curtained room, in this small queen bed, in the heat of our intertwined bodies between what we were, what we seem, and what we will be. When it is over we lie side by side, listening to the whir of the fan, and then Jorge pounces up as he does and makes coffee and goes to work on his computer. I am slow, still, everything I do during this time in Mexico deliberate as if I might break a delicate understanding between me and this place, as if I need to move with the nearly invisible precision of an opening flower.
I sit on the rooftop terrace eating persimmons. They have the taut flesh of plums but the strangest most decadent interior of any fruit I've ever tasted. They seem as though they were crafted in an elaborate hipster San Francisco kitchen: a touch of Madagascar vanilla, a dash of Saigon cinnamon, and the plushness of a rumdrenched cake. We've never seen them in Oaxaca before, and we buy them in twos and threes at the market in spite of their exorbitant price. They appear only in my pregnancy; when we return over a year later we cannot find them anywhere.
I look out over the rooftops, bake my vulnerable body in the sun, close my eyes. With them closed I can see Oaxaca as it has always been and always will be: the mountains like the raggedy coats of old horses, houses the color of soft dinner mints. In this city, in the past, I delighted in the blue hour, the time when the sky is drenched in a thick watery indigo and the hamburger stands turn on their solitary bulbs. As a traveler, so much of what I lived for was sensation, stimulation, the rare awareness that makes the most minute details salient. I craved the startling anecdote from the taxi driver; the dreamlike experience of wandering amid hundreds of goats herded by a taciturn 12-year-old; the afternoon rainstorm narrowly dodged in a nook with fathers and schoolkids and aproned señoras. These experiences, and my capacity to notice and shape them, were the way I measured the meaning and vivacity of my life.
Now being in Oaxaca illuminates the fact that this type of noticing as a concerted act and sensory thrill has become superfluous, insufficient; I feel dulled to it, as if the old sensation tries to prick my skin and I register only the pressure. I am fully honed in on my baby and on my own interior landscape of change. My traveler's eye passes over the old man clutching a chicken piñata in the back of a pickup to focus on the subtlest shifts in my belly, the workings of memory and time, the new and tremendous solitude that sometimes steals my breath. It is not that I've ceased to care about the shifting kaleidoscope of the world outside or stopped engaging with it, but rather that for this stretch of pregnancy—and well into early motherhood—I give up on the passionate quest to understand and document it. I need to be inside my own body, my own heart and mind, sitting and waiting, sitting without expecting. "In my early years of sitting," wrote Buddhist priest and teacher Joan Halifax, "I tasted that stillness and knew that it was medicine."
Each time I try to conjure the active meaning making of my former outspoken adventurer self, my writer self on a quest to assemble the world into thematic overtures, I sense that I am missing an obscure, essential presence. There is work to be done and it must be done in this quiet space, with closed eyes that sense the mountains and sense the ironwork in the crumbling haciendas and sense the señora shuffling down the midday street with chiles rellenos nestled like puppies in the basket on her head, but with a concentration that stays in the interior. That waits out the urge to notice, the noticing itself, the gleam and shock of the world.
"I am living and struggling in these large old emotions of love and fear; they are literally in my gut, a way of being in the world that begins and circles back to the belly."
Sarah Manguso writes, "Writers must labor from a vague feeling, usually some large, old emotion, and in so laboring, come to understand the qualities of that feeling, and the source of it, and the reason they still feel it." I have long written with my eyes and my brain, twin tools of noticing, and in pregnancy these are no longer enough. I'm not able to explain what takes over from them, from what depths I am drawing my need and desire, until Manguso's definition illumes them like a lit match. I am living and struggling in these large old emotions of love and fear; they are literally in my gut, a way of being in the world that begins and circles back to the belly.
Little by little, I find that I can no longer be angry, or, rather, I can no longer trust my anger. I do not sense it as an integral part of me but watch it with distaste from the outside as if it were a disagreeable rash blooming and fading. On the terrace, bougainvillea and geraniums rain pink petals onto the tiles, the effervescent laughter of schoolkids rises from a nearby playground, the gas truck barks "Gas de Oaxaca! Kilos exactos!" Up here in the morning glare, I remember a bumper sticker from the nineties: if you're not angry, you're not paying attention. I can see it clearly on beat-up little Hondas making the trek from Cincy to Columbus. It might have had something to do with Ani DiFranco, or perhaps I just associate the two via the person of my best friend's older sister, a pale, outspoken vegan who introduced me to concepts like cruelty-free mascara. People like her, who knew what was done to bunnies in research labs around the nation and weren't afraid to show you in graphic brochures, made anger hip. They made it necessary, and young.
This notion of anger as a function of superior intelligence resonated immediately with me. I'd always had a razor-sharp sense of injustice that surely drove my parents to late-night, nerve-soothing gin. I was one of those kids for whom everything had to be equal, for whom the refrain It's not fair was the ultimate rebuke. This is, of course, essentially American: a naïve, frequently hypocritical obsession with fairness that is blind to history and context and the myriad complexities of a particular situation and instead bound to the rules of the preschool classroom. Righteous, precocious, and verbal, I was predisposed to inherit it in the worst kind of way. "Did you know," I'd say to my parents, my tone implying that of course they didn't know because I was about to dramatically inform them, "that the most educated people in the world don't have kids?" I let this fact resonate in the 1990 Toyota Tercel until it presumably rocked their worlds. I don't even want to imagine what I must have put them through when I read A People's History of the United States in AP History.
I spent a lot of time being angry in Mexico. Not all of this anger was unpleasant; much of it grew out of solidarity, community, deepening awareness. To share the anger at an inept government, at its blatant white-elephant construction projects marring the cityscape, at the murder and disappearance of activists, was a way to be woven more intimately into the tapestry of daily life in Oaxaca, to feel more connected to people and place. It was to form a united front and share a type of belonging and seeing. It was also the only form of empowerment, however illusory, we had against total impunity.
But much of the anger in these years was also miserable. There was the anger at the daily insult of harassment and the several times I was grabbed in the street; anger at bureaucrats who sucked up endless precious hours with their petty power; anger at the dysfunction and corruption palpable in pollution, strikes, protests. This type of anger bogged my life down in resentment, frustration, guilt: a suffocating moss of largely useless emotions. But not to feel anger seemed not only near impossible but also complacent, giving in to the inevitability of violent patriarchy and its everyday humiliations. To shrug, as many travelers I met throughout these years did, at "cultural differences" and adopt a paradoxically condescending distance from it all seemed a gross, smug privilege. And besides, I was not a traveler. I had a Mexican husband; I'd spent the better part of my post-college life in Mexico. I framed the struggle with anger largely in these terms of cultural relativism. Either I saw Mexico as a colorful other whose problems were just part of an overall show of sometimes beautiful, sometimes dismaying difference I watched as an American, or I saw Mexico as my own and tackled the many indignities of life there.
Only now, in pregnancy, do I begin to see beyond this dichotomy to the larger question of my anger and its function. From the very beginning, the biggest surprise of pregnancy has been the sense that my seething emotional core—which could run from exuberance to outrage to abstract intellectual giddiness in an instant—has hollowed out entirely. In its wake is this disarming emptiness. To be empty has negative connotations in U.S. culture, in which being full, having more, having something rather than nothing to say, are heavily privileged; it would seem that this emptiness is a loss. But instead I feel freer. Not light, not airy, not unburdened of cares and worries, but less battered by the whims of my righteousness. More capable of seeing the way that anger is not necessarily an essential indicator of vitality but often a smug, shallow parody of it.
The opposite of anger is joy; the two emotions possess a parallel intensity, and neither lasts. Each is ultimately egoistic, shining its light on the triumph and exceptionalism of the bearer. I see now to the end of their fuses, the explosion and the fizzle and the what-next; I can't seem to get either to matter. It's not that I am bathed in the alleged beatific glow attributed to pregnant women, that I am suddenly taken with New Agey abstractions like respecting everyone's spirit and spreading loving-kindness (although I am increasingly skeptical of the hard shell of snark and irony that defines my generation). What compels me isn't so much the substitution of a new formula—balmy saccharine acceptance in lieu of anger—but rather that old profound place where neither matters. This is the place of birth and death, the night in the hospice with my grandmother, the moment I found out I was pregnant, when all of the opinions and surety of the everyday dissipate before an acute sense of the essential.
Pregnancy has the effect of setting me apart from myself, like pulling away a sheet of carbon paper to discover the outlines of my vulnerable and distinct personality vividly etched. There is my fear, my insecure rectitude, an inner equanimity I've sensed but never quite witnessed, a need for control coursing bright red through my veins. In demanding a total embodiment only experienced otherwise in extreme sport or meditation, pregnancy sets my tightly held self a-shimmering as a constructed sheen.
There is opportunity here. My righteousness no longer appears a virtue but rather cheap insulation from complexity and uncertainty, creating surety but also walling me off from the potential for a deeper understanding of the type that goes beyond realizations and mantras and shoulds.
I first recognize this in a concrete way when I spot a Facebook post from a Oaxacan midwifery group declaring that vaccination is poisoning an entire generation. I am appalled. I plan on vaccinating my daughter, and the critical importance of vaccination has been highlighted for me via multiple posted warnings in U.S. airports about measles outbreaks. The baby could suffer grave and irreparable damage, or die, if I contract measles while pregnant, but the people responsible for the disease's resurgence in the United States don't seem to care about that. I am befuddled by a movement that seems so hostile to the well-being of communities in addition to individuals, and that so consistently refutes and distorts scientific fact.
The fact that Oaxaca's predominant organization of midwives, the face of natural birth in the city and one of the only alternatives to ob-gyns, is spreading anti-vaccination propaganda is both depressing and infuriating. I am disturbed that an organization I'd admired and promoted to pregnant friends, an organization in charge of the health of many women and children, not only could be fear-mongering with propagandistic generalizations but could actually endanger public health, especially in a place like Oaxaca with its high incidence of unvaccinated street children and poor mothers at risk for disease. I start to leave a comment on the group's Facebook page saying how disappointed I am, pointing out that this kind of inflammatory rhetoric from blogs that distort scientific fact—or flat-out invent conclusions—is dangerous, and that it is particularly disconcerting to see it on the page of a group dedicated to public health.
"Pregnancy has the effect of setting me apart from myself, like pulling away a sheet of carbon paper to discover the outlines of my vulnerable and distinct personality vividly etched."
The old me would've done it without questioning, and simmered the whole night with anger. Of course that part of me thought, this is wrong. It is just flat-out wrong, and besides being wrong it is dangerous. I could write an entire outraged essay about this.
Yet the old anger is dampened by sadness, or compassion, or uncertainty, or all swirled together. I think about all the women I know in Oaxaca who've been forced into C-sections that, in the United States, would've been entirely unnecessary; the C-section rate in Oaxaca is 80 percent, while in most U.S. hospitals it hovers around 30 percent. Some women in Oaxaca have been told they'd need C-sections because their babies weighed seven pounds. There is a billboard above an ob-gyn's office near Parque El Llano, depicting the OB in scrubs, with a full medical team, standing over the body of a woman lying prone under white sheets; the OB is holding a screaming newborn upside down by his feet. In many ways hospital birth in Oaxaca resembles hospital birth in the 1950s United States: men aren't allowed in the delivery room, and women are told that if they move during labor their babies will die—my sister-in-law was told that if she stood up her baby would fall out and could be killed. On top of this, breastfeeding education is spotty at best; one nutritionist told an acquaintance to stop breastfeeding her premature baby at six months because the milk no longer contained any nutrients.
This organization, meanwhile, runs multiple support groups for pregnant women where all of these problems are discussed: unnecessary interventions, the medicalization of birth, the insulting way women are treated, obstetric violence, the myths and dehumanizing practices that make labor so much more difficult for women. The midwives focus on natural home birth and use many of the techniques that I want to use during my labor: movement, the presence of a strong support system including the husband, breathing, trusting the mother's instinct, not performing any interventions unless medically necessary. They also run a vibrant, thriving breastfeeding group that debunks so much of the widely perpetuated misinformation spread by doctors and pediatricians and challenges stigmas about breastfeeding in public.
And. But. Where do I stand, then? What does it mean to have a stance? What use, necessarily, does it have in this situation? Where does righteousness take me? To reject the group outright and despise them, and also to reject and despise the patriarchal OBs scaring women out of natural birth? All that I am left with is my own arrogance.
I begin to see that each of us carries a passel of fears like the heavy wicker baskets borne by Oaxacan señoras, woven handles slung taut around their foreheads. Some swear by the demonic powers of food additives; others would never let their children loose in a taxi; some loathe soap; others dirt; some heights; others meat.
My old anger is a solipsistic cycle of constant judgment, winnowing the world into a narrower and narrower sliver of acceptability until eventually all that is left is my own lonely, lofty rightness. To let go of it is not necessarily to dissolve in syrupy loving-kindness for, say, the grumpy old man who asks to switch tables when I begin breastfeeding, but to try to extend the gift of complexity to him and everyone whom in the past I might have treated as a pinned, motionless specimen, including myself.
Complexity is the hidden door in the wall, the blurted confession, the patchwork of irony furring our lives. It is the canned tuna I see piled up in a friend's kitchen. This particular friend is from a tiny village in the Sierra Norte, and he is a major critic of the United States and an advocate of natural, non-GMO, unprocessed fresh food. He loathes supermarkets and their packaging and advertising. He once held a birthday party in which the central dish was the spiny chayote squash that grows on his mom's property. He and his wife have a newborn baby, and we are at his house to celebrate. There, in the kitchen, stacked high with boxed milk straight from the supermarket, is the canned tuna, on which they have come to rely in the fervor of new parenthood. It is so incongruous I laugh. It echoes the image of another friend of ours, a cynical, sarcastic hipster from Mexico City who works as a curator, decked out in a feathered headdress, being bathed in ceremonial smoke during a Mexica wedding ceremony. Or my husband, the gentlest soul a tiny Mexican pueblo did birth, armed with a rifle in full camo in the rain on an Ohio winter morning. Instead of seeing these as anomalies, I begin to see them as entry points: the places where people become accessible, human, where we find empathy.
Of course, I still judge. Of course I think my decisions are the right ones, of course I take offense every day to injustices small and large. The difference is not the instinct but the aftermath: now, I reconsider. I step back; I make everything a little hazier, a little less certain. I turn the situation around and around like a Rubik's Cube, look at my own moments of weakness and strength. I bring in the ands and the buts. I hope that other mothers will do the same with me, although the impulse here is not so much altruistic as selfish; I want to save my own soul. I want to rescue myself from the isolation, the perpetual insecurity, of anger. I don't have to live in the deafening tunnel of my own assertions all the time. It is nicer out in the open, though quieter, more vulnerable.
This new sensitivity to complexity is tested by our trips to Guelatao to visit Jorge's parents. Rosa and Manuel are in their seventies, bent by age and slowness. A hardscrabble life of many children and never enough money has lumbered them with aches and pains, yet they persevere, tough as gnarled wood. They spend much of the day in their open-walled living room, taking in the near view of passersby and the far view of mountains grading into blue. Their relationship has not been without contention. Jorge's father had dozens of children with women in other villages. He was an alcoholic who frequently drank away his earnings and left the family broke. His mother worked making tortillas at the elementary school, and also did the laundry, the cleaning, the cooking, the waiting in line at the mill at 3:00 a.m. to grind corn. Their experience was not atypical in Oaxaca's Sierra Norte. In pictures from Jorge's childhood, his mother looks the same in many ways: already aged, already toughened by mountain sun and hardship, but radiating an innate kindness. Those pictures come from a reality of which I can barely conceive: young brown Jesuses in mock crucifixions on dry mountains, women in handwoven aprons carrying buckets, families walking through the woods in a wash of blinding yellow light.
"I don't have to live in the deafening tunnel of my own assertions all the time. It is nicer out in the open, though quieter, more vulnerable."
Yet before pregnancy, this reality seemed more and more familiar. I assimilated it. It was normal to go to Guelatao on weekends for memelas and listen to la señora Rosa's stories of tiny elves making mischief in the early mornings, bread delivered by burro, the time Jorge got kicked out of church for singing "Saca ese buey de la barranca!" I went running on the dusty road between Guelatao and a neighboring village and collected pinecones with Jorge's aunts and uncles for the Christmas nativity scene. I knew this world in the way I knew Mexico, as a set of foreign experiences turned familiar, a thrilling reflection of my own worldliness.
But once the baby begins growing and the gap between me and what I thought I knew starts to open, the world where Jorge grew up and the world his parents still live in and represent becomes foreign in a new way. I listen to his mother relate her insatiable cravings to suck on rocks during pregnancy, a condition I now recognize as pica, indicative of malnutrition. I listen to her talk in the pragmatic way of many rural Mexican women of losing two children, and beneath her words for the first time I feel that deep black well of sadness that was as ever present and inevitable as the laundry heaped for her every day. I hear her describe giving birth to a little boy who had water coming out of his eyes and ears and died two days later. She had no time or space to grieve. Instead she had buckets of masa, her icons gathered in a dusky corner, little boys who wanted to paint Bart Simpson on her walls.
One child after another, nine in total, two dead and seven living. The last came when she was 48 years old and had hardly any money or time. Jorge was raised largely by an aunt while his parents worked.
For a while I struggle with thoughts I previously would have dismissed immediately as taboo, unsophisticated, and imperialistic. Although I know there was certainly no contraception available in pueblos 20 or 30 years ago (and in any case birth control would have been widely condemned by church and community), I still find myself thinking: If there are so many mouths to feed and not enough to feed them, why another pregnancy, and another, and another? I think now of my own child, vulnerable and utterly trusting, and feel a pang of sharp judgment, forgetting that childhood and the precious, protected innocence of children are relatively modern American inventions. I think of the moments I have glimpsed a raw pain and shame when Jorge talks about his childhood; I think of the stories he tells about saving up for months to buy basketball shoes or walking miles because he didn't have the twelve pesos for a taxi, and I am suddenly indignant at his suffering. I am more surprised by this anger than I am by any of Rosa or Jorge's stories, for I've heard similar ones many times. Now, though, they strike the nerve of a mother's ferocious protective instinct.
And. But. Jorge's mother grew up neglected by her own mother; an unwanted child, she was scolded and cast off for her dark skin, beaten for speaking Zapotec. She grew up in a society that brutalized the indigenous in much the same way the United States did Native Americans, segregating them, forbidding them the rights and resources of whites and mestizos both explicitly and implicitly. She grew up in a world where women had and still in many places have no power whatsoever, are impregnated from the moment they become fertile until they hit menopause, and can be thrown in jail for murder if suspected of an abortion. She grew up in a world in which men are largely unaccountable to their wives and families and are seen as whimsical as weather: alternately benevolent or dangerous, to be tolerated and appeased. How can I judge her?
Still, my anger resurges from a new maternal sensitivity. I remember the night not long after we moved in together when Jorge cried in front of me for the first time, recalling that as a child he was constantly afraid his roof would cave in. I feel misplaced anger at this woman, in many ways representative of women throughout millennia, who is at once a victim of violent patriarchy and a survivor, a loving and generous figure amid circumstances contrived to make her as small as possible. Jorge has tremendous respect for his mother. He remembers her pride and the sacrifices she made when he was growing up, as well as their suffering. Rosa tells me a story about how her own mother picked all the good plums from a plum tree and gifted them to Rosa's brother's children, whom she loved more than Rosa's; she then passed on the rotting and damaged ones from the ground to Rosa's babies.
Rosa gave them back; "My children don't eat leftovers," she said. Each time we leave her house, she foists as much as she can upon us: eggs, chayotes, apples, beans, sweet thick corn tortillas from a kitchen where she cooks over an open fire. She gives the little she has, as does Jorge, for he was raised in a world where the gift is sacred.
I, meanwhile, horde; I save, I accumulate. I will have one child and I will provide her with hand-carved wooden blocks and beautifully illustrated books and high-tops. And yet she will not know the dignity of a hungry woman who turns down a rotten plum because she knows her children deserve better; she will not know the scrappiness of curing strep throat with toasted rice and herbs, or have at the core of her soul the fatalistic conviction that we can only do what we can and no more. She will not know to put gravel in the road to hear la carreta de la muerte, and her heart will not leap when "Dios Nunca Muere" crackles from the village loudspeaker. She will not know what it means to give and give when she herself has nothing, to laugh in the most desperate circumstances, to cut off the feet of a baby's onesie so that he can keep using it even as he grows.
Each time we leave Guelatao, Rosa stands behind her sky-blue, waist-high iron fence and makes the sign of the cross. While I am pregnant, she makes it over my forehead and my belly, kissing the latter and resting her cheek against it, perhaps sensing that the baby inside will carry her name.
I know how to judge, and I know enough now to know that judging is never enough. I see the gaping void behind each judgment, all it betrays and denies. I judge and then I must move beyond the judgment to consider all the convoluted nooks and crannies, longings and regrets, all the hidden resolves of Rosa's life, which intersects with mine in only the smallest slivers. On the other side of judgment is the world in its infinite complexity. The lemon trees that grow in a messy garden of broken pottery; Jorge's entire family gathered around the table for homemade pozole, each sibling with only two children, their hair polished and their feet squeezed into shiny leather shoes; the way Rosa laughs when the babies tear and scatter the petals of her beloved fuchsia; the coffee and conversation and que díos le bendiga offered each of many casual visitors to the patio, their camaraderie amid the sierra's caprices of heat and cold.
"I see the gaping void behind each judgment, all it betrays and denies."
Late one night in Guelatao, crammed in the tiny smoky kitchen with Jorge's parents, his sister and brother-in-law, and their two teenage kids, I confess a sugar craving. We've just stuffed ourselves with memelas, thick corn tortillas that Rosa has rolled by hand, toasted on the comal, and topped with homemade black beans, salsas, and queso fresco, and now I am lusting after dessert. At 14 weeks I am a black hole that absorbs insane quantities of food and is never full.
Before pregnancy, I had no sweet tooth. I've always been a cheese and chip person, much more liable to make a late-night grocery run for Sour Cream & Onion Pringles than doughnuts. Cheez­Its fueled my last­-minute lit papers in graduate school. But, newly pregnant, I beseech Jorge to hop in the Honda and drive ten minutes to Dandy Don's for raspberry pie. Rural Ohio yields happily to my cravings, offering up five­-pound pies in every shade from peanut butter to lemon cream, deep-­fried long johns coated in maple icing, apple fritters, buckeyes, soft­-serve dipped in toffee and drizzled with caramel. Mexico is trickier.
"Pastel, dónde podemos conseguir pastel?" Adi, Jorge's sister, asks Rosa. I sense a mission forming and quickly back off, saying, "No, no, está bien, está bien," not want­ing to be high maintenance. But Adi is already calling their sister Bivi, not once but twice and then three times until she gets through. Bivi is en route to Oaxaca with her husband and two daughters, the lot of them stopped at an elote stand eating roasted corn drenched with may­onnaise, lime, and cheese, when they get the call. They turn around, and Bivi runs back upstairs for a piece of strawberry­ peach cake stashed in a Tupperware in the fridge. This cake makes the winding night journey over the mountains and is handed triumphantly to me when the family arrives. The kitchen is filled to capacity with bodies bustling in the smoke and glow. We all kiss one another on the cheeks, Rosa starts a new round of memelas, and I devour the pastel.
Sugar, I think, sugar passed from woman to woman to woman to my baby, the sweetness of generosity that transcends all judgment, and which I have found in Mexico more than any other place in the world. I think of the blind singer on the bus with his deep, resonant voice, swaying down the aisle, and how as he sang people dropped two or five or ten pesos into the can he was clutching, then reached out without thought or hesitation to still him as the bus lurched. Joan Halifax writes, "This is where God appears; not within an individual, but between beings."
On the 12th of December, the day of the Virgen de Guadalupe, I feel my uterus for the first time. Jorge and I are lying in bed in late morning, and I am running my hand over my belly as I do now, trying to discern the mystery within. What is that lump just above my pelvis, just below my stomach? At the end of the path of soft hairs that descends from my belly button is a ledge. It extends a good length across my lower abdomen. I trace my hand across it, press it gently, and realize from all my avid BabyCenter reading that this is it, the uterus, in its gradual rise toward and over the belly button and nearly to my breasts, edging out all other organs in its supremacy. The knowledge that this is it and it is growing and it is big enough now at 14 weeks to feel with my hands makes me absolutely giddy for the first time since I found out I was pregnant. "I can feel my uterus!" I announce to Jorge as though I've won a massive stuffed animal at the fair, and Jorge, steady as he is with these pregnancy ups and downs, gives it a quick rub and says, "Órale!" then jumps up to make coffee.
From outside comes the faint blurt of bands playing for the Virgen. In Parque El Llano, hundreds of people are pressed into small booths that replicate imagined landscapes of Bethlehem, with waterfalls of shiny blue foil and waxy palms and sand strewn on the old stone, and before these landscapes stand donkeys, horses, beasts of burden (some real and some fake) on which people poise their small children. The boys, even the tiniest babies, wear the traditional buff-colored linen garb of peasants, hats onto which the image of the Virgin has been sewn or pinned, and serapes that feature Guadalupe aglitter in red, white, and green. Girls wear embroidered dresses and bright twin braids woven with ribbons. Their parents will press into the Templo de Nuestra Señora de Guadalupe in a slow-moving mass that inches toward the priest, who douses his hands in holy water and splashes the crowd in a broad arc. Some, lightly spritzed, will push back for a moment more to coat their faces. They emerge dripping into the blinding sun. Babies are stunned. Outside, women sit in a long line beneath the palms and nurse. Cripples beg at the church entrance, bananas fry in huge sizzling vats, young men hidden in hot, enormous priest costumes joke with passersby.
Meanwhile, a half-dozen blocks to the south, I lie in bed and listen to the distant tinny blare of the brass bands, rubbing my uterus as if in greeting. I wonder if the baby is absorbing this via osmosis, if the motherland bestows a series of enzymes on its children, a longing for a particular type of air and light, an intuitive map of sensations that can be written over but never truly erased. I think of waking to the shock of snow, of that pale purple light at dusk and the smoke threading from chimneys, winter mostly, what sets Ohio apart from nearly all the other places I have lived. I think of Jorge and his diabolic grin over a plate of enfrijoladas con tasajo, the way he says "Mira!" like a child as we drive through the Sierra, its ridges running piney and blue as far as we can see. I think of the way he changes in Oaxaca, his musculature loosened, his bearing open, a new guilelessness and joy gentling him. He is already a kind, sweet soul in Ohio, but in Mexico he blends with the landscape, the people, loves them in a way that makes me jealous. I lose part of him as Mexico absorbs him.
This has long been a source of tension in our relationship. When we have our big fights, the bad ones about the huge looming questions of where and how to live, Jorge comes back to the same insult: "You have no home," he seethes. "You're just jealous because you have no tierra of your own." For a long time, he is right. I pride myself in a distinctly estadounidense way on not belonging anywhere. I am not so much a citizen of the world as I am unaccountable to any place and able to freely critique or embrace them all. I love Japan, I say, or The food in Mexico is unbeatable. But as I carry my baby through the Ohio seasons, from the luminescence and fade of fall to the first bite of winter and the freeze of the creek, as I carry her into the pale spring and then the riot of summer with its crush of humid leaf and smell of sassafras, I am reborn in Ohio. I remember what has always been present but what I have forgotten or neglected: this place is in my blood. Not only the stolid midwestern German refusal to spend $1.79 on a muffin and the predilection for practical rain gear, but the dirt, the rot, the flower, the rain, the wood. I lug bits of maple and white pine and clover on planes around the world to islands and tropics and Patagonian mountains. In Mexico my blood stirs with this awareness, my baby newly palpable in the fastness between belly button and pelvis, Ohio newly palpable in my veins and skin and eyes.
"I wonder if the baby is absorbing this via osmosis, if the motherland bestows a series of enzymes on its children, a longing for a particular type of air and light, an intuitive map of sensations that can be written over but never truly erased."
Many of Jorge's and my fights have stemmed from the way he defends Mexico like a rattler coiled before its lair. I grow exasperated and he lashes out, tells me to stop whining or to show some respect for the fact that here we can hang out all day drinking fresh-squeezed orange juice under the laurels, that here life is immediate and urgent and felt. Jorge embodies Mexico, its wounds are his, its beauties his triumph and heart. I have never conceived of Ohio in terms of wounds or beauty, and for a long time I have hardly seen it as a place. Instead it is a backdrop, of cheddar cheese and jungle gyms, Trivial Pursuit and loading the dishwasher. Jorge has the gift of a motherland: his smoky house, the comal atop the charred wood, the mountains spilling in every direction under their perfume of mist.
In pregnancy, when the alchemy of making new life is constantly on my mind, I discover Ohio as my own motherland. It still sounds ridiculous to me, everyone still laughs when our friend Eleutario asks, "Sarita, cuando te vas a tu tierra, a tu ranchito?" with the ironic implication being that the United States is nobody's tierra or ranchito but an antiseptic modern opportunityscape of work and money. This, too, is true; I realize it in the air-conditioned vastnesses of Target and the streets emptied of people. But place is made by perception as much as environment or exceptionality. Ohio is a place if I make it one in ritual, attention, and affection. I glimpse my childhood self in the woods, playing in the shroud of trees. I think of talking on the phone to my mom in the cabin's small kitchen, eating Grape-Nuts.
"Mmmm, Grape-Nuts," Mom says. "Do you let them get a little soggy in the milk?"
"Of course," I say.
When I return, I will make a scrapbook of Grandma Menkedick's recipes, with entire pages devoted to cheese balls and coleslaws and desserts involving pretzels and cream cheese. This is the baby's, too, along with the jacarandas in blossom in the fog.
I recognize now that place lurks in us like a gene waiting to be expressed; we may repress it, or we may turn it on full blast, but regardless it is always there. I think of a man I saw once when Jorge and I went to watch the Semana Santa rituals in Tlalixtac, a village outside of Oaxaca. Easter in Oaxaca is not fields of giggling children collecting pastel eggs; rather, it is men in full Roman regalia whipping—literally whipping—a live representation of Jesus who drags a 120-pound cross. The Jesus wears a crown of thorns, is actually crucified (though he is tied to the cross, not nailed), and is barely able to limp back home after the re-created Passion. Young men wait years to play the role.
Jorge and I followed the procession to different stations staging moments of Jesus's trials, and at each one a man in a cheap purple polo and the pointy-tipped black boots worn by rural workers blasted mournful notes on his trumpet into the quietly rustling crowds. It was more than ninety degrees, with hundreds of people clumped in sweating masses on the sidewalks, their umbrellas in staggered layers over their heads, and this dark-faced man held forth with the self-possessed, innate composure of a believer. Like so many other people I have observed in Oaxaca, in ritual and fiesta, he embodied his role, blended and disappeared into it.
I think of him when one day, walking the streets, I see a Virgin on a float during a parade. She is the best Virgin I have ever seen, the one I'll always remember. She could be 12, 15 at max. Her eyes are the jade green of sea glass. They look over the revelers unmoving, unseeing, ethereal. She is neither fragile nor strong. She is in the way mountains are, or myths, or dreams, haunting, looming, more real than the real. Her features are plain, neither strongly indigenous nor Hispanic, without distinguishing marks. An angel offers her a torta: "Ten." She shakes her head slightly without shifting her gaze. The angels sip small plastic cups of agua de jamaica. A band blares the standards; tourists duck dulces and grin from the sidelines with their cameras. Las chinas oaxaqueñas dance with their broad white grins, lifting their dresses into wings of silken candy pink. Five p.m., the traffic pants at corners, held back by the palm of a transit cop. The Virgin, green eyed, lips still, without expression, takes no note of me or anyone, aloft and shrouded in her blue satin. The parade stops for las chinas to dance and mezcal to be poured, and la Virgen stares on unseeing, forever and ever.
I have seen many incarnations of the Virgin—this is Mexico, after all—but all have been aware of the tension and rift between themselves and their role; they could not, or did not, blur with it. We all carry the potential to disappear into such a role: maybe not the young Virgin Mary or the crucified Jesus, but a taciturn grandmother or an angry father or a tactless yokel or a folksy liberal in the New Mexico desert. Some people fearlessly embrace their roles, as legacy or destiny or comfort, and others reject theirs with distance and silence, but regardless, the role remains, like a snow angel in precisely our shape, just waiting for us to lie down and fill it.
Before we leave, we spend another night and day in Mexico City, as we often do to bookend our trips, since flights from there are far cheaper than those leaving Oaxaca. I am now nearly 16 weeks along, and the month I have spent here devouring tacos and tortas and tamales has culminated in sensational heartburn, which will dog me into the third trimester. I have taken to swallowing a half cup of apple cider vinegar, pure, to ease the flames. Still, heartburn is preferable to the perpetual unease of nausea, and supposedly means that the baby will be born with a full head of hair.
On our last night we walk the pedestrian streets of cen­tral Mexico City, through the cacophony of the impend­ing Christmas vacation. Musicians croon and strum guitars under the eaves, pedestrians idle in throngs, clouds of meaty smoke rise from ubiquitous taquerías and interwoven into it all is the insistent droning of ambulantes, selling everything from pralines to polyester vests to glow sticks. Diez pesitos llévale llévale diez pesitos llévale llévale diez pesitos goes the monkish chant, over and over. One guy, older, slightly frazzled, in a plaid shirt and jeans and white sneakers, is making a tiny skeleton dance in the midst of a growing circle of intrigued passersby. The skeleton isn't more than an inch high, the cheapest flimsi­ est bauble of plastic. Still it dances like the most liberated reveler in one of José Guadalupe Posada's postmortem fiestas. "Siéntate," the man says, and the skeleton sits. "Párate," he says, and it stands. Then, "Boom!" and the man shoots it with his finger, upon which it crumples, motionless.
The crowd gasps. Soon it's up again to join another skeleton, also maneuvered by the man, which it kisses. "Beso!" the man says, and the beso leads to the two skeletons collapsing in amorous fever and frolicking on the cobblestones. There are Christmas lights on the colonial buildings, a huge warm circle around the minuscule figures. Jorge caves and buys one for diez pesitos, and I laugh at him, chide him, Sucker, sucker. We lose it that very night in the jumble of our possessions packed and unpacked.
The next morning we eat breakfast at El Popular, the diner we visit every time we're in town, with transcendent café con leche and decent chilaquiles. Afterward Jorge returns to the hotel to finish packing, and I take a quick walk to the Zócalo. The next time we're in Mexico, I think, I will be a mother.
On a whim I enter the cathedral at the Zócalo's north side, built on top of an ancient Aztec temple. I haven't been in here since I first came to Mexico nearly ten years ago. It is cavernous, echoing, and solemn. I walk slowly, looking up, taking in the weighted silence. Just before the wooden fence that prevents tourists from entering the area of pews and the altar, there is a visitors' book, where people leave comments and prayers. I pick up the pen. I write of my love for Mexico, of the years I have spent here, of my baby growing up between worlds, and then I pray for her on that thin frail paper in this great hall, this temple upon a temple. My hot breath catches in my throat, the tears obscure my writing. Then I breathe, set the pen down, make my way back toward the light.
Mexican writer Elena Poniatowska wonders, "How much of me there is in these faces that don't know me and that I don't know, how much of me in the subway, in the steps that pile up, one on top of the other, until they finally come out into the great, white spout of light, how much of me in the last, weary steps coming out, how much of me in the rain that forms puddles on the pavement, how much of me in the smell of wet wool, how much of me in the rusted steel sheets, how much of me in the Colonia del Valle–Coyoacán buses that rush along until they crash and form part of the cosmos, in the graffiti on the walls, in the pavement, in the earth trod on a thousand times. How much of me in those worn-out benches, their paint flaking, how much in the hardware stores, in the little corner stores, how much in all those testosterone shots on those dusty pharmacy shelves, in those syringes that used to be boiled and that spread hepatitis, how much of me in the signs that used to hang all along San Juan de Letrán: 'All types of venereal diseases treated,' how much in the newspaper stands, in the Fountain of the Little Frogs, in the shoe-shine boxes, in the rickety trees—just like little sticks climbing up to the sky—in the man who sold electric shocks, in the old people's wrinkles, in the young people's legs."
If our baby is a girl, I will name her Elena.
When we arrive at the farm, the afternoon is clear bluegold, and soon the woods are red with winter dusk. The evening light turns the creek to a ruffled gown. I sit on the bank and feel a bodily relief, an old feeling—long forgotten beneath all the complex layers of adult love and sex— which returns now in pregnancy. It is the relief of the infant picked up and soothed, of the child who collapses into her parent's arms after she's fallen. It is the comfort of the elemental space of mother-baby, before the baby pulls away to form an independent self. It is the belly, the soft hill of the shoulder, the nook between collarbone and neck, the nipple, the gently rising-falling pillow of the chest. It is attachment to a larger body that eclipses and absorbs one's own, and this is how I feel now when I hug my mother and need her bodily as I haven't in years, need the reassurance of her arms enclosing my helplessness, and it is how I feel at the farm on this carmine dusk, when my stretching body eases onto the leaves, when my eyes trace the insinuations of the stream, when the beeches and the oaks that form a canopy over the water take my scampering mind from me and sync my breath to the fading day.
__________________________________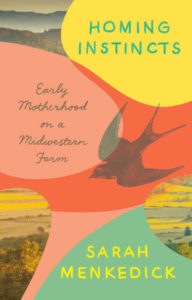 Excerpted from "Motherland" in Homing Instincts by Sarah Menkedick. Copyright © 2017 by Pantheon Books, a division of Random House LLC. All rights reserved. No part of this excerpt may be reproduced or reprinted without permission in writing from the publisher.
---