On Myra Breckinridge and the Life of Gore Vidal
Camille Paglia Unpacks the Mores of a Different Era
"I am Myra Breckinridge, whom no man will ever possess." With that imperious opening sentence, Gore Vidal introduced his flamboyant transsexual heroine, one of the most willful and amusingly self-aware characters in modern literature.
Myra's voice suddenly intruded into Vidal's consciousness at his penthouse terrace apartment in a shabby 17th-century building in Rome's historic district. It was a unique episode in his more than two decades as an author: "I never quite had that experience, an otherworldly voice, one that took me over. I felt like a medium." Although he normally worked slowly, Myra Breckinridge "poured out" in a rush. Vidal finished it in a month, "from new moon to new moon." But he claimed that two weeks of work had passed before he realized Myra was transsexual.
The impetus for the novel was an invitation (which he declined) from British theater critic and producer Kenneth Tynan to contribute a sketch to Oh! Calcutta!, a picaresque sex farce that would become a smash hit in New York and London. Myra cohered in his mind, Vidal suggested, because of the residual presence of the Egyptian goddess Isis and her heraldic cats still populating modern Rome. His apartment on the Largo Argentina, not far from the Pantheon, overlooked the ruins of four Roman temples. They bordered a precinct "once sacred" to Isis, to whose ancient cult he attributed a nearby street-side relic: a colossal marble sandaled foot on a pedestal (the Piè di Marmo).
Isis seems to have fused in Vidal's memory with another colossus—the coyly exhibitionistic cowgirl-majorette (a showgirl advertising prop imported from the Sahara Hotel in Las Vegas) that rotated next to a billboard high above the Sunset Strip in Los Angeles. Her skimpy costume was a patriotic fantasia on the American flag. Vidal had a close view of this polychrome icon from his rooms at Chateau Marmont, where he first resided as a script doctor for Metro-Goldwyn-Mayer in the late 1950s. Asked about the statue, Vidal told an interviewer in 1977, "Oh, God, to wake up in the morning with a hangover and look out and see that figure turning, turning, holding the sombrero—you knew what death would be like." The statue, now long gone, recurs throughout Myra Breckinridge, where Myra hails it as a "beautiful and omnipotent" alter ego: "For me she is Hollywood, and mesmerizing." Its striking photo was used as the cover image of the first hardback and paperback editions of the novel. Eerily impressive glimpses of the statue still smoothly revolving are featured in the disastrous 1970 movie of Myra Breckinridge, among whose few other positives are the dynamic performance and steely armored look of Raquel Welch as Myra. Posters of Welch colorfully costumed and archly posed like the statue are still widely marketed.
Myra Breckinridge was a surprise sensation: 85,000 copies were sold even before its release in February 1968. Later that year, two million copies of the paperback were sold in a month. Vidal had intuitively caught the subterranean disturbances and conflicts then intensifying in the burgeoning sexual revolution, inaugurated by the release of the first birth control pill in 1960. It was a very specific moment: Dionysian pansexuality was stirring in counterculture San Francisco, but the women's movement was still small and obscure and would not draw national attention until the prankish protests against the Miss America pageant in Atlantic City, New Jersey, in September 1968. The riots at New York's Stonewall Inn kicking off the gay liberation movement would not occur until June 1969. Gender-bending in fashion had started in Twiggy's London, amplified by the futurist designer Rudi Gernreich, but David Bowie's androgynous Ziggy Stardust would not appear until 1972. When Myra debuted, it was still very difficult to convince most people to take gender seriously as an analytic category. (I speak from harsh experience: in 1968, I graduated from college and entered graduate school and was already immersed in library research about sex.)
As an only child, he was helplessly subject to her alcoholic whims and rages. He said she was a Tallulah Bankhead–like flapper who was physically "a composite of Bette Davis and Joan Crawford" (oddly, three gay icons).
Myra is dedicated to Vidal's friend Christopher Isherwood, author of the autobiographical Berlin Stories, which inspired the musical and movie Cabaret, set in decadent Weimar Germany. In his response to Vidal, Isherwood called Myra a "very subtle psychological self-portrait"—a remark that most critics have taken as a joke. But Isherwood was right: the more we have learned from Vidal's biographers about his turbulent emotional history and hyperactive sex life, the clearer it is that Myra Breckinridge is a dreamlike distillation of Vidal's aspirations, passions, compulsions, and fears.
Vidal was a sexual magnet for both men and women from his early adulthood on. He was a stunningly handsome young man, beautifully proportioned (as can be seen in beach photos) and with an easy, amiable public manner that would one day serve him well on TV. In an online video of a 1964 What's My Line? show (the "mystery guest" was Barbra Streisand), panelist Vidal confidently strolls out in a dapper evening jacket like the most graceful of born aristocrats.
Vidal's patrician manner, which became more exaggerated over his TV career as he combated equally famous opponents like William F. Buckley Jr. and Norman Mailer, came to him naturally. He belonged to the last generation of the WASP (White Anglo-Saxon Protestant) elite who controlled politics, business, and education in the United States. Growing up in Washington as the grandson of a sitting senator, Thomas Pryor Gore of Oklahoma, he saw politics from the inside and developed his cynical view of human behavior as motivated solely by self-interest. A trace of this can be detected in the way that Myra Breckinridge sweeps into an institutional setting (a Hollywood acting school) and reduces it to her personal agenda. The paying students (like tax-burdened American voters) are mere pawns in her master plan for power.
Vidal was born at the masculine citadel of the U.S. Military Academy at West Point, where his champion athlete father, Eugene Luther Vidal, was an instructor. Eugene later became Franklin D. Roosevelt's director of civil aviation and a pioneering founder of commercial airline companies. It is possible he had an affair with Amelia Earhart, whom little Gore dreamed of having for a mother. (An ambiguously sexed version of Earhart appears in Vidal's 1978 apocalyptic novel, Kalki.) His own mother, Nina, was a theatrical, self-absorbed socialite with Mississippi roots and a Creole grandmother. As an only child, he was helplessly subject to her alcoholic whims and rages. He said she was a Tallulah Bankhead–like flapper who was physically "a composite of Bette Davis and Joan Crawford" (oddly, three gay icons). When he made the cover of Time magazine in 1976, Nina wrote a letter to the editor attacking him. (It was printed under the tart heading, "A Mother's Love.") He finally refused to see her for the last 20 years of her life.
Vidal described himself as a "solitary" but not lonely child, steeped in books and movies. After his parents' remarriages, he would acquire multiple half-siblings and step-siblings, eight in all. His mother's second husband, stockbroker Hugh D. Auchincloss, later became the second husband of Janet Lee Bouvier, mother of Jacqueline, who would marry a rising political star, John F. Kennedy. This family connection gave Vidal access to the Kennedy White House, but he was soon exiled after clashes with the president's brother Robert.
After prep school at Phillips Exeter Academy, Vidal enlisted in the U.S. Army instead of going on to college. His experiences on a military supply ship in the Aleutian Islands off Alaska would form the basis of his first novel, Williwaw (marine slang for a storm wind), published in 1946 when he was 21. What made him instantly notorious, however, was his third novel, The City and the Pillar (alluding to the biblical story of the destruction of Sodom and Gomorrah), released two years later. This frank and unapologetic depiction of male homosexuality became a huge bestseller, eventually selling a million copies in paper despite the refusal of major newspapers and magazines to review it and The New York Times even to advertise it. Vidal had begun his lifelong project of arguing that homosexuality is perfectly natural and that the men who practice it are just as masculine as heterosexuals. The novel depicts the bars, parties, and rituals of urban gays; women are seen with chilly distance. The finale is a violent bedroom murder that Vidal removed in a revised 1965 edition, where he substituted anal rape, prefiguring the infamous climax of Myra Breckinridge.
The City and the Pillar is dedicated to "J. T.," whom Vidal later identified as Jimmie Trimble, a handsome fellow student at St. Albans prep school who was killed at the Battle of Iwo Jima in 1945 and buried in Washington's Rock Creek Cemetery, not far from where Vidal and his partner Howard Austen purchased their own graves. Trimble's full story, accompanied by old photographs, was detailed in Vidal's 1995 memoir, Palimpsest, where youthful sexual encounters are recalled and Trimble is glorified as the only true love of Vidal's life. However, school contemporaries as well as Vidal's friends and partner have suggested there may have been considerable embroidery by fantasy over time.
She is constantly reviewing her own performance and invariably applauding herself.
Vidal was astonishingly prolific, publishing hundreds of essays and 24 novels, whose time periods range over thousands of years. His historical novels about American government, such as Burr (1973) and Lincoln (1984), became major bestsellers. He was rarely included in the college curriculum, however, partly because postmodernist novels were in the ascendant. It always galled him to be classified as an essayist rather than a novelist. In the early 1950s, purely to make money, he published three murder mysteries under the pseudonym Edgar Box.
Vidal also wrote for the stage: his most famous play, The Best Man (1960), chronicling the cutthroat presidential nomination process, was made into a movie starring Henry Fonda and is perennially revived on Broadway. He wrote 30 plays for live TV in the 1950s. Among the screenplays to which Vidal contributed in Hollywood were Ben-Hur (1959) and his friend Tennessee Williams's Suddenly, Last Summer (1959)—two of my all-time favorite movies, with which I have been saturated since their first release. Vidal added scenes to Williams's relatively short play (a baroque postmortem about an ill-fated gay aesthete) and enlarged its setting from an ornate mansion garden to multiple locations in New Orleans.
Vidal gives Myra Breckinridge, whom he dubbed "my androgynous protagonist," a campy retro sensibility: she calls herself "a spiritual child of the Forties," much as he did. She rejects the druggy hedonism of the 1960s generation, whom she disdains as the slack products of "television culture." Virtually everything Myra does or says is refracted through erudite allusions to 1940s films, right down to the slant of a key light. She is constantly reviewing her own performance and invariably applauding herself. Vidal described himself as "besotted by movies" in his youth: he once saw five in one day in Washington. In his screenplay for Myra Breckinridge, which was rejected by the addled producers, Myra morphed into a series of stars, including Greta Garbo, Ingrid Bergman, James Mason, Humphrey Bogart, and Julie Andrews.
Myra's bible is film critic Parker Tyler's Magic and Myth of the Movies (1947)—the "masterpiece" always open before her as she writes the seethingly urgent and often interrupted diary (partly inspired by Anaïs Nin) that frames the novel. She is dedicated to completing her deceased husband Myron's book on Tyler, whose florid language she speaks: "We deal in myths," she declares of Hollywood, with its eternal gallery of "archetypal roles." Commentators on Vidal too casually treat his Parker Tyler theme as a dismissive lampoon. Tyler acknowledged that Vidal had made him "Myra's muse" but forbade use of quotes from his books in the movie (a loss lamented by Raquel Welch). An openly gay poet and bohemian writer in Greenwich Village from the 1920s on, Tyler was in fact a major film critic whose exclusion from academic film studies is scandalous. (David Bordwell rightly classifies him as a 1940s "rhapsode.") Tyler's first book, The Hollywood Hallucination (1944), is or should be a classic. His fusion of Frazerian myth criticism with Walter Pater–style prose poems had immense impact on the development of my own work.
In Vidal's novel, Myra is actually Myron, a graduate of transsexual surgery in Copenhagen, from which Christine Jorgensen had emerged in a burst of worldwide publicity in 1952. Vidal said he was thinking of Virginia Woolf 's Orlando, "an earlier take on gender-shifting." Elsewhere, he admitted taking inspiration from John "Bunny" Breckinridge, a wealthy drag queen from a prominent American political family whose sex change in Mexico was aborted by a car accident. Breckinridge played an alien ruler in the cult film Plan 9 from Outer Space (1959) and would become a stylish fixture of hippie-era San Francisco.
"I don't like the word love," he told Mike Wallace on 60 Minutes in 1975. "I'm devoted to promiscuity and always have been."
Paradoxically, female hormones have infused the postsurgical Myra with infinitely more power and aggression than mild-mannered Myron ever dreamed of. She calls herself "Myra, the self-creation" and proclaims, "I am the New Woman": "We now live at the dawn of the Age of Woman Triumphant." Her messianic goal: to become "world dictator." Her militant feminism seeks the destruction of "traditional manhood" and "the masculine principle" in order to realign the sexes and reduce overpopulation. The cool, merciless rationalism of Myra's speech often echoes that of the Marquis de Sade's perverse heroines, such as the libertine Madame de Clairwil in Juliette, who avenges women's exploitation by murdering young men. Myra's crafty stalking, systematic subordination, and humiliating rape by dildo of a prototypical young American male, Rusty Godowsky, takes a whole chapter, 24 amazingly detailed pages in which she deliriously invokes Priapus and the Bacchae.
Myra Breckinridge ingeniously literalizes the unstable power relations in sex whose origin (nature or nurture?) remains hotly contested. Myra seeks dominance and control in sex—precisely what those closest to Vidal have said of him. His epic sex life (a journalist friend called it an "addiction") was fiercely focused and highly ritualized. "I don't like the word love," he told Mike Wallace on 60 Minutes in 1975. "I'm devoted to promiscuity and always have been." Vidal boasted that he'd had "more than 1,000 sexual encounters" by the time he was 25. His friend and biographer, Jay Parini, said that Vidal was "clinical" about sex and that his lifelong inability to connect sex and love was "certainly a personality deformation." Vidal repeatedly (and somewhat callously) claimed that there had been no sex with his companion and tireless helpmeet Howard for over 50 years. He sought quick, anonymous, preferably paid, and thus emotion-free encounters with younger men in which, as an always penetrating "top," he was the avowedly "extremely selfish" active agent who provided no pleasure to his partner.
At La Rondinaia, his cliffside villa in Ravello on the Amalfi Coast, Vidal had a settled routine: work in the morning, sex in the afternoon, friends in the evening. Many observers have testified to how "disciplined" he was about writing every morning, even with a hangover. That triangulated pattern was surely a starkly efficient compartmentalization. Sex, I submit, was where Vidal voyaged to isolate and purify the masculine principle and to defend its freedom. In social gatherings, however pleasant, he lost contact with his core self, which was forged and recovered by writing. Parini said that Vidal was "a shy man" who wore "the elaborately contrived mask of Gore Vidal" and who could be both awkward and "frightened" of people.
Vidal's offhand memory of "death" foreshadowed by the rotating Sunset Strip statue when he awoke with hangovers in Los Angeles suggests that the kitsch colossus had become the anti-Isis, an invasive avatar of his remorseless, unnurturing mother, whom her own mother (his grandmother) called "an evil spirit." Vidal once wrote that he was "a Medea son, who escaped." Myra Breckinridge the character (who confesses "hatred" for her mother) explodes with creative energy because the escaped son has returned to hand the vengeful Medea her ultimate defeat: he has internalized and become her.
But the perfection of Myra's sexual duality is undone at the finale by a car accident that deflates her breasts, halts her hormones, and hurtles her back to the mediocrity of Myron, the provincial dullard whose voice ends the book.
In Myron, Vidal's 1974 sequel, Myra and Myron dizzily advance and retreat, warring for dominance like fratricidal twins. (Twins had been an obsession for Vidal in childhood.) That Myra was indeed, as Isherwood said, Vidal's self-portrait seems secretly signaled by how, in the sequel, she is magically transformed into Maria Montez, a gay cult Hollywood star of the 1940s whose real-life last name (unmentioned by the book) was Vidal.
Gore Vidal was a tremendous role model for any aspiring independent thinker. He was a bold provocateur, a cosmopolitan bon vivant, and a deeply learned man of letters for whom writing was a higher calling. He scorned every establishment and turned his scathing wit against all dogma and cant. His heretical view that the terms heterosexual and homosexual describe acts and not persons was revolutionary and, to me, profoundly true. In 1991, Vidal told Francesca Stanfill for New York magazine that my first book, Sexual Personae, "sounds like Myra Breckinridge on a roll. I have no higher praise." It was the greatest compliment of my life.
_____________________________________________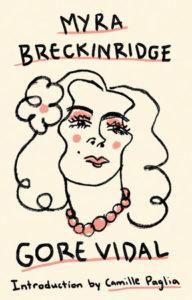 From Myra Breckinridge by Gore Vidal, introduction by Camille Paglia. Introduction copyright © 2019 by Camille Paglia. Reprinted by permission of Vintage Books, an imprint of the Knopf Doubleday Publishing Group, a division of Penguin Random House LLC.
---