On Finding a Real Photograph of My Fictional Heroine
Alison Anderson Discovers Anton Chekhov's Summer Guests
Like most people these days, I waste time on Facebook. I'm a freelance translator working from home, and it can be slow and intense, so I translate a page or two and then allow myself a break. One day not long ago, I discovered this photograph on a Facebook page called "Fous d'Anton Tchékhov," which I suppose I would translate as "Crazy about Anton Chekhov." (There are nearly 35,000 of us "crazies," or fans—fous and folles—on Facebook.) Finding this sepia photograph of two anonymous women amid pictures of Chekhov himself, his multiple romantic interests, and still shots of his plays being performed from Marseille to Moscow, caused my ordinary day to tilt for a moment.
On the lower right-hand side of the photograph is the photographer's location: "In Sumy." Sumy is a town in eastern Ukraine where Chekhov spent two summers with his family as a young man. They rented out a small guesthouse, or dacha, on the estate of the Lintvaryovs, impoverished landowners. My novel, The Summer Guest, is inspired by that time in Chekhov's life—particularly the friendship he developed with one of the Lintvaryov daughters, Zinaida—and much of it is set in Sumy.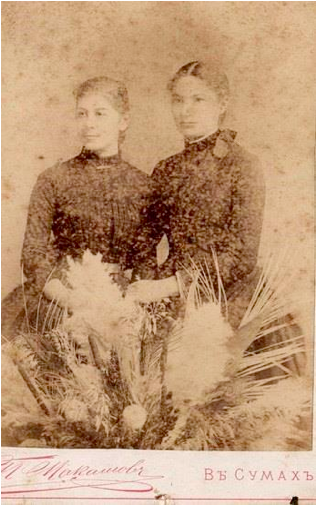 Chekhov tells us, in a letter he wrote on May 30th, 1888, that Zinaida "has a brain tumor which has left her totally blind, and suffering from epilepsy and headaches. She knows perfectly well what lies in store for her and speaks with extraordinary dispassionate stoicism of her imminent death." He does not describe her physically, but does go on to portray her two sisters: Elena, who is "not at all good-looking," and Natalya, "who is built like a man… muscular, sunburnt and noisy… I don't think she will get married as she is rather plain." His blunt descriptions reflect the prejudices and assumptions of his era. Fortunately, the Lintvaryov daughters were educated. Elena was a doctor, Natalya a schoolteacher and something of a Ukrainian nationalist. Zinaida, too, had been a doctor until she fell ill.
* * * *
I was inspired to write about Zinaida Mikhailovna Lintvaryova for reasons that had not much, in the end, to do with what I knew about Chekhov himself. From his brief description of her, I knew Zinaida had to have been an interesting character in her own right, and knowing so little about her gave me a certain poetic license. Her blindness offered a unique way of "seeing" Chekhov, free from our own prejudices and assumptions about him.
While researching the novel, I had traveled to Sumy and met with the director of the Chekhov Memorial Museum, which is located in the restored dacha on the Lintvaryov estate. She showed me photographs of all of Anton Chekhov's family members, and all of the Lintvaryov family… except for Zinaida. I had implored her, in my halting Russian: "Are you sure you don't have a photograph of her?" She shook her head; none had survived.
Now the host of the Facebook page gave no indication at all of the identity of the women on the photograph. Could either of these young women actually be Zinaida? The sepia photograph is less well-preserved than most of the others taken during Chekhov's lifetime. Outlines have faded, the stippling of decades has taken the sitters further away from us. All we are left with is two women, not beautiful, who are remembered only for their connection to a famous man.
After gazing for a while at the photograph, and comparing it with the ones in a booklet I had obtained at the Sumy museum, I concluded that the young woman on the right must be Natalya Lintvaryova, and the one on the left was surely Chekhov's sister Masha (Maria). They became great friends over the years, and corresponded until Natalya's death in 1943, during the Nazi occupation of Ukraine. (Their letters, however, have been lost. Natalya was homeless at one point after the Revolution, and had to entrust her most precious belongings to a friend—perhaps that is how this visual record of their friendship survived.) One day between 1888 and 1891, when Masha visited Sumy for the last time, the two of them must have walked into Makashov's photography studio to sit for a portrait. Both would have been in their twenties, and their expressions are open, full of curiosity, promise and possibility.
* * * *
Like many women who met him—he would have been in his late twenties during those summers at the Lintvaryov dacha—Natalya had fallen hopelessly in love with Masha's brother. But, true to Chekhov's prediction, Natalya never married, instead devoting her life to educating peasant children. Chekhov himself would not marry until 1901, when he was already quite ill with tuberculosis. There has been much speculation about the emotional legitimacy of his marriage to the actress Olga Knipper, but as with many things about his private life, he has left us with little to go on. Evasive, distant, always charming, he was a 19th-century man who did not really seem in want of a wife. For a start, he had his mother, who would live with him nearly all his life—as would Masha, who was almost exclusively devoted to him. She too never married, having on several occasions forfeited her own chance at doing so at her brother's request. (Or as the consequence of his rather overweening opinion about the suitability of the match.)
Masha had been friends with Olga, but was deeply dismayed by their sudden, unexpected marriage. Chekhov moved to Yalta for his health, taking his mother and Masha with him, but fortunately for her, Olga often stayed behind in Moscow for work. After his death it was Masha who became his literary executor, and she managed the house in Yalta as a museum until her own death in 1957 at the age of 93. She was decorated by the Soviet government for her contribution to culture.
* * * *
Unlike for her sister, Natalya, we have no correspondence to tell us just how close Chekhov might have been to Zinaida. He rarely mentions her elsewhere, but after her death he wrote a formal yet very heartfelt obituary—one of only two he ever wrote. Perhaps someday, someone will find a photograph of Zinaida, too. In the meantime, it seems fitting that Chekhov's words should continue to serve as a portrait of a brilliant, forgotten woman, whom the local peasants referred to her as "a saint." In that same letter of May 30th, 1888, he leaves us with an initial impression, both touching and terrifying in its precision, of a woman whose very courage in the face of her blindness and affliction seems to preclude the necessity of a photograph—for her, obviously, but for the rest of us, too, who are blind in other ways:
"…seeing a blind woman laughing and joking on the terrace and listening to my In the Twilight being read to her, what seems strange to me is not that a woman doctor is about to die, but that we ourselves have no sense of our own death and carry on writing In the Twilight as if we were never going to die."
Feature image: At the Academic Dacha, by Ilya Repin, 1898
---